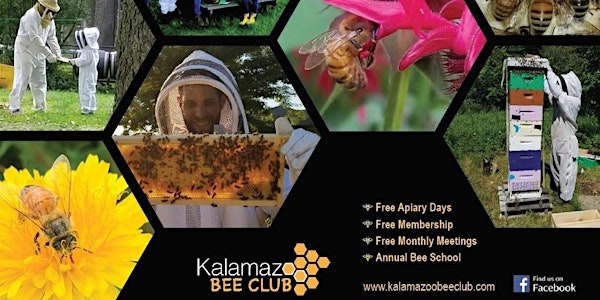 Kalamazoo Bee School 2021 -- FREE! Donations appreciated, thanks.
Bee school: a strong foundation for bee-ginners, stellar keynote speakers, and myriad topics for all levels of beekeepers.
About this event
Educating and supporting beekeepers is our focus. 2021's bee school features expertise and insights for bee-ginners through intermediate beekeepers.
Morning sessions provide foundational beginner knowledge: what beekeeping requires, needed equipment, and how to get started.
Brothers Mike and Dr. Larry Connor deliver a shared keynote speech midday, reviewing how there are few absolutes in beekeeping, but many essentials. Their expertise is further highlighted in their afternoon sessions of nucs, and plants for pollinators.
Interspersed are novel "shorts" -- experts answering various questions in 15-minute sessions, like "What are ideal mite treatments for Spring?", "What do I do with a deadout?" and "How do I combine two colonies?"
Bee School is free, but we'd appreciate donations of any size. To donate, either:
1) Go to www.kalamazoobeeclub.com, and use the Donate button on the homepage (Paypal handles, it but you don't need a Paypal account; it accepts credit cards) OR
2) Send a check to the Kalamazoo Bee Club, c/o Pat VanSlambrouck, 8575 2nd St, Mattawan, MI. 49071
KBC maintains two apiaries with free monthly hands-on sessions during the season, and free monthly meetings (all when Covid-19 precautions allow). We hope to see you at our online bee school, and at future events.
Keynote Speaker
Dr. Lawrence J. Connor was born in Kalamazoo and graduated from Richland High School in 1963. He earned three degrees in entomology from Michigan State University and was hired as Extension Entomologist in Apiculture at The Ohio State University in 1972. In 1976 he was hired by Chuck Dadant of Dadant and Sons to run a new bee breeding program located in Labelle, Florida.
Connor left Florida in late 1980 to live in Cheshire and New Haven, Connecticut. In 2007, due to pressure of travel, he relocated to Kalamazoo and continues to write books and publish for Wicwas Press as well as serve as a monthly columnist for Bee Culture Magazine and the American Bee Journal.
In huge demand on the beekeeping speaking circuit, Connor travels widely to share his beekeeping knowledge at beekeeper meetings. He also conducts workshops on queen rearing and bee breeding, honey bee microscopy and related topics. Since childhood, Connor has had a strong interest in photography. He continues to expand his collection of images of bees, beekeepers and bee flora.
Teaching classes in the southwestern Michigan area, Dr. Connor was inspired by the level of interest in beekeeping in the Kalamazoo meeting, and helped organize the formation of the Kalamazoo Bee Club, letting several highly motivated beekeepers to set up and run the club.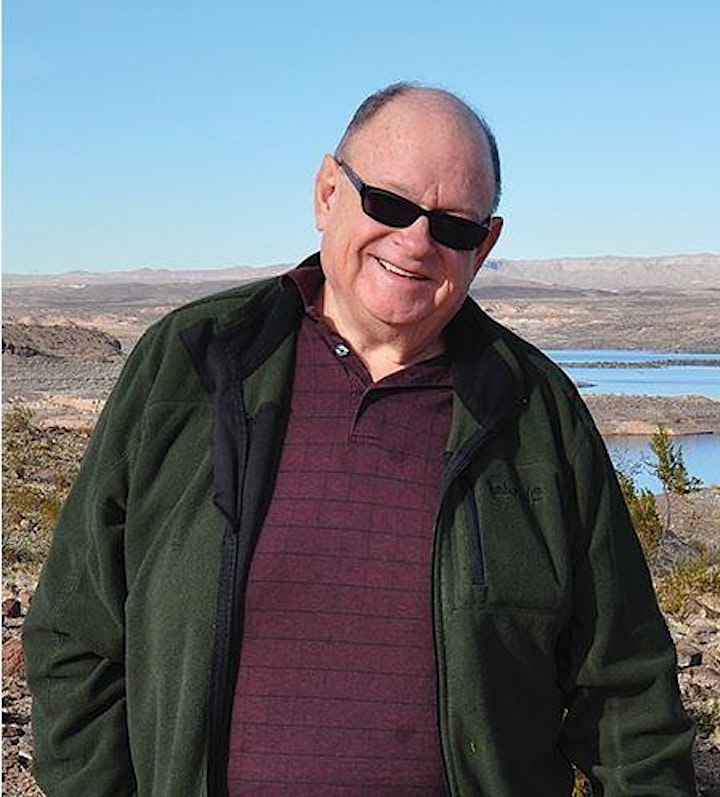 Keynote Speaker
Mike Connor, a certified ISA arborist since 1998, Michigan Nursery grower, and 50-year beekeeper, uniquely understands the relationships between plants, trees and pollinators. A graduate of Cornerstone University (Religion, Biology), with post-graduate studies at Calvin College and Michigan State University, Mike became a branch manager of Dadant and Sons in 1977. There he received a real education in beekeeping from some of the best beekeepers in the world. He left Dadant in 1985 to start his own business, Honeytree Nursery, and operated 200 hives of bees. Including a 7-year commitment as a Municipal Arborist and Park Superintendent, Mike has spent his entire career growing and caring for plants and trees. He is co-founder of the Grand Rapids Area Bee Club.
Mike was a well-received speaker at the 2015 Heartland Apicultural Society where he launched his presentations on trees and their relationship with bees and other pollinators. Since then he has been honored to speak at dozens of arboricultural, garden, and beekeeping groups in several states, as well as multiple Michigan Beekeepers' Association state meetings, and local clubs. Mike published Pollen and Nectar Producing Trees of the Great Lakes and Northeast of Benefit to Honey Bees and Other Pollinators in 2017 with Wicwas Press LLC.
Visit Honeytreenursery.com, where Honeytree Nursery's goal is to promote and provide pollinator trees, and sister company Honeytree Arborist Services, promotes healthy trees using Integrated Pest Management techniques and pollinator protection.
A note on the photo: - Mike is holding his 28 year-old black swan, appropriately named "Papa Swan", who at the time this photo was taken had just sneak-attacked Mike with wings and beak. It's a common occurrence, not meant by the swan to be serious, but it can be annoying. To counter the attack, Mike picked him up and held him, which totally humiliates Papa Swan who then goes off to sulk and scheme his next attack.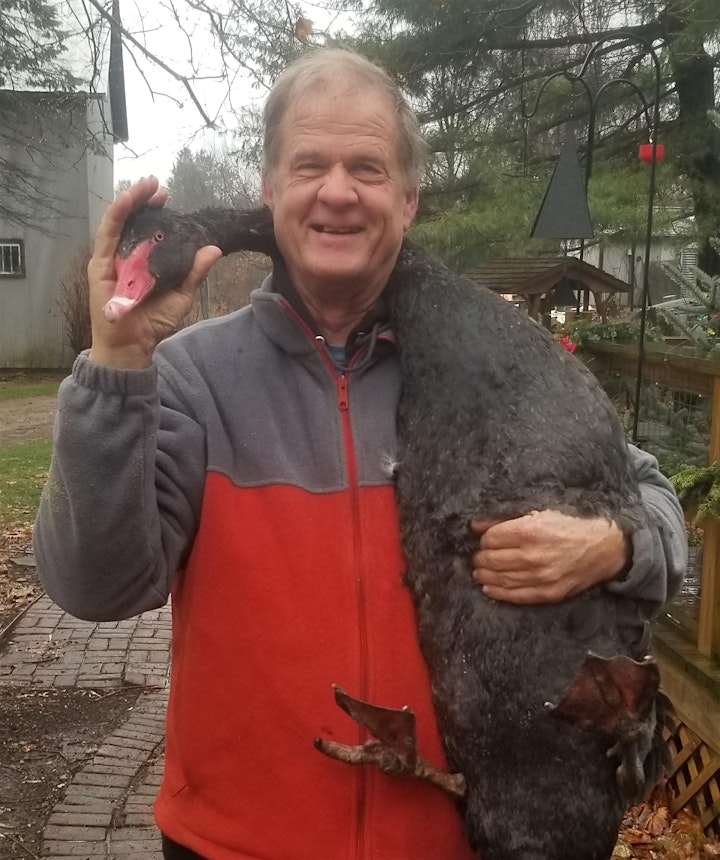 OTHER PRESENTERS
Charlotte Hubbard, a beekeeper since 2008, works about 40 hives, along with husband Marshall Beachler. Charlotte is President of the Kalamazoo Bee Club, Editor of the Michigan Beekeepers' Association newsletter and lead instructor for Kalamazoo Valley Community College's beekeeping programs, one of three colleges for which she's taught beekeeping. She speaks frequently at local, state and regional levels.
Charlotte is author of, " Dronings from a Queen Bee: The First Five Years", and the children's book, "If I Could Sit On A Bee's Knee".
Charlotte is author of Dronings from a Queen Bee and the kid's book If I Could Sit on a Bee's Knees, among other publications regarding bees. All profits from speaking, book sales and honey support local food banks. Charlotte, Michigan's 2018 Beekeeper of the Year, mentors extensively, providing insights at www.hubbardhive.com and on Facebook, as 'Charlotte Hubbard, Beekeeper and …'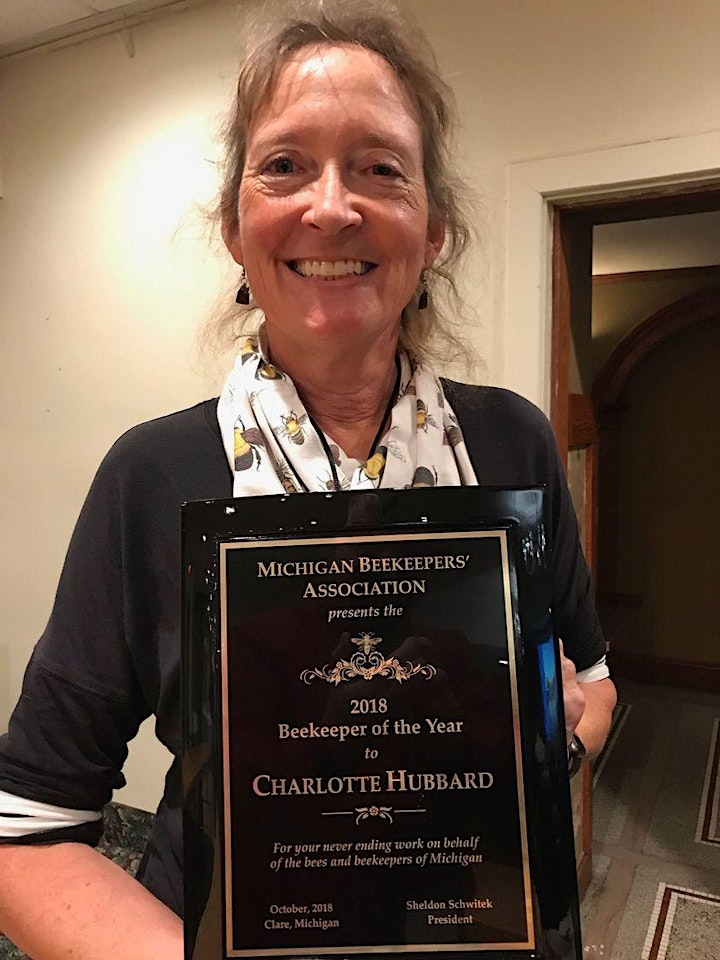 Chuck Bauer is going on his 13th year as a beekeeper. He intended to have two "hobby" beehives, he now has 25. He says, "it's still a hobby, something to keep me out of trouble". Chuck is a past board member of the Holland Bee Club, and Holland's 2017 "Beekeeper of the Year". He is currently the president of the Grand Rapids Area Bee Club, and a member of five different bee clubs including the Kalamazoo Bee Club. He does presentations at all five clubs. He is a board member of the Michigan Beekeepers Association and their 2020 "Beekeeper of the Year" winner. Chuck prides himself on successfully overwintering his colonies.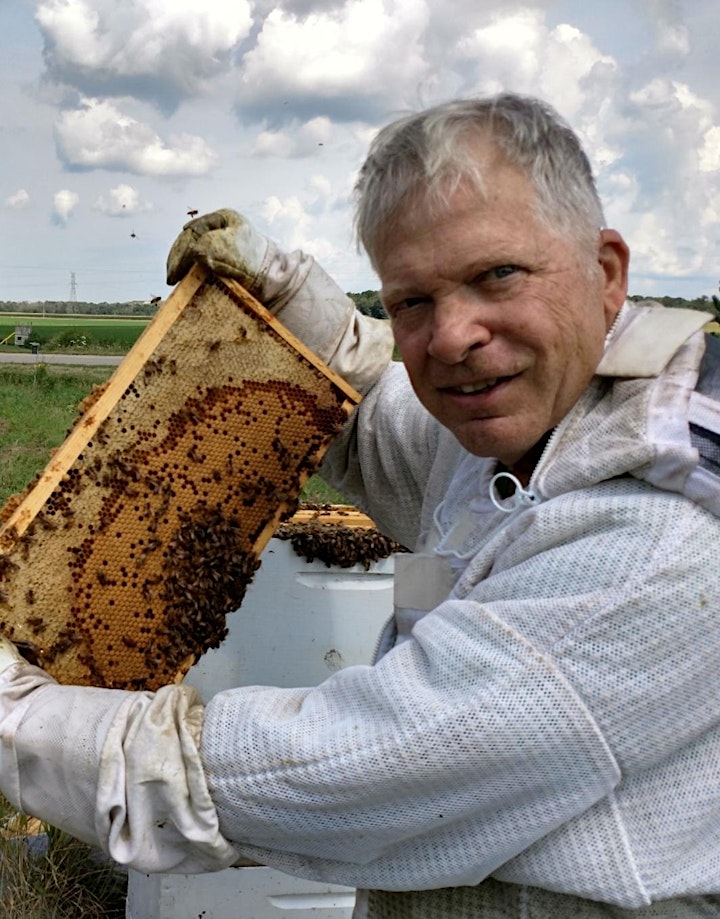 Donovan Bredenkamp, EMT is a Critical Care Paramedic. He is a 6th year hobbyist beekeeper. His interests include instructing beekeeping at KVCC, and public speaking, particularly on the subject of of apiary and beekeeping safety.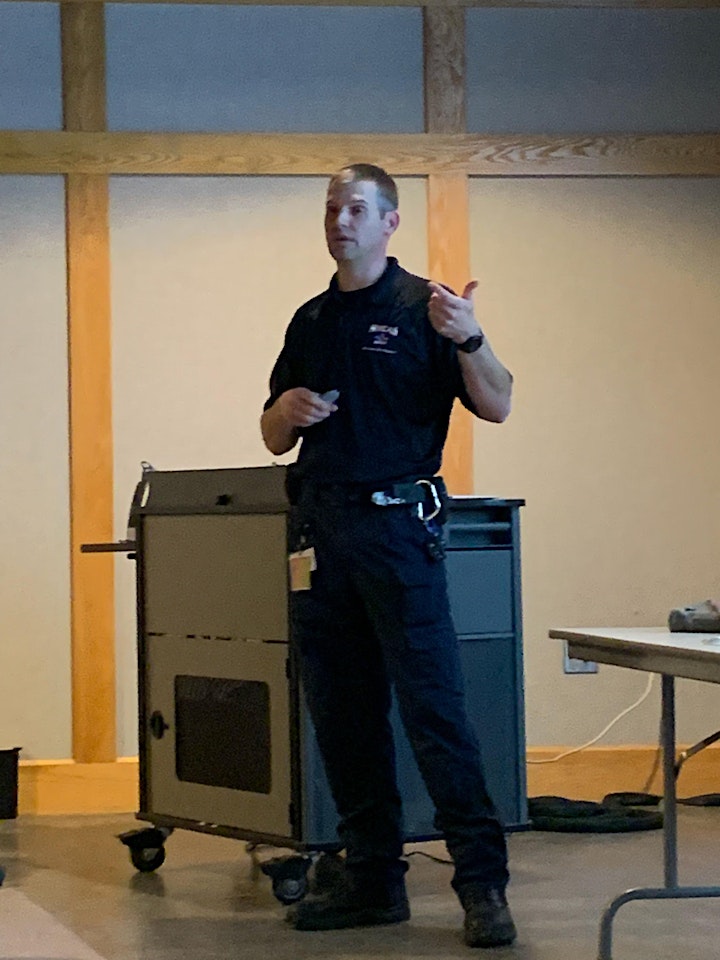 Craig Hannar is currently a board member of the Kalamazoo Bee Club. He got started with bees along with his father, Phil Hannar, on a winter day with a fallen bee tree in the woods. They obtained their first hive after chainsawing the top and bottom off the fallen bee tree. Phil and son secured a board on each end of the gum, loaded it onto a sled and brought the tree trunk back to the farm in 1959 when Craig was 12. When honey went from 12 cents/pound to 36 cents/pound, they bought out beekeepers willing to sell. After about 11 years, they developed into a commercial operation as Craig owned 900 hives, his father had 700 hives and they jointly worked 400 hives for years. Later, his brother took over that operation. Craig was a State Apiary inspector from 1984 - 1986 overseeing bees in Allegan, Barry, Calhoun, Kalamazoo, and VanBuren counties. He had one of the first Ethylene Oxide chambers used for sterilizing bee equipment and helped write the test to qualify people to operate such devices in Michigan. If you mention anything foul brood within ear shot you've now woken up the bear and got his attention. Please don't wake the bear :). Craig now runs about a dozen hives for fun in Delton, Michigan.
He is one of our Kalamazoo Bee Clubs Johnny-on-the-spot beekeepers if you need something Craig knows somebody and can get it done.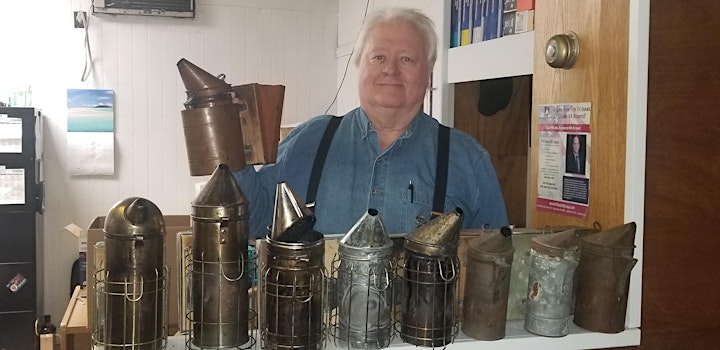 Ana Heck began as an Apiculture Extension Educator at Michigan State University (MSU) in July 2020. She was introduced to beekeeping while working in Nicaragua for 2 years with a non-profit organization that engaged in rural development projects. She joined the University of Minnesota Bee Lab's Bee Squad in 2014, where she managed apiaries, provided hands-on and classroom training to beekeepers, and managed Bee Squad outreach programs. Prior to joining in MSU Extension, she worked in MSU's Department of Entomology to support pollinator education initiatives, honey bee research, and implement policies to protect pollinators. Heck holds a Master's degree in Public Policy and a graduate minor in Entomology from the University of Minnesota.
Laryssa Kwoczak began keeping bees as a hobby in Philadelphia 10 years ago. She caught bee fever almost immediately and just a few years later movedacross the country to take a job at an apiary in Hawaii.For the next 5 years, she worked for a commercial apiary caring for beesand educating visitors at their beekeeping museum. She then started herown bee farm, Bee Happy, where she sold comb honey to chefs andresorts in Hawaii.
Her newest project is Beekeeping Made Simple, an online beekeepingeducation website where Laryssa turned her in-person beekeeping classesinto video lessons so that people can learn beekeeping from home. Thegoal of Beekeeping Made Simple is to take away the overwhelm andconfusion many beginner beekeepers have and make beekeeping funagain!
Website: www.BeekeepingMadeSimple.com
Podcast: The Buzz About Bees
YouTube Channel:
https://www.youtube.com/channel/UCoYVlnLz2TjO1bz93Gn9uig
Instagram: www.instagram.com/beekeepingmadesimple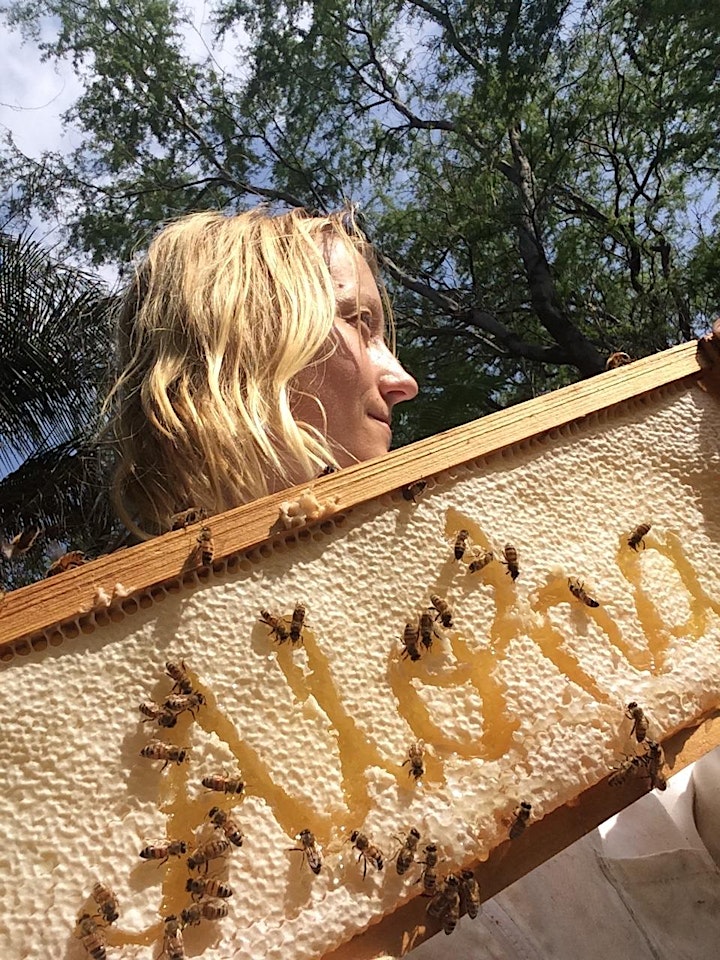 Don Lam and Jean Lam have been keeping bees for nearly 25 years. They provide pollination services and produce honey, and frequently host field trips to their apiaries. Don teaches local and state beekeeping classes and gives presentations to community groups.
Don is a past President of the Holland Area Beekeepers' Association and serves on the board of directors for the Michigan Beekeepers' Association. Don and Jean have provided bees and beekeeping supplies to western Michigan for nearly twenty years from their shop in Holland. https://donlambees.com/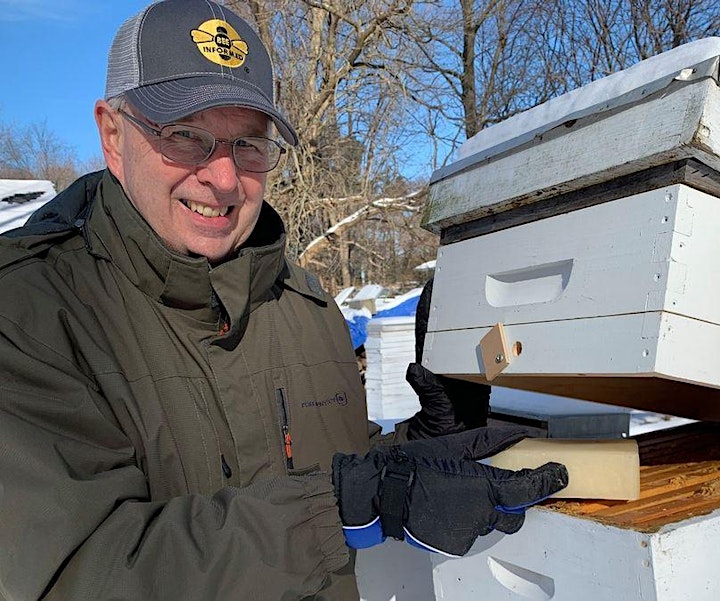 Keith Nichols has 1.5 million little darlings we like to call worker bees or about 40 hives. Keith presented at Bee School in 2020 and did a wonderful job educating his beginner students on bee equipment and uses. He'll review essential equipment and how it all works together as a system in the hive.
Keith makes his own equipment and it appears by the two hives he's standing by, has gotten daughter and son-in-law bitten by the bee bug in Holland, Michigan too.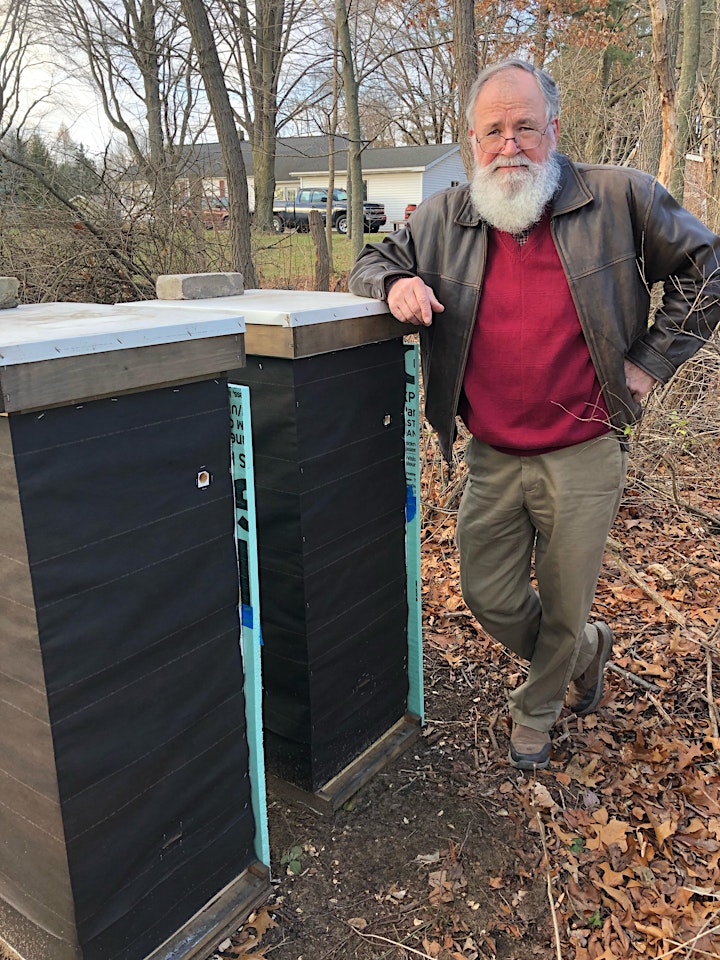 Todd Smith is Vice President of the Kalamazoo Bee Club and is on the Board of the Michigan Beekeeping Association. Todd manages the Kalamazoo Bee Clubs' two teaching apiaries. Kalamazoo Bee Club provides monthly free training at the apiaries utilizing partnerships with Western Michigan University Business and Technology Research Park and at the Kalamazoo Nature Center. Todd tries to implement sustainable beekeeping and best current practices in his apiaries, delighting in being a bee coach and teacher in the four surrounding counties.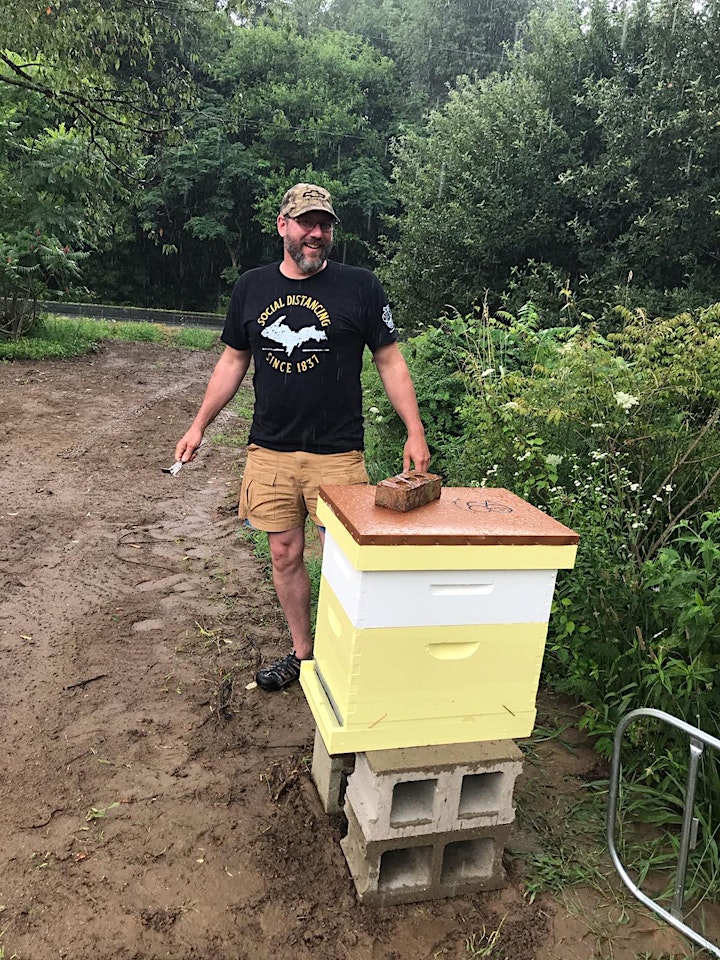 Rich Weiske has been keeping bees for about 20 years nurturing the "three p's": people, pollinators and the planet, as part of the international movement for a healthy eco-system and food security.
Rich is very active with the Michigan Beekeepers Association and currently Vice President. Rich along with his wife Joanne Mandell keep bees all around Detroit and have an Observation hive on Belle Isle of note.
Rich has been running Southeastern Michigan Beekeepers Association (SEMBA) bee school, a model of integrated, six-month hands-on beekeeping education.
Rich's web site is https://greentoegardens.com/site/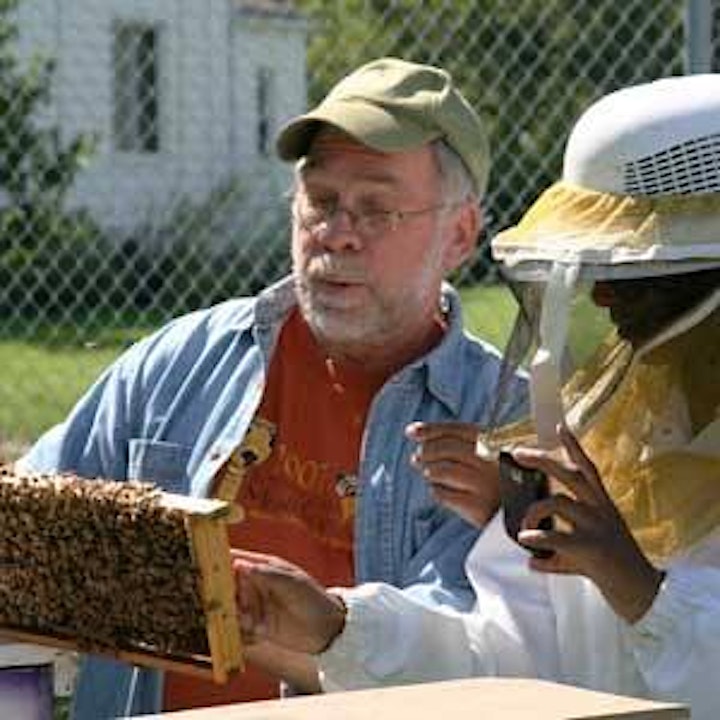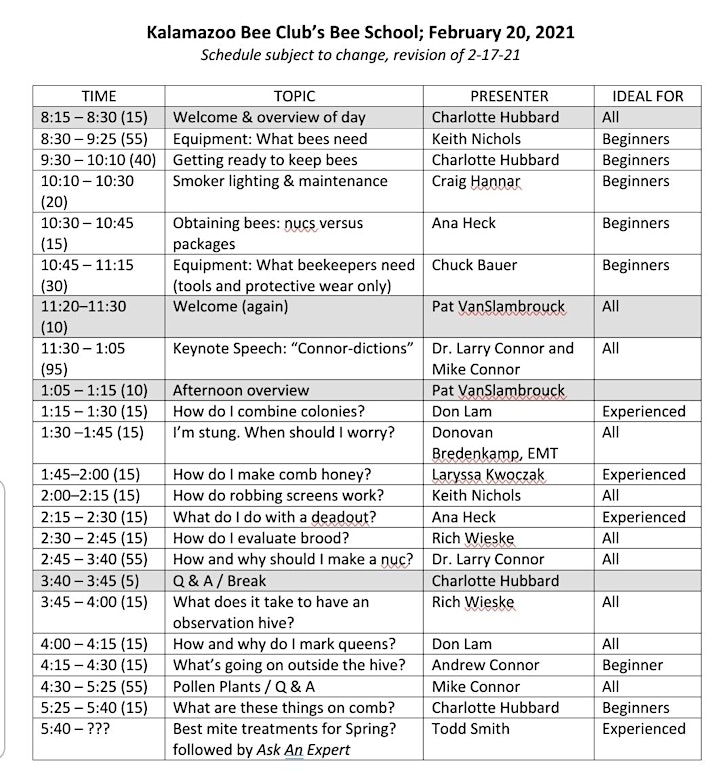 NAME YOUR OWN PRICE ATTENDANCE
Working with Eventbrite constraints, we're offering this robust day of education for free. However, we'd greatly appreciate any donations, but they need to be made on another application.
To make a donation, go to Kalamazoobeeclub.com and make a donation via Paypal (no Paypal account needed, just a credit card) on , OR -- email us from that page if you want to send an old-fashioned check. You decide the amount -- $1 or $100 or .... ? (We dream about all the education we can provide with greater funds). :)
Thank you for your thoughtful donation!