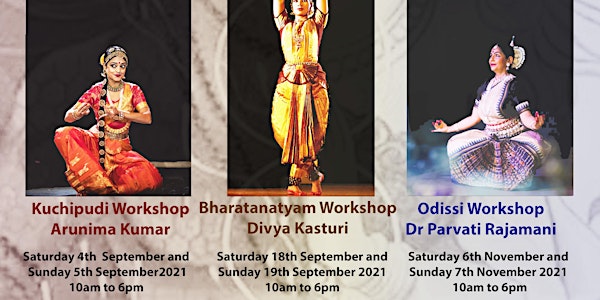 Kalakunj presents 'Shakti: The Divine Energy and Power'
Workshops and performances portraying divine feminine energy and power through various Classical Indian Dance genres.
When and where
Location
Reading St Bart's Theatre Reading Rg1 3QA United Kingdom
About this event
After the successful completion of two Heritage Lottery Fund projects in 2014-15 and 2016-18, Kalakunj, Reading cordially invites you to participate in its latest venture, 'SHAKTI: The Divine Energy and Power', a project supported by an Arts Council England grant. 
This project aims to explore the portrayal of women in the realms of Indian mythology and the role of women in society through an array of South Asian classical dance genres. With many recent feminism movements, we are excited to delve into this very relevant subject looking through the prism of Indian classical dance and music. 
As part of this, we are delighted to announce the launch of three 2-day dance workshops led by renowned performing artists of South Asian Arts, during the year: 
1. Saturday 4/Sunday 5 September KUCHIPUDI workshop ARUNIMA KUMAR
2. Saturday 18/Sunday 19 September BHARATANATYAM workshop DIVYA KASTURI
3. Saturday 6/ Sunday 7 November ODISSI workshop Dr PARVATI RAJAMANI
In these workshops, attendees are able to pull out their dancing feet and experience the true flavour of the dance form first-hand, with a piece taught by the experts themselves. Additionally, we have our final performance showcase on Saturday 13 November 2021 @ University of Reading. The audience will be able to witness the richness of South Asian dance and the various facets of feminism deeply rooted in the arts and culture, performed by the three distinguished artists. What's more, the workshop participants will also receive the opportunity to perform their learned piece to an audience! 
Join us to embark on an artistic journey, perhaps to become a dancer for the first time, or to witness high calibre, tantalising classical performances, and to explore the female entity in South Asian Arts.
 Registration and valid ticket purchase is essential for all events, details of which (including further event information) may be found at: Kalakunj presents 'Shakti: The Divine Energy and Power'
If you have any questions or would like any further details, please do not hesitate to contact us, either via the Kalakunj website: https://www.kalakunj.co.uk/contact, via phone: 07717436720 or via email: ananya@kalakunj.co.uk. 
 We hope to see you soon!  
Yours sincerely, 
The Project Team, Kalakunj
FAQs
1. Where do these workshops happen?
Workshop venues are St Bart's Theatre, Reading.
2. Is there parking at the venue where each workshop happens?
Parking is restricted at each venue. The closest car park for St Bart's Theatre is Palmer Park Car Park, Wokingham Road, Reading, RG6 1LF 
3. Do I have to attend all the three workshops?
No, you can choose and attend any workshop of your interest.
4. How do I buy the ticket for the dance workshop I want to attend?
Please visit https://www.eventbrite.com/e/kalakunj-presents-shakti-divine-energy-and-power-tickets-95260935021 to buy tickets.
5. What is the cost of each workshop?
Cost of each workshop is £20 for 2 days (including refreshments).
6. Do I have to book individually if I want to go to all the three workshops?
Yes, please book separately for each set of workshop.
7. What's the refund policy?
We do not offer refunds. However, Workshop tickets can be transferred to a later date in unavoidable situations. Please contact ananya@kalakunj.co.uk for such requests.
8. Do I get a chance to perform after attending and learning at the workshops?
Yes, there is an option for performance of the piece as 'work in progress' at the 13 November showcase.
9. Where can I continue learning the specific dance style after the workshops?
Please contact KALAKUNJ Project Lead or respective workshop leaders for further guidance and information.
10. What support would I get if I want to perform on 13 November 2021?
Please contact KALAKUNJ Project Lead for further guidance and information.
11. Can I bring my child to the workshop?
No, that would not be ideal, unless they are also participating in the workshop.
12. Can I attend one day of the workshop instead of both the days?
The attendee is expected to attend both days of each workshop.
13. Are there any age limits for the workshops?
We recommend 10 years and above considering the intensity of the workshops. Kalakunj students, please contact ananya@kalakunj.co.uk
14. What should I bring on the day of the workshop?
 It is required that everybody attending a workshop at the St Bart's Theatre/performance at the 3sixty Theatre has either a negative lateral flow test no more than twenty-four hours before the activity begins, or alternatively provide proof that they have received both doses of their COVID-19 vaccination. If you have received one dose, you will still require a negative lateral flow test.
Please bring proof of identity/age to the workshop.
You can wear comfortable, loose clothing for the dance workshops (traditional Indian attire is also welcome). Remember to carry water bottles. Refreshments will be provided. Please bring your own refreshments if you have any dietary requirements or allergies.
 15. Do I get a certificate of attendance for any of the workshops?
TBC
16. Do I have to purchase tickets for children for Nov 13th?
Children under 5 years have free entry. Valid ticket holders will be provided with refreshment packs.