About this Event
DOORS: 8:00 PM, SHOW: 9:00 PM
AGE RESTRICTIONS: 21+
GENERAL ADMISSION, LIMITED SEATING
Important Notice: All tickets are nonrefundable and nontransferable with the exception of event cancellation. Support acts are subject to change
----------------------------
About Kaki King:
Hailed by Rolling Stone as "a genre unto herself," Brooklyn-based composer and guitarist Kaki King has released 8 albums over the past 13 years. She has performed on every continent over the course of multiple world tours, and has presented her work in a variety of prestigious arts centers, including the Kennedy Center, MoMA, LACMA and The Met. She has created music for numerous film and TV soundtracks, including "August Rush" and Sean Penn's "Into the Wild", for which received a Golden Globe nomination for Best Original Score.
In addition to her own solo work, Kaki has also collaborated with NYC-based string quartet ETHEL, and has performed at Carnegie Hall, premiering a classical piece commissioned by Pulitzer Prize-winning composer David Lang. In April 2017, Kaki recorded her first full-length album with symphony orchestra, commissioned by the Berklee College of Music, which will be available September 22, 2017.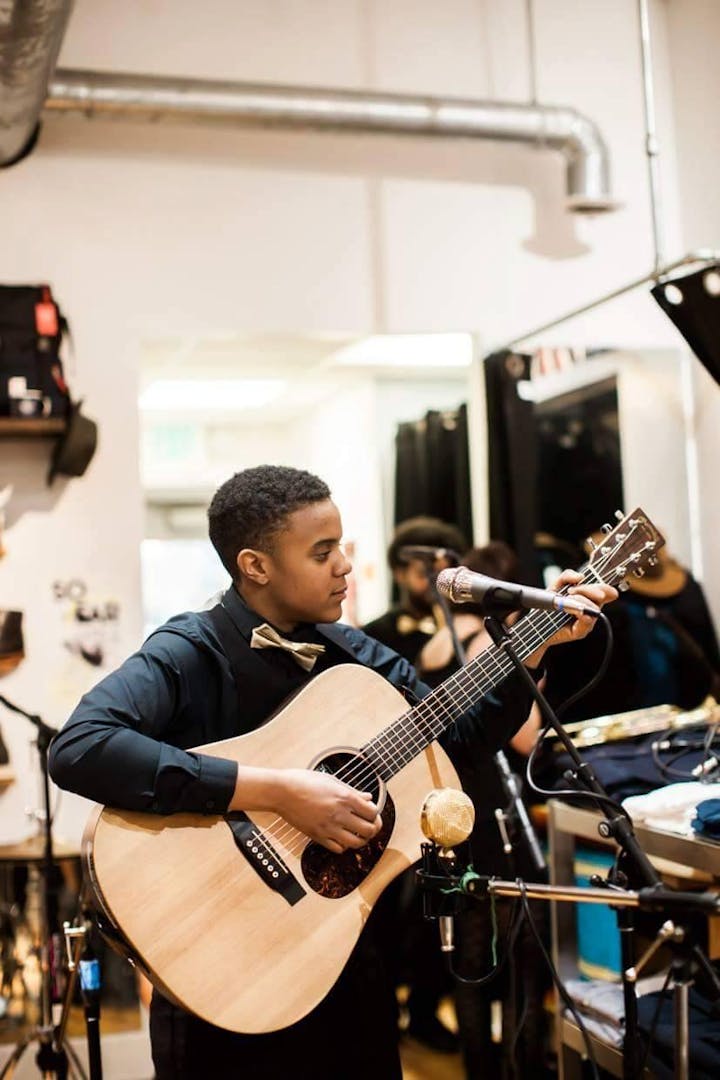 About Crescent Ulmer:
"Crescent's voice is quite striking; soft and timid in conversation, yet resilient and sincere in song." - NUVO Magazine
Crescent Ulmer is a folk songwriter that travels like a blues-man, a troubadour of sorts, living life with a mantra of spontaneity and honesty. It is no wonder that they are known for their raw, acoustic sound and sincere, real-life songwriting. In one show, expect to laugh and cry, sometimes simultaneously.
Crescent's first album, Creature Comforts, was funded by a successful crowdfunding campaign after being voted Bloomington, Indiana's best songwriter in 2014. The album gives a window into their life as a teenager struggling into a young adult -- searching for direction and purpose. "As an entire body of work it really defined who I had been and the journey of introspection I was going through," Crescent observes. While struggling with issues such as sexuality, Crescent was balancing their first heartbreak, excessive partying, drugs, and alcohol. "There was a lot of shame that I felt living that way and that's what I wrote about," states Crescent.
Crescent Ulmer started out writing thoughts, poems, and short stories on scraps of paper. At 15, they were given a guitar by a friend and that was when the floodgates of creativity opened. Within a month, Crescent was writing dozens of songs. "I didn't even know how to tune it at first, I would just sing over the strings" notes Crescent.
Crescent spent much of 2015 focusing on personal/professional development and improving their songwriting, music theory, and guitar discipline.
"I'm not afraid to get on stage, share my story, laugh at myself, and create a space that encourages others to do the same. It is all about connecting with other people, building relationships, and the honesty of the experience."