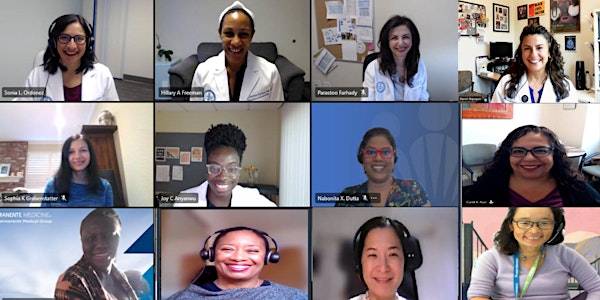 Kaiser Permanente HouseCalls Women's Health - Two Part Series
Kaiser Permanente HouseCalls is proud to present TWO encore presentations about the importance of cancer screening and prevention.
About this event
Join Kaiser Permanente East Bay HouseCalls for encore presentations of Cervical Health & the HPV Vaccine: Prevention for All on Wednesday, January 11 and What's in Your Genes? on Wednesday, January 25. Both events will take place from 5:30PM - 6:30PM.
ZOOM LINK HERE: https://us02web.zoom.us/j/88501126560
Join the call on Zoom to view the discussions about cervical cancer screening in the African American and African Diaspora Community, and the importance of knowing your family's cancer history and how genetic testing can help family members prevent cancer or detect early cancer.
These are FREE virtual events. We will have Kaiser Permanente physicians available to answer your questions in the Zoom chat, LIVE!
All are welcome. You do not need to be a Kaiser Permanente member to attend!
_________________________________________________________________________________________
HouseCalls is a virtual communication tool originally created to S.E.E.E. our members and create conversation around making healthy lifestyle choices and prevent chronic disease.
It is to:
Support our members and community to take control of their preventive care and chronic conditions​
Explore ​and identify opportunities to improve care​
Encourage dialogue and partnership between members and medical specialists​
Educate ​on how to care for chronic conditions at home​
January 11 - Speaker and Moderator Information
Dr. Sonia Ordoñez is a general OBGYN physician with focus on gynecology surgery. She was born in Guatemala, but emigrated to the U.S. at a young age. She graduated from UCSF medical school and completed her training at Columbia Presbyterian in NYC. She was on staff in Boston at Beth Israel Deaconess Medical Center (BIDM), one of the Harvard teaching hospitals for 12 years. She then moved back to the Bay area and joined the wonderful Kaiser East Bay family.
Dr. Ordoñez's professional passions are on cancer prevention, with a special emphasis on cervical and breast screening, HPV vaccination, and addressing health care disparities.
Click here to learn more about Dr. Ordoñez and her practice
Dr. Austinn Freeman is a Palo Alto native that enjoys tennis, hiking, traveling, the delicious Bay Area cuisine. Her most favorite hobby is hanging out with her new baby! Upon graduating from Stanford and medical school at Drexel University College of Medicine in Philadelphia, Dr. Freeman chose to specialize in Ob/Gyn to have the unique and special opportunity to be present and treat women during some of the most exciting, vulnerable, and challenging life moments. Dr. Freeman is committed to providing a safe, judgment-free and accessible environment for women of all backgrounds, cultures, and religions. Her goal is to create long lasting relationships with her patients, create individualized care plans, provide education, and encourage collaborative decision making.
Click here to learn more about Dr. Freeman and her practice
Dr. Joy Anyanwu is a Nigerian American with a great love for the African continent and the diaspora.
As a family medicine trained physician at Oakland Medical Center, Dr. Anyanwu enjoys caring for patients across the age spectrum from newborns and young children to teenagers, young adults and the elderly. Her goal as a physician is to work alongside the patient to improve all aspects of their health.
January 25 - Speaker and Moderator Information:
Dr. Christine Garcia grew up in Connecticut and has crisscrossed the country several times for training. She attended Pomona College in Southern California and then returned to New England where she taught high school for several years before attending medical school at the University of Connecticut. She then came to Kaiser Permanente San Francisco for her Obstetrics and Gynecology residency and completed a Gynecologic Oncology fellowship at the University of Virginia, where she also earned a Master of Public Health degree. She feels fortunate to have returned to Kaiser Permanente, a health system that has been ahead of the curve and aligns with her values of providing integrated, patient-centered care.
Dr. Garcia has a special interest in hereditary cancer syndromes and cancer prevention. Her research in these areas has resulted in many peer reviewed publications and presentations at national meetings.
Click here to learn more about Dr. Garcia and her practice
Dr. Patience Odele is originally from Nigeria and moved to the US when she was 14. She is a general and breast surgeon. She received her MD degree from the University of Illinois, Chicago School of Medicine, completed General Surgery Residency at UCSF and UCLA, and a Fellowship in Breast Surgical Oncology at Northwestern University Feinberg School of Medicine in Chicago. She has been in practice with Kaiser Permanente for over 4 years.
Dr. Odele's practice involves patients with high risk for breast cancer to patients with benign breast diseases. Mostly She meets patients diagnosed with breast cancer, helping them navigate through their treatment options, while personalizing their care. She has a holistic approach to care her my practice, and, believes that "Health is wealth" and prevention is a big part of it. Majority of breast cancer is random hence She encourages patients to live a healthy lifestyle and try to mitigate any risk factors they may have inherited or acquired.
When not at work, Dr. Odele is with her baby boy and husband, enjoying the outdoors and hopefully traveling soon.