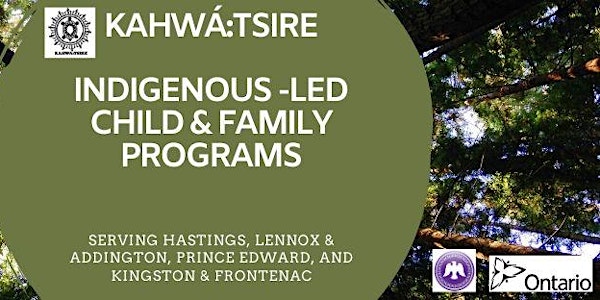 Kahwa:tsire Outdoor Program - Babcock Mill Park
Location
Babcock Mill Park
Odessa
Odessa, ON K0H 2H0
Canada
Explore nature with us and learn Indigenous languages along the way!
About this event
Join us for outdoor fun and exploration and learn Indigenous languages (Ojibwe & Mohawk) along the way!
Families will have an opportunity to smudge. There will also be songs, activities, and a traditional story for the children if they would like to participate.
We will be playing in the water, be sure children (and adults who want to play too) wear waterproof footwear, dress accordingly and/or bring a change of clothing.
This FREE program is for families with children 0-6yrs old, though older siblings are welcome. Spaces are limited, please select a ticket for EACH person attending with you.
If you have questions, contact Vicki 343-261-2434