Description
Yassou globalicious friends,
Welcome to the Kafenia! Help us grow a Village of All Together through weekly communal meals & dialogues/music/hang out time together with friends from all cultures and backgrounds! Everyone welcome who wants space for deep connection, friendship, and global understanding.
October 23rd - Truth in History in Ohlone Territory
"This is the most exciting time to be alive as a California Indian since contact. In 1854 alone, the government spent 1.4 million – $5 a head, 50 cents a scalp for professional Indian killers." Ann Marie Sayers, Ohlone
October 23rd is a special night focused on the land we live on, right here. How can we listen and learn?
Dinner included! With local ingredients
-- Grilled Salmon, Dandelion green salad, Squash, final menu TBD
We will watch an amazing short film by photojournalist Rucha Chitnis, 'In the Land of My Ancestors', about Ann Marie Sayers, a beloved Ohlone elder, who had devoted her life to preserve the legacy of her indigenous ancestors.
In the face of a dehumanization narrative of the dominant culture, Ann Marie Sayers and other Ohlone are raising the consciousness of people in the San Francisco Bay Area on the history of Ohlone people and their continued efforts to keep their culture alive. Please watch the film trailer here.
6-7: Special Ohlone-inspired foods - dinner (details to come) & (supplemental Greek food)
7-720: Weekly check-in - compassionate listening and project/fall intention check-in
720 pm-830 pm: Film & dialogue in small and large circle
830/9 pm: Hang out after our gathering
Cafe Zoe is closed during our 'pop-up' evenings and their menu is not available.
PRICING
Contact welcome@kafenia.org for a Series Pass
Special price: $10/Elders over 80 & Students
Meals kid friendly, gatherings (except Oct 30) mostly adults and teens. We don't want you to miss out and the kids who are there can play together in the back if they are older.
*************************************************
THEMES OF FALL -- DEEP WELCOME
Each week has the same structure with a different theme. There is a back area so you can just hang out after the meal if you do not want to join the gathering. We weave in a village spirit, a chance to share and be heard everytime, and have a good time! We want to empower the global heart here in Silcion Valley!
We have spots for October now, and you can book every Wednesday at 40% off! No more cooking!
October Theme - Support
Oct 2nd: Global Group Check-In & Support -- Global Heartbeat - Monthly Convening of the Village (deep check in including support for our social visions and projects)
October 9th - International Welcome Night - everyone welcome especially newcomers
October 16th - Storytelling, Village Style - discover what the village means to you
October 23rd - Peacebuilding - how do we honor indigenous culture and make amends while living on stolen land? Special Screening & Circle: In the Land of Our Ancestors with Rucha Chitnis & special guests
October 30th - Halloween Even Hangout (family friendly) - learn true meaning of Halloween, arts & crafts
Nov/Dec details-- coming mid-October.
Time commitment: Come just for dinner or stay for our hang out/connection time. Ideal if you can come by 715 pm (we can grab you some food) or 730, but better late than not at all!
What to expect: The Kafenia is an alternative to the dominant hustling culture in Silicon Valley. We are a village vibe. We slow down and focus on each other, not our professional titles or roles. You are coming into a home where everyone is family. It can help to come a few times to get to know people. You will have a chance to pause, listen and share deeply with others. We love newcomers from diverse cultures and we actively grapple with how to move towards a more humane world.
Who joins: We are a global village. People who come from communal cultures especially love the Kafenia. We are a mix of people from abroad and the US.
Kids: We welcome kids and do not want you not to come because of them. Kids are most welcome during our communal meal, and often they can hang out together depending on the age while we gather. The dialogues/storytelling are usually better for age 14+.
We look forward to seeing you this fall as often as you can join!
Warmly,
Mary Jane & the Kickstart Kafenia Team!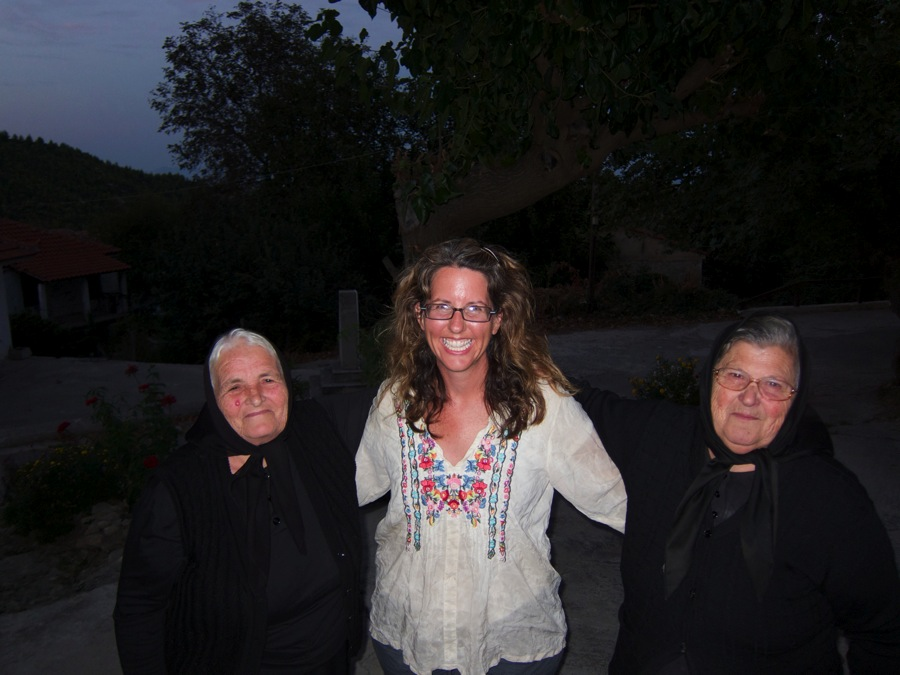 The Kafenia is a reimagining of the traditional Greek kafenio where men shared food, friendship and social and political life together. My grandfather had a kafenio at 16th and Folsom in San Francisco in the 1930s to keep the village alive in a bustling metropolis - but it was only for men. Now, as his granddaughter, Mary Jane, who has done peacebuilding around the world, I am reimagining it as a multicultural village in Silicon Valley- with women front and center. (see World Pulse story.)