Description
Yassou globalicious friends,
Join us for our fall "season" of monthly circles at the Kafenia, where we support each other, share our cultures and encourage each other in the world.
Fall Series details to come!
Get a "Meze Member" spot which includes signing up for all 3 as a way to support sustained community building and get 30% off too! (the cost of a nice salad for lunch ($15/gathering). Women and men welcome too; it's a heart-sharing time so you know.
FALL SERIES: A Circle of Support: Sept 20th, Oct 18th, Nov. 15th
6-7 pm - hang out with yummy food including meze and a soothing stew & sometimes a 'guest' sharing stories just back from travels abroad.
7-9 pm: Gathering
Ticket includes soothing tea, light Greek village food inspired by the monthly theme
Join us - we range from global women faculty at Stanford to someone who arrived as a refugee last year. In the Kafenia everyone is welcome and needed to rebuild our community. Buy a pay it forward spot so we can extend invite to refugees and young leaders.
October 18th: Yes, and! Supporting each other's intentions and projects

September we centered in what matters to us as global citizens. In October, we look at how we can not just support each other, but create an invitation to explore how interests can come together.
Come prepared with your intention from September exercise, or something you want to grow and devote more energy to in the world. If you do not have something, we also welcome those who hold space to support the work of others.
We'll be making metaphorical "
stone soup
" and enjoy a Greek twist on Stone Soup as inspiration.

SEPTEMBER 20th: WELCOME BACK! DONKEYS & PAXIMADIA
Looking Back, Looking Forward
Of course, being just back from Greece, donkeys had to figure into our Fall Series! We thought it would be nice to reflect on our summer as we enter the fall, and set an intention for this year we can revisit each month. Because we are committed to deep cross-cultural understanding, we will root our intentions in our own cultures and hopes for our evolving "American" culture here. Donkeys help Greeks travel short and long distances, including between summer and winter villages, especially for those who lived in snowy mountains especially. As they traveled, they needed foods that would not spoil on the journey and Paximadia (Greek twice cooked rusks with barley & flour that are similar to biscotti) were critical to their survival. As an homage to this journey, and our own 'journey's back, the September gathering will center around Paximadia -- we will have the traditional "Dakos Tomato" salad from Crete, and have a "paximadia' tasting of many yummy flavors (like cinnamon and anise) I brought back from Greece. Since September 20th is also Rosh Hashanah, we will have a special food and sharing (& a small makeup session if you can't join that night because of Rosh Hashanah.)
6 pm: paximadia tasting & dakos salad
7- 9 pm: small and large group circle

​

2017 Theme: Braiding Our Community Together
Fall Series: Circle of Support
September 20: Return & Paximadia

October 18: Yes, and! & Greek "Stone Soup"
November 15: Democracy and citizenship reimagined, & "PItas"
& Mirna's Moroccan Mint Tea
Background:

Last year we just began, and had a chance for many beautiful conversations and connections. This year we hope to strengthen and "Braid our Community Together" through our monthly gatherings.

We are adding more common threads through the year, including an intention we will set in September and revisit each month (it's ok to start later), more learning about what each other is doing or wants to be doing, and will simplify the food a little (2 items, rather than a whole meze spread) - still yummy but easier to set up and break down.

We'll meet monthly on the 3rd Wednesday evening through May, culminating in a Community Peace Meal in June. Contact Mary Jane if you have an idea for a gathering and would like to co-lead. We will use the same themes we had last year, but will change the content.

We welcome newcomers and regulars, though you can get the most out of it (and help us build the community) by joining regularly (first timers are welcome!).

October we will have a chance to share what we are working on (or hope to work on) and use an improvisational model to support each other "Yes, and!"

November, one year after the election, we will look at democracy but in a way that will give us hope and encouragement to move forward.
About the Kafenia:
The Kafenia is a place of welcome, of inclusion, of heart-centered progressive community building. We bring together friends from around the world and especially other Mediterranean and Middle Eastern cultures with whom the Greeks share many foods & values, including the tradition of hospitality and welcome.
The Kafenia is a reimagining of the traditional Greek kafenio where men shared food, friendship and social and political life together. My grandfather had a kafenio at 16th and Folsom in San Francisco in the 1930s to keep the village alive in the bustling metropolis- but it was only for men. Now, as his granddaughter Mary Jane, who has done peace building around the world, I am reimagining it as a multicultural village – with women front and center. We started in the fall, and are continuing monthly this winter/spring as we move towards opening a permanent space. Read more here.
Come check out the action of the day, fresh mint tea, and the yummiest feta this side of the Aegean...
We hope you can make time for yourself to slow down, connect, listen and share. We need you!
Warmly,
Mary Jane & Friends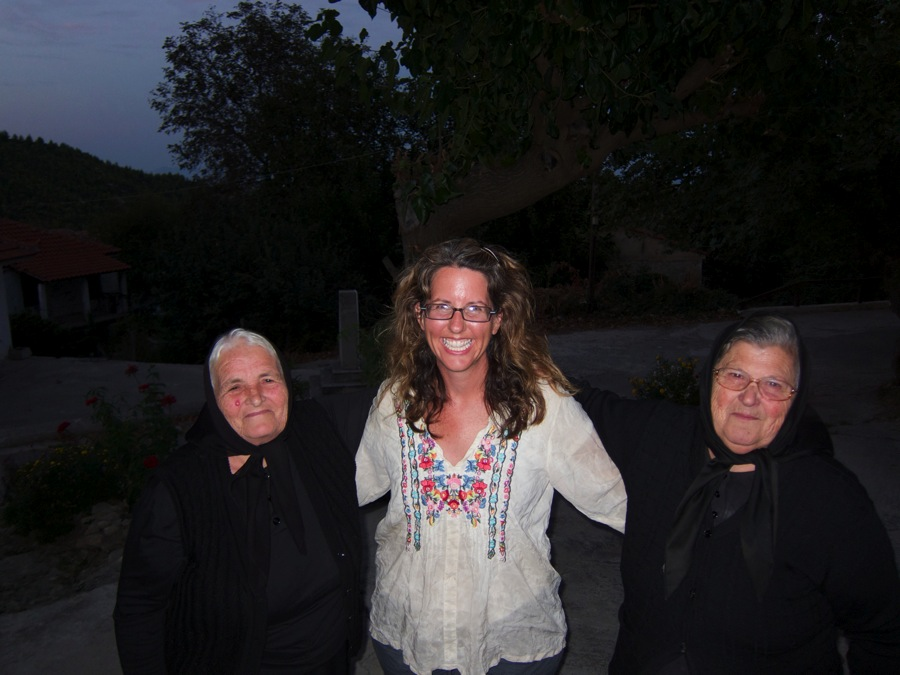 The Kafenia is an emerging Greek-inspired cafe/community gathering space in Palo Alto where we can slow down to the village vibe, enjoy nourishing, earthy food and heart-stirring gatherings on cultural and social issues.