KAΨ presents Summer Breeze Day Party @ Amahle Bar & Lounge
KAΨ presents Summer Breeze Day Party | Amahle Bar & Lounge | 2PM-9PM
About this event
Location:
Amahle Bar and Lounge
1916 Baldwin St, Houston, TX 77002
Date & Time:
August 14, 2021
2 pm - 9 pm
==============
Black Owned Restaurant & Bar
==============
Dress code Enforced:
Stylish & Chic Attire. (Seersuckers, Sundresses, Shirtdresses)
No Athletic Attire, No Ball Caps , No Sweats, No Baggy Clothing, No Tees.
==============
For Tables Call 713.530.7264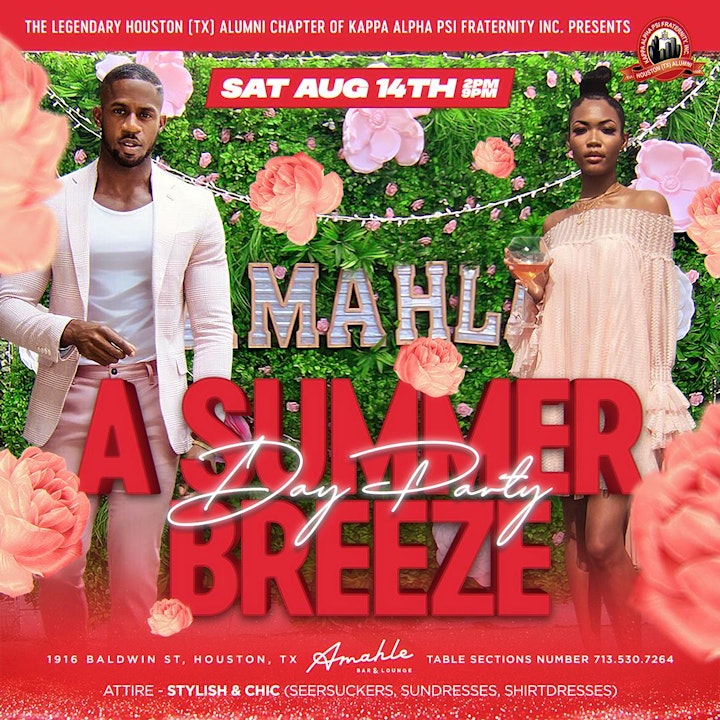 Organizer of KAΨ presents Summer Breeze Day Party @ Amahle Bar & Lounge
For more than a century, Kappa Alpha Psi Fraternity, Inc. has been in the forefront with a focus of honorable achievement and community service; and the Houston (TX) Alumni Chapter prides itself in upholding the values of our Fraternity's Founders who were God-fearing, clean-living, serious-minded men who possessed the imagination, ambition, courage and determination to defy customs in pursuit of college educations and professional careers.
Chartered in 1928, the Legendary Houston (TX) Alumni Chapter is the largest chapter within the largest Province (Southwestern) of Kappa Alpha Psi Fraternity, Inc. We are home to One Grand Polemarch, Four Grand Chapter Officers, Seven Southwestern Province Polemarchs, Two Laurel Wreathe Laureates, Two Elder Watson Diggs Awardees, One Guy L. Grant Awardee, Hosted Two Grand Chapter meetings, Awarded Large Alumni Chapter of the Year, Awarded Guide Right Large Chapter of the Year, Reclamation Chapter of the Year, and Alumni Guide Right Director of the Year.