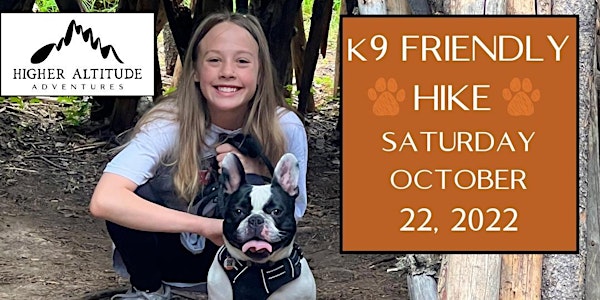 K9 Friendly Hike: Top Secret Tree Adventure
A showcase of all types of forests Alberta has... AND sweeping mountain views dominate today!
About this event
Come join us for a guided hike in the Rockies west of Calgary. This hike really does showcase all that Alberta has to offer. We'll travel through every type of forest imaginable, all while being surrounded by a stunning mountain backdrop. And there's a top secret tree that we'll be visiting... we promise you'll be blown away.
Hiking distance is approximately 11km roundtrip, with approximately 195 meters elevation gain. We classify it as an easy trail that is long in length, while having minimal elevation gain. While this trail is "easy" the total length does make this hike an intermediate day. Total hiking time will be between 5-6 hours, which will give lots of time for snack stops, photo ops, lunch and of course some optional tree hugging. This trail is best suited for people who have done a few hikes, and are ready to push themselves with something a little more challenging.
All well behaved dogs are welcome to join. All dogs must be kept on a leash at all times; no exceptions will be made. Owners are responsible to come prepared with appropriate pet wear (leash, collar or harness) and necessities... doggie bags, and water/dish, etc. We will provide you with a packing list of necessary items, in our regular pre-trip guest email. (Please note that it's important that your dog be ok with other dogs, children and adults. Aggressive dogs will not be permitted to join the group).
This hike is not suitable for youth under the age of 13.
Location:
Ssshhh... it's a secret! The exact location will only be provided to paid participants. Drive time to our meeting point is 1 hour, 15 mins from Airdrie.
We will meet at the parking area at 8:30 and depart at 9am. There are outhouses in the parking area. Please arrive with enough time to use the facilities prior to departure.
Included:
An experienced interpretive hiking guide, with wilderness first aid medic training. Your safety is our top priority and we always have a full first aid kit, emergency safety device (Garmin inReach), and bear spray. Our goal is to provide you with an enjoyable hike at a relaxed, steady pace. We share facts and stories about the area, plants and animals, as time allows. Your guide has done the trail before, and is familiar with the area you'll be in.
Gear list. We'll provide each guest/family with a detailed gear list. Top priority is sturdy walking shoes/hiking boots with good traction. Hiking poles are are commended for this hike, especially for anyone who is prone to sore knees. The detailed gear list will be in the email that goes out to guests 2-3 days before the hike.
Fine Print:
This is a pay what you can hike; we want the outdoors to be accessible to every human. We offer this style of hike to help get people outside, and ejoying nature.
A liability waiver, and health form ,must be completed for each guest before the hike commences. This will be emailed to you, along with the location info and driving directions after your tickets have been purchased. (We will of course have the necessary paperwork available for those who don't have access to a printer, or forget it, the day of the hike).
The trip info email will go out to all guests 2-3 days before the hike date.
We need your correct email address and phone number, in order to send you the trip details! If we don't have your personal info, we can't send you the trip info. :)
Hike goes rain or shine. We do not cancel for the weather, unless dangerous conditions are forecasted.
Hike location may be subject to change based on dangerous weather, or trail closures. (Whenever possible we will choose a hike in similar length and difficulty).
No refunds will be given within 2 weeks of hike date. Please contact Higher Altitude Adventures for more info.