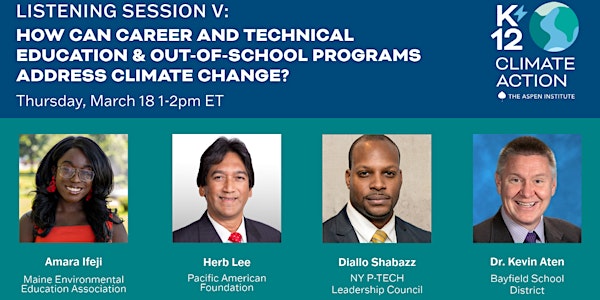 K12 Climate Action Session V: Sustainability in CTE & Informal Learning
Learn how CTE and out-of-school programs can address climate change from experts, activists, and educators from around the country.
About this event
Many children and youth participate in out-of-school programs, which provide critical opportunities for experiential education. Similarly, nearly 9 million students take CTE courses which involve hands-on learning as preparation for job opportunities. This listening session will focus on how out-of-school and CTE programs are uniquely positioned to engage youth in learning about sustainability and green careers. Panelists will share their experiences developing and implementing both types of programs.
This is the fifth in a series of listening session from K12 Climate Action. The panelists at this session will be:
Amara Ifeji, Grassroots Development Coordinator, Maine Environmental Education Association
Herb Lee, President and Chief Executive Officer, Pacific American Foundation
Diallo Shabazz, Director, New York PTECH Leadership Council
Dr. Kevin Aten, Superintendent of Schools, Bayfield School District
The event will be livestreamed on YouTube.