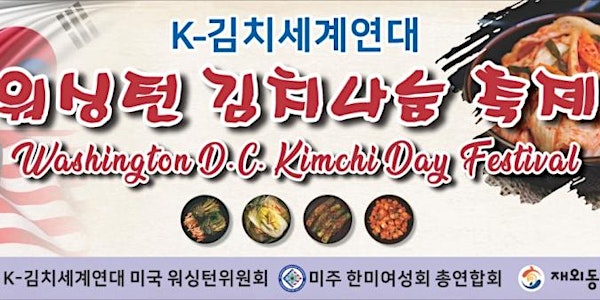 K-Kimchi Washington DC Festival 2022
K food - Kimchi making, tasting, games, and Hanbok Contest
When and where
Location
Good Shepherd Evangelical Church 5401 Port Royal Road Springfield, VA 22151
About this event
Kimchi Day (November 22) is a legal anniversary established in Korea in 2020 to promote the value and excellence of kimchi. In the United States, California, Virginia, New York, and Washington, DC have established local celebrations.
In this event, a culinary researcher demonstrates how to ferment kimchi and to make their own with stuffing. In addition, there are fun Korean games and a Hanbok Contest.
Kimchi Festival participants must register, and it is FREE of charge.
Join this event to learn how to make kimchi, which you can take home with you. Invite your friends and family to celebrate Kimchi Day together.
Hosted by: K-Kimchi World Solidarity Washington, D.C. Committee,
Organizer by: Korean American Women's Association of USA, ASIA Families, Korean American Next Generation Council.
Sponsored by: Overseas Koreans Foundation.
K-김치세계연대 김치나눔축제
주최: K- 김치세계연대 미국 워싱턴 위원회
주관: 미주한미여성회 총연합회
협찬: 아시아 페밀리, 워싱턴차세대협의회
후원: 재외동포재단
날자-11월19일 토요일 오후 2시 – 6시
장소: 워싱턴 선한목자 교회 5401 Port Royal Road Springfield, VA 22151
K-김치 세계연대 김치나눔축제는 워싱턴DC 뿐 만 아니라 로스엔젤레스, 미시건, 뉴멕시코, 캐나다에서는 벤쿠버와 캘거리, 독일 베를린과 프랑크푸르트, 함부르크, 일본 도쿄와 오사카, 호주 시드니, 필리핀 마닐라, 베트남 호치민, 중국 대련, 아르헨티나 등 전세계 30여곳 에서도 11월 22일을 전후해서 김치축제를 준비하고 있습니다. 김치만드는 과정을 설명하고 김치와 관련된 음식을 만들어 시식하고 만든김치를 직접 가져가게됩니다. 한국 전통게임과 한복 콘테스트도 열리며 참가희망자는 온라인으로 접수를 해야하며 참가비는 없습니다. Any questions please email to worldkkimchi@gmail.com