K-Hop All Stars End-Of-Year Show at Diamond Lounge
Description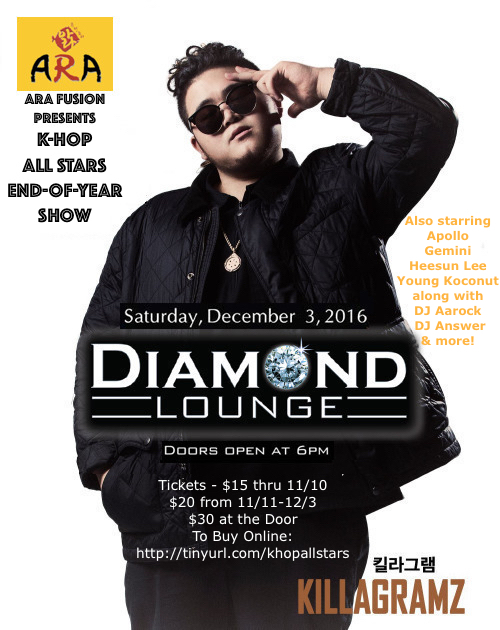 Come out to the 1st of our seasonal performance shows at Diamond Lounge.
K-Hop All Stars End-of-The-Year Show on December 3rd, 2016 Saturday evening at Diamond Lounge which is situated right next to ARA Fusion Restaurant.

Sponsored by the owners of ARA and brought to you by Happy Water Entertainment.
We have an exciting night of performances.
Starting with two local award winning performers - Chip Han, a beatboxer and GiK, a talented popper/locker.
From San Diego, we have the "Official Gemini" and from LA, another talented artist, "Apollo"
Coming from Staten Island, NY the queen bee herself, "Heesun Lee" who dropped her latest album, Beauty for Ashes!
We also have from LA, "Yung Koconut" a wiz with the lyrics.
And our headliner - from SHOW ME THE MONEY Season 5!! - "KILLAGRAMZ" will be in the building.


Tickets are General Admission
Regular Tickets are $20 plus fees and available until 4pm on Dec. 3, 2016
At-The-Door Tickets will be $30 (NO EXCEPTIONS)
You DON'T want to miss this show! So get your tickets early!!!
Meet-N-Greet opportunities TBA