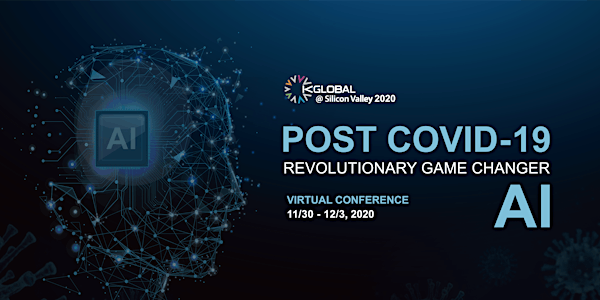 K-GLOBAL 2020 @ Silicon Valley
Vetted by leaders in tech, K-Global 2020 features speakers from Fortune 500 companies, CEOs of successful start-ups, and many more!
About this event

The theme for our 9th K-Global @ Silicon Valley 2020 is "AI, Revolutionary Game Changer for Post COVID-19 Era". We are planning to explore new businesses during and after COVID-19 in AI through 4 programs : ICT Forum, Online Exhibition with 1:1 Conference, Pitching Competition, AUA Session.
Day 1: Forum (11/30, MON, 16:30 ~ 19:00)
This forum is designed to present trends in the field of AI, aiming to provide strategic partnerships between Korea and US. There will be 2 keynote speeches and 2 panel discussions providing an in-depth discussion on 3 key industries of AI.
*Speaker and topic details can be found on our website.
Day 2: K-Pitch (12/1, TUE, 17:00 ~ 19:10)
Promising top14 Korean Tech companies who passed the preliminary round in Korea will be on the stage for the final contest in Silicon Valley to receive funding!
Day 3: International Pitch Competition (12/2, WED, 17:00 ~ 18:50)
2020 International Pitch competition is the 3rd global pitch event hosted by IIA that brings together promising startups, VCs, entrepreneurs, and international government organizations from all over the world.
Day 4: Ask Us Anything (12/3, THU, 17:00 ~ 19:00)
Experts provide tailored answers to questions about various fields in Artificial Intelligence including NLP, Autonomous Driving, and more in the interview and a discussion format.
Partnership Expo (11/1~12/3, 16:00 ~ 20:00)
1:1 meetings with experts to promote U.S. exports, and strategic and financial partnerships between U.S. and Korea.
> Visit K-Global @ Silicon Valley 2020 official website for more info.