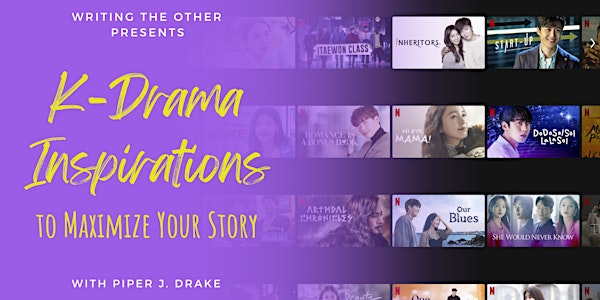 K-Drama Inspirations to Maximize Your Story Webinar
In this webinar, we'll learn to recognize the most addictive elements in Asian drama stories and how to take inspiration from them.
Date and time
Sunday, April 2 · 10am - 4pm PDT
About this event
Asian dramas have become incredibly popular, K-dramas in particular. They hook viewers and create a voracious fan base. Why? The plots, characters, and settings have a fresh feel - just enough commonality to give readers an anchor while they're introduced to elements that are new and different from what they've previously experienced so they still get the same feeling of escape from their own everyday life.
Students will learn to recognize the most addictive elements in Asian drama stories, leading to complex and satisfying plot lines, fresh yet familiar worldbuilding, characters you can't help but root for, and compelling hooks to draw readers from chapter to chapter straight through to the end of one book and into the next. We'll discuss what makes these stories so binge-worthy and how to take inspiration from them to maximize your writing craft. 
This class provides illustrative examples and practical craft takeaways for storytellers to apply to their own stories. An interactive brainstorming session will give students the opportunity to discuss immediate ways to apply what they've learned to current (or future) works in progress.
This webinar will run from 10AM to 1PM Pacific Time with short breaks in the middle.
Who Should Take This Webinar?
Writers of all genres — Literary, YA, Middle Grade, Science Fiction, Fantasy, Horror, Mystery, Children's Books, Romance — and narrative mediums — Prose, Playwriting, Screenwriting, and Graphic Novels, from newbie to professional.
Schedule, Registration, and Payment Options
The webinar will run from 10AM to 4PM Pacific Time on this schedule:
Session 1: 10am - 11:00am
10 minute break
Session 2: 11:10am - 12:15pm
30 minute meal break
Session 3: 12: 45pm - 1:30pm
10 minute break
Writing Exercises & Discussion: 1:40 - 2:40
10 minute break
Interactive Brainstorming: 2:50pm - 3:30p
Open Q&A: 3:30 - 4pm
The schedule is subject to minor changes. Each session will include lecture and Q&A.
Live Webinar Registration is $75 for attendees. If you cannot attend the class during the live webinar, please choose Video Only Registration to get a recording of the class afterward. You'll get all the resources, the lectures, and answers to questions asked during the live class. The fee for this registration is $50.
We will send the webinar recording to all registrants by April 20th.
For more details, please visit WritingTheOther.com.
Refund Policy
We are not offering refunds for this webinar. If you purchase a ticket for the live session and are unable to make it, you will still get access to the recording. You may also submit questions ahead of time via email.
About the organizer
Writers know that it's important to write about characters whose gender, sexual orientation, religion, racial heritage, or other aspect of identity differs from their own. But many are afraid to do so for fear that they will get it wrong–horribly, offensively wrong–and think it is better not even to try.
In truth, it is possible to write the Other sensitively and convincingly, and the classes offered by Writing the Other can start you on the path to doing just that.
Drawing on and updating work by Nisi Shawl and Cynthia Ward, authors of the acclaimed reference Writing the Other: A Practical Approach, the courses, seminars, and retreats we offer combine lectures, discussions, and writing exercises in a safe, supportive atmosphere.