Description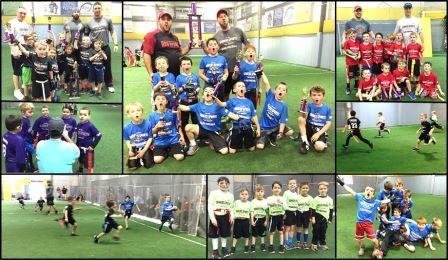 WELCOME and thank you for your interest in our 2017 annual indoor K-1 Spring Flag Football League.

Our Spring 2017 session is for K-1st grade players only and will consist of 8 games including playoffs. Games will be played Sundays from 12pm-1pm, 1pm-2pm, or 2pm-3pm -- start times will vary week to week depending on your team. Also, we may play games on addition days or time slot if needed to avoid holidays. We'll do our best to keep a consistent schedule each week. Free optional Practice clinic is SUN., APRIL 2, from 2:30pm-4:30pm if you can make it. Games start THUR. APR. 6 to avoid spring break weekend and Easter.

Players must currently be in either K or 1st Grade only.

Players can either Register as part of a team (enter parent Coach name on Form), OR as an individual (and we will place you on a team). First-come-first-served basis. Roster size: Minimum 8 - Maximum 10 players for the 8+ game session.

Player fee: $130

Player fee includes all games, official Flag Football jersey, Refs, awards and Turf time. This does not include flag belts, but flag belts will be available for purchase for $3 here at the Facility.

Games will be 55 minutes with 25 minute halves. Teams will be playing 5v5 on Varsity Turf. Five downs to score (no first downs). Coach will QB for each team with 1 running back, 4 receivers. No lineman. Number of playoff teams will be decided by how many teams are entered in the league.

This is a fairly competitive league with a mix of teams of min. experience and first-timers. We try to keep games as even as possible, but please understand, that is only something we can control to an extent.

Both finalist teams will be awarded a team trophy and an individual trophy for each player.