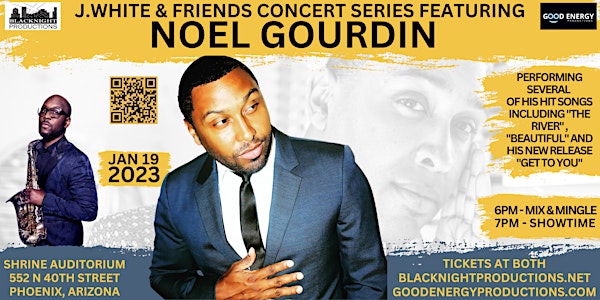 J.White & Friends Concert Series featuring NOEL GOURDIN
Possibly the best concert series ever in Phoenix. Saxophonist J.White brings a different friend from the entertainment industry each month.
When and where
Location
Shrine Auditorium 552 North 40th Street Phoenix, AZ 85008
Refund Policy
Contact the organizer to request a refund.
Eventbrite's fee is nonrefundable.
About this event
ARIZONA !!!……Saxophonist J.White in collaboration with BlacKnight Productions and Good Energy Productions bring you the J.White & Friends Concert Series. With his new album completed and released, J.White is ready to have some fun, and he's inviting his friends who are National/International stellar musicians, comedians and R&B singers to come join the stage with him.
-----------------------------------------------------------------------------
Leading off the inaugural concert is Soul and R&B singer Noel Gourdin, who emerged on the music scene with his number one hit song "The River" which stayed on the charts at number one for 15 weeks! Noel was born in the shadows of Boston but spent his summers with family in Mississippi, which molded a man who is city to the heart but southern to the soul! Noel is influenced by classic soul as well as the contemporary sounds of R&B and hip-hop. Making his music is a seamless blend of each genre.
His 2008 debut album "After My Time", which is a refreshing mix of timeless R&B music with a modern, youthful feel which produced his number one hit song "The River".
Noel's sophomore album "Fresh: The Definition" released in 2011 was filled with refreshing blend of live instrumentation, organic production, and lyrical content which is reminiscent of classic old soul yet relatable to current music and lyrics. This album produced "Beautiful", which reached the Top 10 on the music charts.
In 2012, Noel released his third project entitled "City Heart, Southern Soul" which was a musical expression of his life. This project was a culmination of creating and molding Retro-Relevant music, with underappreciated producers and writers. This project produced several fan favorites such as " "Heaven Knows" and "Patience".
In July of 2022, Noel released a brand new single called "Get To You". Since debuting over a decade ago, Noel has always been able to effortlessly mesh the sounds of traditional R&B with a current feel. That is no different with his new standout single.
As spoken by Noel "I grew up on music that had a meaning and it's still around today; that music was made in the 40's, 50's, and 60's. That's something that my father had me grow up listening to. I just want to be a positive black role model as well as a role model for anyone, regardless of their ethnic background as my music transcends across all color lines. It's really important for me to be respectful and have music that can speak to the masses, from a two year old to your Great GrandMAMA! Musical integrity is extremely important to me, for when I leave the industry my musical legacy is what I want to be remembered for....Timeless, Real and Soulful, Music".
Food, beverages and cash bar are available onsite.