J.Wail ft/ Natalie Cressman (Trey Anastatio Band) & Special Guests Saturday February 5th 2022
About this event
The Orpheum Presents:
J.Wail
ft/ Natalie Cressman (Trey Anastatio Band)
& Special Guests
"WinterStellar FunkDown Tour"
J.Wail Live Band is a collaboration of musicians from different realms who have come together to melt and fuse live instruments with sounds of their electro funkiness. This Winter, J.Wail is headed out on the "WinterStellar FunkDown Tour" with his all-star lineup Live Band featuring Natalie Cressman (Trey Ansastasio Band), DominiqueXavier (Ghost-Note & Prince) and Kito B. (Particle) as well as special guests members of Lotus, Turkuaz, The Werks, The Heavy Pets & more! The tour Kicks off in the Northeast in mid-January.
Melding together the sounds of funk, electronic beats and a live band, J.Wail, along with his Live Band and an array of special guests, rise to the call of the sonic traffic controller- creating a realm of joy, funky flavors, and euphoria for all. The dance floor becomes the launch pad where the band fuses live instrumentation with organic electronica propelling mind, soul, and booty into the upper stratosphere of sound. Stretching into the DJ-based dance sound with the approach of a live band, J.Wail encompasses mind bending music with the element of surprise and improvisation. On a quest to spread music, tours have logged stops on many corners of the globe and far off galaxies. "Wailien" dance parties have been spotted in North America, Asia and Africa. Guests of the show are always encouraged to dress in their finest "Wailien" attire.
J.WAIL
www.jwail.com
www.facebook.com/jwailmusic
https://www.instagram.com/jwail
www.youtube.com/jwailmusic
Natalie Cressman:
https://www.instagram.com/natcressman
https://www.facebook.com/natcressmanmusic
DominiqueXavier:
https://www.instagram.com/heisdominiquexavier
Kito B.
https://www.instagram.com/kito.b_drums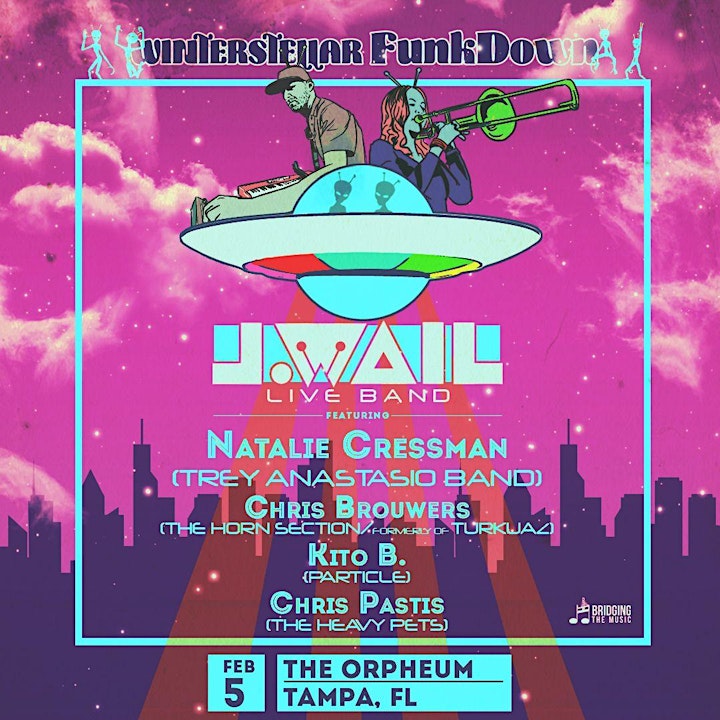 Over 20 Years and thousands of shows! Located in the Historic Ybor City entertainment district of Tampa, Florida. The Orpheum has been showcasing live music and events for the better part of two decades. Many of today's best known and emerging artists have graced The Orpheum's stage. Alongside some of the best national and local live music in the market, The Orpheum plays host to professional wrestling, art shows, club events, charity fundraisers, and dance competitions.