JVCOCC Feb. 27, 2016 Officer Installation and Veteran Of The Year Award Luncheon

Saturday, February 27, 2016 at 11:00 AM (EST)
Event Details
Invitation to Attend the
JVCOCC 91st Anniversary Luncheon
Officers Installation and Veteran of the Year Award
Saturday      February 27th , 2016             12:00 p.m.         Social: 11:00 a.m.
Embassy Suites Cleveland-Independence
5800 Rockside Woods Blvd. (off Rockside Road and I-77) 
Independence, OH 44131
Incoming Officers - 2016 Term
President                   Ron Schwachenwald         Association of the U.S. Army – Newton D. Baker Chapter
1st Vice President       Darrell Hudson                 Vietnam Veterans of America – Cleveland Chapter 15
2nd Vice President      Thomas Jenks                   Military Officers Association of America
Secretary/Treasurer   Gary Rezabek                   82nd Airborne Div. Association - John Towle Clev. Chptr
Chaplain                    Charles H. Kiessling, Sr.   Marine Corps League - Major S.J. Logan Detachment
2015 Outstanding Veteran of the Year Award Honoree
U.S Military Noncommissioned Officers Corps
Sergeant James D. (Jim) Quisenberry  (U.S. Army Vietnam Veteran) our selectee as the Veteran of the Year for 2015, represents our Noncommissioned and Petty Officer Corps, and will receive the award on their behalf.
Guest Speakers
(Information below the ticket and ad orders instructions)
 Luncheon: $35 per Person
Reservation Deadline – February 15, 2016 or Sold Out
 Note: After deadline price is $40.00 each, need to reserve online by February 24 
Discount on table orders of 10= $300( $30 Per individual if by reservation deadline)
If your order does not fill a table of 10, we will be adding other guests to your table
 Sit-down Luncheon – Garden Salad, Main: Chicken Piccata, roasted red skin potatoes and veg.  (Option: Tilapia w/rice pilaf and veg. or Fruit Plate w/cottage Cheese), Dessert. Cash Bar. All tables seat 10 and are available.  Mail form stub & payment or pay Online at http://jvcocc2016.eventbrite.com/. For further information e-mail info@jvcocc.org or call JVCOCC [216-373-7799]. Mail order – ticket pickup at the door.
Ads & Congratulatory
Artwork and Payment Deadline - February 15, 2016

The ad or congratulatory artwork to be provided in both color & gray scale or b/w as well as in both JPEG and PDF file formats.
Art work sizes (portrait mode) with 1 point border: Half page: 6-1/8" wide by 3-5/8" high * * * Full Page: 6-1/8" wide by 7-5/8" high - Prices: Half page $60.00, Full page $100.00 and if designed by JVCOCC please send/pay additional $40.00 donation. Art work or full text of ad or congratulatory send via e-mail to info@jvcocc.org (send separate check or pay Online at http://jvcocc2016.eventbrite.com/ – donations support program printing & event) 
  REFUND POLICY  
Please note your dinner reservation is guaranteed by JVCOCC and there will be no refunds
  PLEASE NOTE:  
REGISTRATION CONNECT TIME LIMIT
Your data will not be saved if you time out when entering information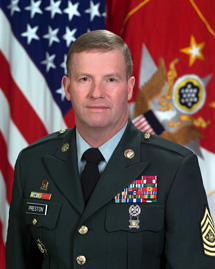 Kenneth O. Preston
Sergeant Major of the US Army (Ret)
Director of Noncommissioned  Officers and Soldiers Programs
at the Association of the US Army (AUSA)
Sergeant Major of the Army Kenneth O. Preston served as the 13th Sergeant Major of the Army from January 15, 2004 to March 1, 2011 and retired as the longest serving Sergeant Major of the Army.
As Sergeant Major of the Army, Preston served as the Army Chief of Staff's personal adviser on all enlisted-related matters, particularly in areas affecting Soldier training and quality of life. He devoted the majority of his time to traveling throughout the Army observing training, and talking to Soldiers and their Families.
He sat on a wide variety of councils and boards that made decisions affecting enlisted Soldiers and their Families and was routinely invited to testify before Congress.
Preston is a native of Mount Savage, Md., and was born Feb. 18, 1957. Preston entered the Army on June 30, 1975. He attended Basic Training and Armor Advanced Individual Training at Fort Knox, Kentucky.
Throughout his 35-year career, he had served in every enlisted leadership position from cavalry scout and tank commander to his position as Sergeant Major of the Army. Other assignments he held as command sergeant major were 3rd Battalion, 8th Cavalry Regiment, 1st Cavalry Division, Fort Hood, Texas, 3rd "Grey Wolf" Brigade, 1st Cavalry Division, 1st Armored Division in Bad Kreuznach, Germany, and V Corps in Heidelberg, Germany. Prior to serving as Sergeant Major of the Army he was the command sergeant major for Combined Joint Task Force 7 serving in Baghdad, Iraq.
His military education includes Basic Noncommissioned Officer's Course, Advanced Noncommissioned Officer's Course, First Sergeant's Course, M1/M1A1 Tank Master Gunner Course, Master Fitness Trainer Course, Battle Staff Noncommissioned Officer's Course, and the United States Army Sergeants Major Academy. Preston holds a Masters Degree in Business Administration from TUI University.
His awards and decorations include two Legions of Merit, the Bronze Star Medal, four Army Meritorious Service Medals, one Joint Service Commendation Medal, four Army Commendation Medals, three Army Achievement Medals, nine Good Conduct Medals, two National Defense ribbons, the Southwest Asia Service Medal, Kosovo Campaign Medal, the Global War on Terrorism Expeditionary Medal, the Global War on Terrorism Service Medal, four NCOES Ribbons, the Army Service Ribbon, five Overseas Ribbons, the NATO Medal, Kuwait Liberation Medal (Government of Kuwait), two Joint Meritorious Unit Awards, an Army Meritorious Unit Commendation and the Department of the Army Staff Badge.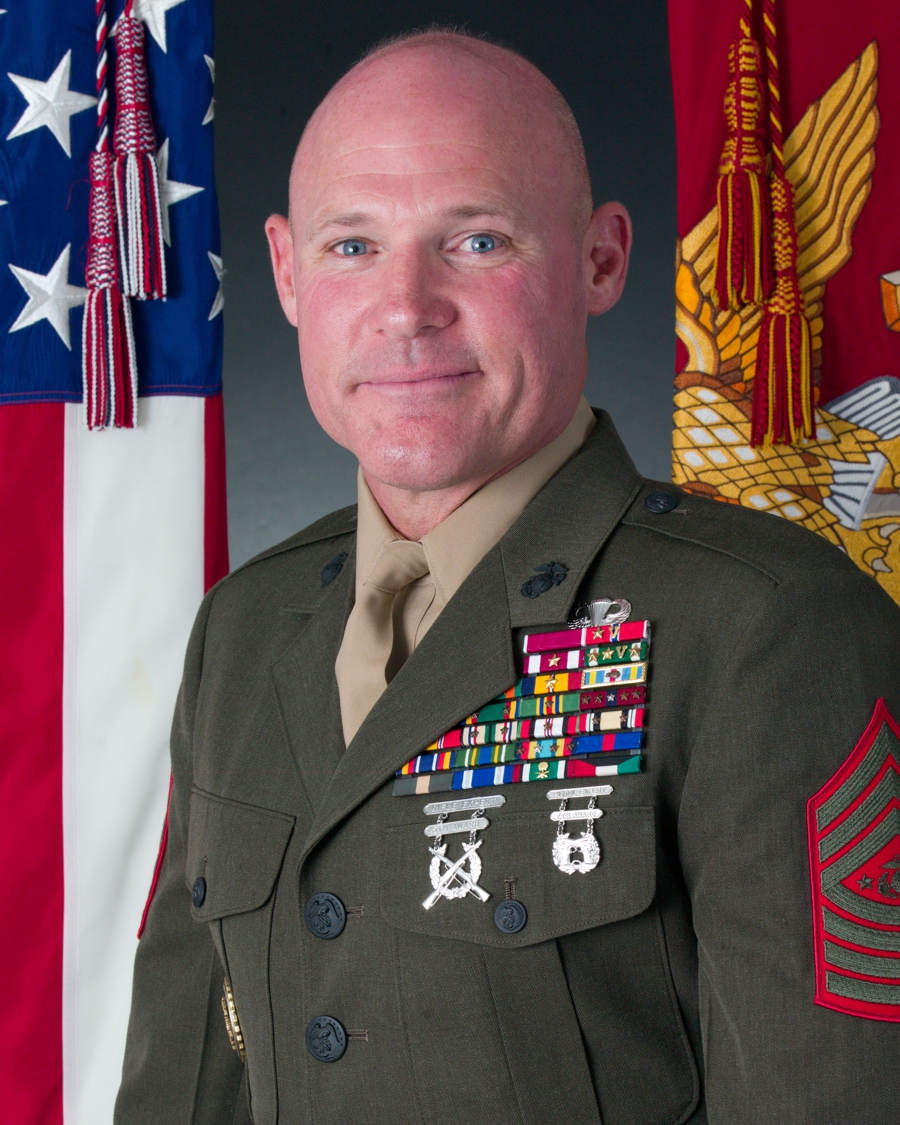 Micheal P. Barrett
Sergeant Major of the Marine Corps (Ret)
 Director of the Marine Corps
Scholarship Foundation (IN)
 Micheal P. Barrett was born in Niagara Falls, N.Y., and raised in Youngstown, N.Y. He enlisted in March 1981 and underwent recruit training at Parris Island, S.C. In November 1981, he completed Infantry Training School at Camp Lejeune, N.C.
He served with 1st Battalion, 4th Marines, Twentynine Palms, Calif., in capacities from Grenadier to Platoon Sergeant. He was Inspector-Instructor with 2nd Battalion, 25th Marines, New Rochelle, N.Y. Besides his primary duties he provided support as an Armorer, Nuclear Biological Chemical Noncommissioned Officer, and Training Chief. Starting in September 1987 he served as Sergeant of the Surveillance Target Acquisition Platoon, 3rd Battalion, 9th Marines.
During the Gulf War he deployed forward with Task Force Papa Bear.
In 1992, Staff Sergeant Barrett completed Drill Instructor School, Marine Corps Recruit Depot, San Diego, Calif., was assigned to Company F, 2nd Recruit Training Battalion, as a Drill Instructor, Senior Drill Instructor, and Chief Drill Instructor. In January 1994, he was selected as the Battalion Drill Master.
In January 1995, Gunnery Sergeant Barrett was assigned as the Chief Instructor at the Scout Sniper Instructor School, Quantico, Va.. From September of 1996, he served as Company Gunnery Sergeant and liaison to the United States Secret Service with the Marine Security Company, Camp David Presidential Retreat. In August 1998 he returned to Twentynine Palms, Calif  and served until April 2000 as the First Sergeant of India Company, 3rd Battalion, 4th Marines, then assigned to Headquarters and Service Company until March 2001 and was the Senior Enlisted Leader of Weapons Company to June 2002.
Barrett was then assigned as the Sergeant Major of Recruiting Station Cleveland, Ohio until May 2005. Sergeant Major Barrett completed two combat deployments in support of Operation Iraqi Freedom (04-06.2 and 06-08.1) in the Al Anbar Province, Iraq with the 2nd Battalion, 7th Marines. And from October 2007 to May 2009, he was the sergeant major of Officer Candidates School, Quantico, Va.
He became the 1st Marine Division Sergeant Major in June 2009. In December 2009, he assumed the duties as I Marine Expeditionary Force (Forward) Sergeant Major, and in March 2010 deployed to Operation Enduring Freedom (10.1/10.2), also becoming the NATO Regional Command (Southwest) Command Sergeant Major for Nimruz and Helmand Province, Afghanistan and ending tour April 2011.ergeant Major Barrett assumed his post as the 17th Sergeant Major of the Marine Corps on June 9, 2011, and served in this position until February 20, 2015.
His personal awards include the Navy Distinguished Service Medal, Legion of Merit, Bronze Star Medal with combat "V" and gold star, Meritorious Service Medal with gold star, Navy Marine Corps Commendation Medal with combat "V" and three gold stars, Navy Marine Corps Achievement Medal with two gold stars, Combat Action Ribbon with gold star, and the Presidential Service Badge.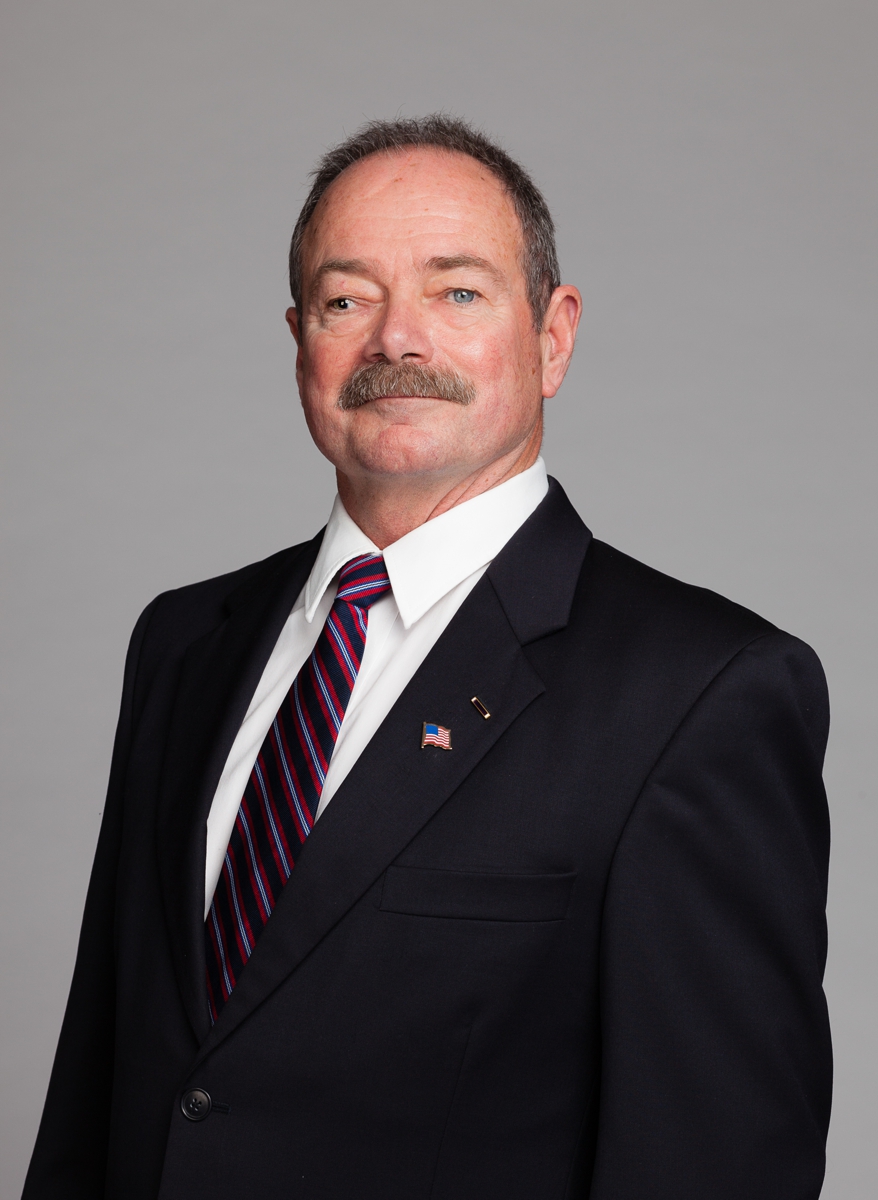 James D. Quisenberry
2015 JVCOCC Veteran of the Year
Recipient On behalf
U.S. Military Noncommissioned Officers Corps
 Jim was born on July 3, 1948 in Waynesboro, Virginia and in the early 50's his family relocated to Cleveland, Ohio. He graduated from West Technical High School in 1966, enlisted in the Army Infantry Airborne that December. In 1967, after Basic, AIT, and Jump School, he was assigned to Bravo Co. 1st Battalion 508th Infantry 82nd Airborne Division, and with an alert ready force was deployed to the Congo. Upon his return from Africa, he completed Sniper School and Red Eye Missile Gunner School. In February of 1968 he arrived in Vietnam, was assigned to Delta Co. 3rd Battalion 503rd Infantry 173rd Airborne Brigade. He was promoted to Sergeant (E-5), served as rifle squad leader until medically evacuated that September. He was a patient at various hospitals for the rest of his enlistment and discharged from Valley Forge Hospital in December 1969.
Upon returning home and convalescing, Jim started working as a skilled laborer and attended Cuyahoga Community College at night. In 1974 he began working for The Illuminating Company, First Energy Corp. as a Transmission Lines Helper on overhead transmission lines and towers plus various maintenance duties.  He retired in 2006 as Journeyman Lineman with almost 32 years of service between the Transmission and Overhead Line Departments while a member of the Utility Workers Union of America/AFL–CIO Local 270. After retirement Jim was voted an honorary member of the National UWUA/AFL–CIO. He then went to work for Synergetic Design, an Emergency Storm Assessor, on an on call basis. He now works part time for The First Federal of Lakewood Bank.
Even while working and going to school, Jim immersed himself in serving his community and fellow veterans and their families. From 1971-73, he volunteered as a Scout Master with his boyhood Buckeye Council Boy Scouts of America Troop 38 in Cleveland, Ohio – leaving with inner city youth lifelong character building lessons. From there he went on to serve with the Lakewood Jaycees, including as Board Member, and in 1976 was honored as Jaycee of the Year, served as Co-Chair of the group's Lakewood 4th of July Parade and implemented improvements still in use today. The youth continued to benefit from Jim's caring spirit when in 1986 he volunteered and was for 2 years an Assistant Coach for Catholic Youth Organization (CYO) Flag Football in his city. Jim, as a delegate from VVA Chapter #15 for over 15 years, has also served on the City of Lakewood Veterans committee involved in the planning/staging of Lakewood's Memorial Day & Veterans Day programs each year as well as a committee of local veterans, city leadership and staff, and friends in the community that spearheaded a major renovation of the Lakewood Park Veterans Memorial.
Jim continued to be committed to volunteer activities, many in a leadership position that resulted in  their greater visibility and number of volunteers attracted due to his exemplary dedication and people skills.
He got active in the veteran community in 1982 when he joined the Disabled American Veterans local chapter. In 1984 he joined American Legion Post 385 and also joined the Greater Cleveland Chapter 15 of the Vietnam Veterans of America. In 1986, his experiences with the reception that Vietnam Veterans received  from previous generations veterans, motivated Jim to help establish the April 30th End of the Vietnam War Ceremony which is continuing today. He was a President of the chapter for 5 terms, served on as a board member at large, served for 25 years on the Honor and Color Guards, and has continued to be an active and committed volunteer for many chapter events and fund raisers. Also in 1986 Jim became a member of a Veterans of Foreign Wars local Post and currently belongs to Post 2533. Jim's active association with veterans organizations grew to include the 173rd Airborne Brigade Association, the 82nd Airborne Division Association, the Catholic War Veterans, Polish Legion of American Veterans and the Northeast Ohio Joint Veterans Honor Guard - with many of them he holds life memberships.  
Since 1987 he has been committed to establishing a special place to honor together those who died from Cuyahoga County during our wars since 1899 (Spanish American War), he was a co-founder, a Past President, and continues as a trustee of Greater Cleveland Veterans Memorial Inc., (was Greater Cleveland Vietnam Veterans Memorial Inc.), with initial rededication of the 1964 Marshall Fredericks "Fountain of Eternal Life" Veterans Memorial Plaza commemorated in 2004 and a 50th anniversary of the original dedication and 10th anniversary rededication commemorated in 2014. Details/Honor Roll at www.clevelandvetsmemorial.org.
In 1988 Jim contributed to the successful and memorable North Coast Vietnam Veterans Coalition "Vietnam Veterans Reunion" in Cleveland, Ohio as the Chairman of the Parade Committee.
Jim has served on Veteran countywide and regional organizations for over two decades, the Joint Veterans Council of Cuyahoga County (JVCOCC) [www.jvcocc.org] and the Memorial Association of Greater Cleveland [www.mdaogc.org] and had held various offices including President of each, he remains a dedicated volunteer each year with those who decorate our Veterans gravesites for Memorial Day. Jim has also volunteered for five Vietnam Veterans Memorial Moving Wall projects in the region.
He has actively participated in the efforts/events of civic organizations such as the Cleveland Grays (trustee), March of Dimes "Walk America" (volunteer with VVA Chapter15 workforce), The Cleveland Cultural Gardens (representative from JVCOCC to establish Liberty Veterans Honor Garden), and Citizens Vision [www.citizensvision.org ] work with the preservation of our history and heritage on its Friends of the Hulett Ore Unloaders and Steamship William G. Mather committee, Committee For Responsible Waterfront Development, as well as the Friends of Whiskey Island committee.
On a state and national level Jim is co-founder and officer of Equal Honor For All [www.equalhonor.org], an organization formed to promote the establishing of a National Military Honor and Service Museum in our nation's capital that will present in one place with continuity our nations defenders and their families stories of sacrifice and service starting with the Revolutionary War, throughout our country's existence and into the future. Equal Honor For All is also actively promoting and supporting, through legislation in Congress, the establishment of a permanent national March 29th Vietnam Veterans Day commemoration.
Civic/Veteran honors bestowed on Jim included induction into the 2005 Class of the Ohio Veterans Hall of Fame and in 1994 the Cablevision's & Discovery Channel - Volunteer Award of Honor.
Jim's military awards/decorations include the Bronze Star, Purple Heart w/OLC, Air Medal, Army Commendation Medal w/v, Good Conduct Medal, National Defense Medal, Vietnam Service Medal w/3 Bronze Stars, Republic of Vietnam Gallantry Cross Unit Citation w/Palm, Republic of Vietnam Campaign Medal w/1960 Bar, Combat Infantry Badge, Parachutist Badge, Expert Marksman Badge w/Auto Rifle Bar/Machine Gun Bar & Rifle Bar. 
Jim married Donna in 1972. She just recently retired as a registered nurse from the pediatric unit at Fairview Hospital. They are blessed with two children, Jim and Angela, son-in-law Rocky and three grandchildren. 
When & Where

Embassy Suites Cleveland-Independence
5800 Rockside Woods Blvd
Independence, OH 44131


Saturday, February 27, 2016 at 11:00 AM (EST)
Add to my calendar
Organizer
JOINT VETERANS' COUNCIL OF CUYAHOGA COUNTY
JVCOCC HISTORY AND GOALS

The Joint Veterans Council of Cuyahoga County (JVCOCC), originally named Joint Veterans Commission of Cuyahoga County,  was established in 1932 to bring together the energies of the various Veterans organizations, work on common goals and commemorations. The JVCOCC sponsors the following events: Flag Day with U.S. Army Birthday and Naturalization Ceremony; Veterans Day; and the annual Officer Installation and Outstanding Veteran of the Year Dinner in February; supports the Memorial Day Association of Greater Cleveland to sponsor the Traditional May 30th Memorial Day observance; and now has partnered with the Association of the United States Army to sponsor the Armed Forces Outstanding Patriot event and with Equal Honor For All to cosponsor March 29th Vietnam Veterans Day. It has also undertaken the establishing of a Liberty Veterans Honor Garden amongst the Cleveland Cultural Gardens and the restoration of Liberty Row, a memorial dedicated in 1919 with trees planted and medallions placed at their bases honoring those Greater Clevelanders killed during WWI. The name change to "Council" was done to distinguish this organization from the Veterans Service Commission of Cuyahoga County, a government body. 
JVCOCC P.O. Box 5350 Cleveland, OH 44101-0350
Tel. (216) 373-7799 e-mail: info@jvcocc.org   www.jvcocc.org

A CALL TO PRESERVE A LEGACY

At this moment, in our country, we have about 24 million veterans but our numbers are rapidly dwindling. We share a unique bond in that most have experienced the sacrifice or have a great understanding of it. Also there is an extension of us veterans, our families and friends, and the families of those who gave their lives for our country, most of whom also have a very personal knowledge of what call to duty demands and its toll on those who serve and their families. We have to work together, across all veterans' organizations and as individuals, to make sure that future generations of veterans and families will receive the best care they rightfully deserve and our fellow citizens have a clear reminder of the price for the freedoms they enjoy. The significance of our contributions should not die with us and we should leave an easier path for future veterans to assert their role in our society. We salute and commend all who make a lifetime commitment to serve their fellow veterans, those who are currently serving our country and their respective families. Our numbers, when working in unison, can guarantee an outcome worth the legacy that we share.
The greatest citizens of each of our nation's generations:
"Those who died defending our country, those who served, those who stand vigilant now and will in the future, their respective families, and the loving citizens who supported them and their loved ones while the defenders were in harm's way and embraced them and their families when they came home and made it their lifetime duty to help them all heal"
.