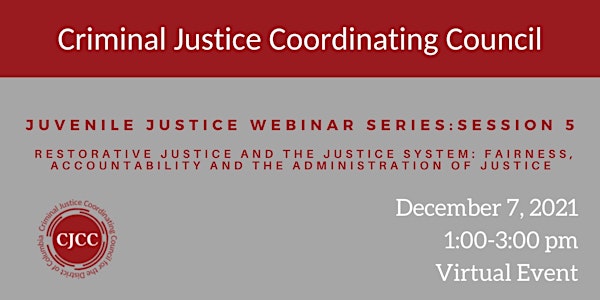 Juvenile Justice Webinar Series: Restorative Justice and the Justice System
CJCC will convene experts in the field of Restorative Justice to discuss RJ approaches in the Juvenile Justice sphere
About this event
Please join us for a discussion on Restorative Justice in the Juvenile Justice sphere with the following panelists:
Thalia Gonzalez, Senior Scholar, Georgetown Law Center on Poverty and Inequality
Cymone Fuller, Co-Director, Restorative Justice Project, Impact Justice
Jonathan Scharrer, Director of the Restorative Justice Project, University of Wisconsin Law School
Marilyn Armour, Professor and Founder, The Institute for Restorative Justice and Restorative Dialogue, The University of Texas at Austin School of Social Work
Organizer of Juvenile Justice Webinar Series: Restorative Justice and the Justice System
The CJCC's mission is to serve as the District of Columbia's forum for District and federal members to identify crosscutting local criminal and juvenile justice system issues and achieve coordinated solutions for the criminal and juvenile justice systems.

CJCC also facilitates and supports member identified priorities, strategies, and initiatives that will improve public safety and the related criminal and juvenile justice services for District of Columbia residents, visitors, victims, and justice involved individuals.
CJCC is dedicated to ensuring the full participation of individuals with disabilities.  The venue is wheelchair accessible and interested members of the community can request reasonable accommodations, including translation services, prior to the event.  If an accommodation is needed, please contact Tamara Vines at tamara.vines@dc.gov or 202-442-9283.  Requests should be made as soon as possible but at least five (5) business days prior to the scheduled meeting.