Just/Justice: Valuing Fairness & Efficiency in the Criminal Justice System
Description
On March 1, join LJSJ for a daylong symposium featuring attorneys, judges, community advocates, and legal scholars as we examine how to transform the criminal justice system into one that values both fairness and efficiency.
Featured speaker Paul Charlton, former U.S. Attorney for the District of Arizona, leads off the day with a discussion about sentencing reform. Other panel topics include vulnerable populations in the criminal justice system, the mental health crisis within the criminal justice system and ways to reform the system in a more fair and efficient way.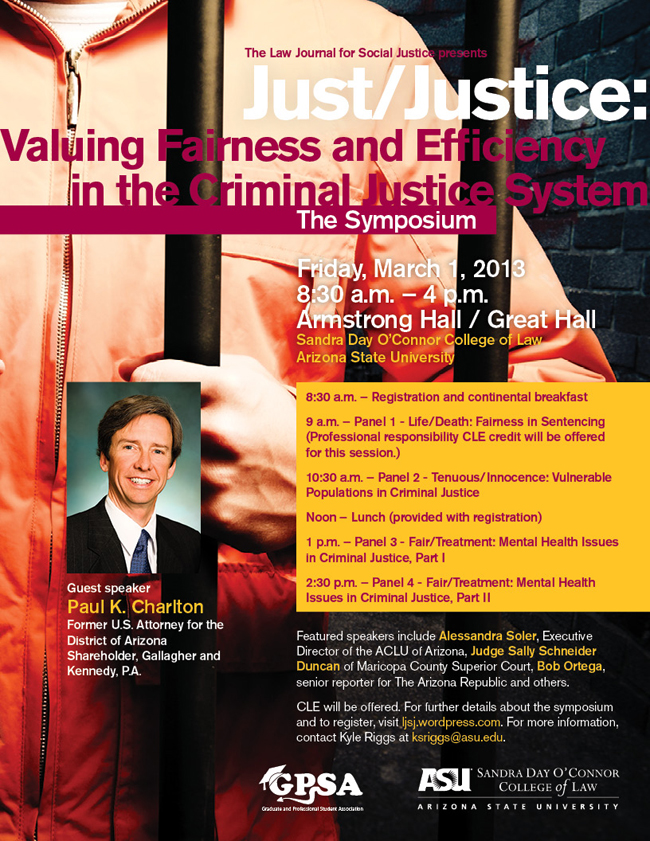 Additional panelists include: Tammy Wray, attorney with the Maricopa County Public Defender's Office and its criminal mental health unit; Bob Ortega, senior investigative reporter for the Arizona Republic and lead author of the paper's series "The Price of Prisons"; the Honorable Sally Duncan, Maricopa Superior Court judge who handles a specialty calendar focused on adolescent offenders; Andrew Clemency, ASU Faculty Associate, School of Criminology and Criminal Justice, and senior attorney for MCPDO; Nora F. Greer, a private practice attorney specializing in representing mentally ill criminal defendants; Michael Weakley, Deputy Director for one n ten, a Phoenix non-profit dedicated to serving the needs of the area's LGBTQ youth and young adults; Fredrica Strumpf, attorney with the MCPDO and former behavioral health specialist; Mary Lou Brncik, founder of David's Hope, a non-profit dedicated to educating the public about the plight of the incarcerated mentally ill; Xia Wang, ASU assistant professor of Criminology and Criminal Justice, who studies race and ethnicity and the criminal justice system; Alan Eladio Gomez, ASU professor in the School of Justice and Social Inquiry.
ATTENTION: Attorneys seeking CLE credit must purchase the "Attorney Seeking CLE" ticket.
Attendending all four panels may earn attorneys 5 CLE credits, including 1.5 hours of professional responsibility/ethics credit.
A light breakfast and a lunch are both included with your ticket.
Organizer of Just/Justice: Valuing Fairness & Efficiency in the Criminal Justice System
The Law Journal for Social Justice ("LJSJ") is the first student-run and student-created online journal at Sandra Day O'Connor College of Law at Arizona State University.   LJSJ edits, publishes, and produces notable works focusing on social justice issues through its online blog and journal from legal scholars, practitioners and law students.
View our blog and past issues online at http://ljsj.wordpress.com