Location
The Book Loft of German Village
631 South 3rd Street
Columbus, OH 43206
Description
The Book Loft is excited to host Justine Larbalestier interviewed by John Scalzi about her new book, My Sister Rosa.
After the talk, there will be a Q&A followed by a book signing with both authors. This event is free and open to the public but we are asking attendees to please RSVP. In return, Eventbrite ticketholders will receive 10% off the price on any of Justine and John's books for sale at the event!
---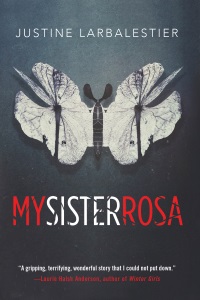 MY SISTER ROSA
What if the most terrifying person you'd ever met was your ten-year old sister?
Seventeen-year-old Australian, Che Taylor, loves his psychopathic younger sister, Rosa, despite all the trouble she makes for him. Now Che and his family have moved to New York City, a new hometown, which provides too many opportunities for Rosa to play her increasingly disturbing games. Che's always been Rosa's rock, protecting her from the world. Now, the world might need protection from her.
"With My Sister Rosa, Larbalestier brings us a novel that starts out as a quirky family story with a cast of intriguing and likeable characters (even the titular pyschopath), but which quickly races into psychological thriller territory that meets and beats The Silence of the Lambs for suspense—it's the kind of book that had me literally gasping aloud as it rattled to its incredible conclusion."
—Cory Doctorow, New York Times bestselling author of Homeland

"My Sister Rosa is a gripping, terrifying, wonderful story that I could not put down."
—Laurie Halse Anderson

"An utterly compelling and wonderfully creepy exploration of the many faces of psychopathy. Rosa will stay with you long after you turn the last page."
—Jay Kristoff, New York Times bestselling coauthor of Illuminae

"My Sister Rosa is terrifying, brilliant, and heart-wrenching. A must read."
—Cindy Pon, author of Serpentine

"The evil in the room across the hall, the evil in the flowery party dress, the evil who just wants a bedtime story—Rosa is more frightening and more adorable than any villain you have yet met. Larbalestier is at her tricky, terrifying best in this novel."
—E. Lockhart, New York Times bestselling author of We Were Liars
---
Justine Larbalestier is an Australian-American writer who was born and raised in Sydney. Her last solo novel, Liar, received four starred reviews, was shortlisted for eleven awards, won four—and was a best book of the year for the Young Adult Library Services Association (YALSA), School Library Journal, Bank Street Books, Michigan Thumps Up, as well as the International Youth Library's The White Ravens 2010. She also wrote How to Ditch Your Fairy and the Magic or Madness trilogy as well as co-editing the anthology Zombies vs. Unicorns anthology with Holly Black. Justine lives in Sydney, Australia where she gardens, boxes, and tweets far too much. Visit her on her website.
---
John Scalzi won the 2006 John W. Campbell Award for Best New Writer, the 2013 Hugo Award for Best Novel for Redshirts, and his debut novel Old Man's War was a finalist for Hugo Award as well. His other books include The Ghost Brigades, The Android's Dream, The Last Colony and The Human Division. He has won the Romantic Times Reviewers Choice Award for science-fiction, the Seiun, The Kurd Lasswitz and the Geffen awards. His weblog, The Whatever, is one of the most widely-read web sites in modern SF. Born and raised in California, Scalzi studied at the University of Chicago. He lives in southern Ohio with his wife and daughter.
---