About this Event
Born and raised in Los Angeles, California, Justin has always had a passion for music. Justin began Dj'ing at the age of 16 at local house parties and school functions. As soon as Justin fell in love with Hip Hop, he quickly became enthusiastic about Dj'ing. "I have always felt impassioned about entertaining people through music and dance." After high school, Justin took his talents on the road, from Fresno Ca. to Palm Springs Ca., then landing in Las Vegas in 2000. It was in Las Vegas where Justin got his stride. He worked at the local radio station as an Imaging Director, and pursued his dream of Dj'ing at some of the hottest Clubs in the city. There is no other city in the world like Las Vegas. I can say with great enthusiasm, Las Vegas will always hold a special place in my heart." Just like the city that never sleeps, neither does Justin… From Las Vegas, it was on to San Diego where Justin was Wide Awake! He was hired at XHTZ/ Jammin Z90 to be the Imaging Director, hosted a weekend radio show, and Dj'ed at clubs across the city. In 2003, another dream came true; Justin became Music Director at Jammin Z90. One year later, Justin landed his dream radio Job at Power 106 in Los Angeles. "It feels good to be home." He became the Imaging Director and immediately used his resources to create a nationally syndicated show "The Top Ten Celebrity Countdown" which airs in over 20 cities across the country. Justin continues to strive for more. Not only is Justin one of the top Imaging Directors in the country, he now is a part of the Power Mixer family. Justin mixes daily with DJ Felli Fel on the Power 7 at 7 Countdown. Additionally, you can listen to Justin on Wednesday nights on Power 106 at Midnight on the Take Over Show with DJ Reflex and the Los Angeles Leakers. Justin has an amazing strive and dedication to be the BEST at everything he does. He is always willing to go above and beyond, and do whatever it takes to get the job done with impeccable perfection. Justin is a huge Los Angeles Lakers Fan and admires artists Jay-Z, Diddy, Kanye West, Ryan Leslie, Common, and John Legend. Justin has successfully attempted to take what he has learned thus far, and create his own niche in the entertainment world that sets him apart from others. With a unique style on the Mic, and an eclectic ear for Great Music, Just-N-Credible can be heard DJ'ing everything from Hip Hop, Top 40, to 80′s and more, Justin not only wants to be known as an International DJ, he wants to venture into the world of producing music, and put his mark on the fashion industry.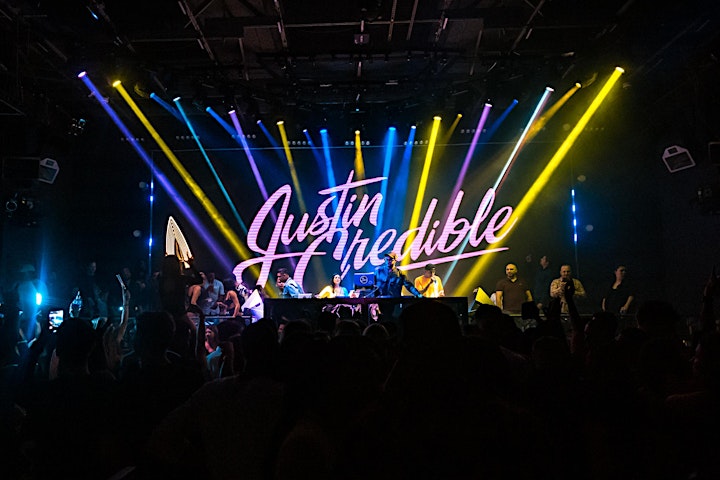 Guest must arrive by 11:30pm for guaranteed entry. Failure to do so may result in loss of reservation and ticket will not be refunded.
* Guest is required to bring a printed copy of the scannable ticket (or a scannable ticket on their mobile device) and e-mail confirmation along with the credit card that the ticket was purchased with, in order to gain entry to the venue.
* Guest must be at least 21 years of age and present a valid government issued photo ID at the door. Copies, paper, or photographs of IDs will not be accepted. U.S. residents must bring state or federal issued ID; Non-U.S. residents must bring a valid passport or global entry card.
* Tickets are non-transferrable and may not be exchanged. LOST, STOLEN, ALTERED OR DESTROYED TICKETS WILL NOT BE REPLACED, REFUNDED OR EXCHANGED FOR ANY REASON. TICKETS HAVE NO CASH VALUE.
* DJ and event subject to change without notice.
* All ticket sales are final and nonrefundable. Venue is not responsible for talent cancellations or closures due to inclement weather or other unavoidable events. Tickets are non-refundable.
* Venue reserves the right to delay or deny access into venue due to capacity restrictions.
* Guest must comply with all venue dress code requirements. Appropriate dress is required and strictly enforced. No athletic gear of any kind including flip flops, tennis shoes, shorts, hats, etc. No chains, offensive prints, torn/cut-off or baggy clothing.
* All guests and bags will be searched for prohibited items including but not limited to, weapons of any kind, illegal drugs (including marijuana products), alcohol, medications, vitamins or supplements, selfie sticks, party props, containers and recording devices. If you elect not to give consent to such searches, you may be denied entry to the event without refund or other compensation. Prohibited items will be confiscated and not returned even if guest is denied access or removed from venue.
* Guest must comply with all venue policies and disregard or violation of such policies or these Terms and Conditions will automatically invalidate ticket(s) purchased and guest will not receive a refund of any kind and guest will be denied access to venue.
* Venue reserves all rights, including, without limitation, the right to cancel, suspend or modify the event for any reason at its sole discretion