About this Event
Born and raised in Los Angeles, California, Justin has always had a passion for music. Justin began Dj'ing at the age of 16 at local house parties and school functions. As soon as Justin fell in love with Hip Hop, he quickly became enthusiastic about Dj'ing. "I have always felt impassioned about entertaining people through music and dance." After high school, Justin took his talents on the road, from Fresno Ca. to Palm Springs Ca., then landing in Las Vegas in 2000. It was in Las Vegas where Justin got his stride. He worked at the local radio station as an Imaging Director, and pursued his dream of Dj'ing at some of the hottest Clubs in the city. There is no other city in the world like Las Vegas. I can say with great enthusiasm, Las Vegas will always hold a special place in my heart." Just like the city that never sleeps, neither does Justin… From Las Vegas, it was on to San Diego where Justin was Wide Awake! He was hired at XHTZ/ Jammin Z90 to be the Imaging Director, hosted a weekend radio show, and Dj'ed at clubs across the city. In 2003, another dream came true; Justin became Music Director at Jammin Z90. One year later, Justin landed his dream radio Job at Power 106 in Los Angeles. "It feels good to be home." He became the Imaging Director and immediately used his resources to create a nationally syndicated show "The Top Ten Celebrity Countdown" which airs in over 20 cities across the country. Justin continues to strive for more. Not only is Justin one of the top Imaging Directors in the country, he now is a part of the Power Mixer family. Justin mixes daily with DJ Felli Fel on the Power 7 at 7 Countdown. Additionally, you can listen to Justin on Wednesday nights on Power 106 at Midnight on the Take Over Show with DJ Reflex and the Los Angeles Leakers. Justin has an amazing strive and dedication to be the BEST at everything he does. He is always willing to go above and beyond, and do whatever it takes to get the job done with impeccable perfection. Justin is a huge Los Angeles Lakers Fan and admires artists Jay-Z, Diddy, Kanye West, Ryan Leslie, Common, and John Legend. Justin has successfully attempted to take what he has learned thus far, and create his own niche in the entertainment world that sets him apart from others. With a unique style on the Mic, and an eclectic ear for Great Music, Just-N-Credible can be heard DJ'ing everything from Hip Hop, Top 40, to 80′s and more, Justin not only wants to be known as an International DJ, he wants to venture into the world of producing music, and put his mark on the fashion industry.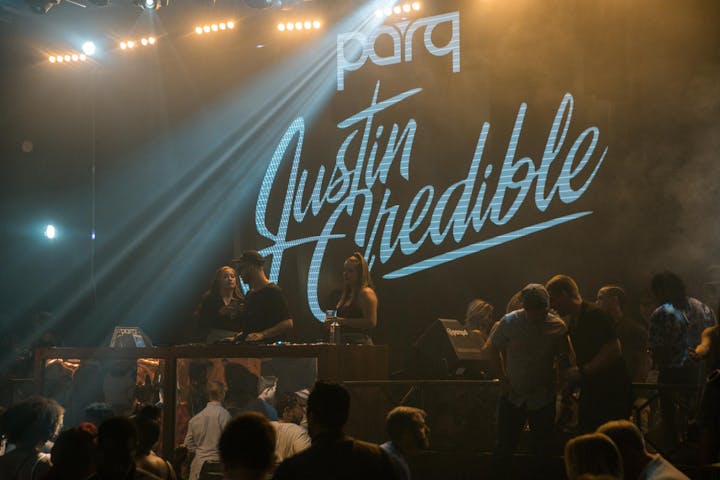 Parq is downtown San Diego's hottest nightclub. Parq features a 10,000 square feet main room, the largest HD LED wall on this side of the world (30 feet by 12.5 feet), aerial dancers, the industry's best hosts, 19 VIP tables and so much more...
Seeing is believing. #COMEPLAY at Parq, San Diego's newest playground!
FAQ:
This event is 21+.
Dress code is strictly enforced. Parq Nightclub is an upscale venue. Dress code is strictly enforced by Parq management. Board shorts, any shorts, or gym attire is not permitted. No sandals, flip flops, jerseys, gym shoes, sneakers, timberlands, or any work boots will be permitted in. No baseball caps, or hats, of any kind. No ripped denim or baggy clothing. No gang affiliated colors or attire will be permitted entry. No lewd or lascivious acts will be tolerated and absolutely no drugs or drug paraphernalia. Parq Management reserves all rights to deny entry and enforce dress code. It's is our mission and goal to keep our guests safe and out of harm's way.
Tickets are non-refundable.
All attendees must have a valid ID.
MUST PRESENT HARD OR E-TICKET UPON ENTRY.
Performers
Date and Time
Location
Refund Policy