The Transnational Justice Project Critical International Law Salon Series
About this event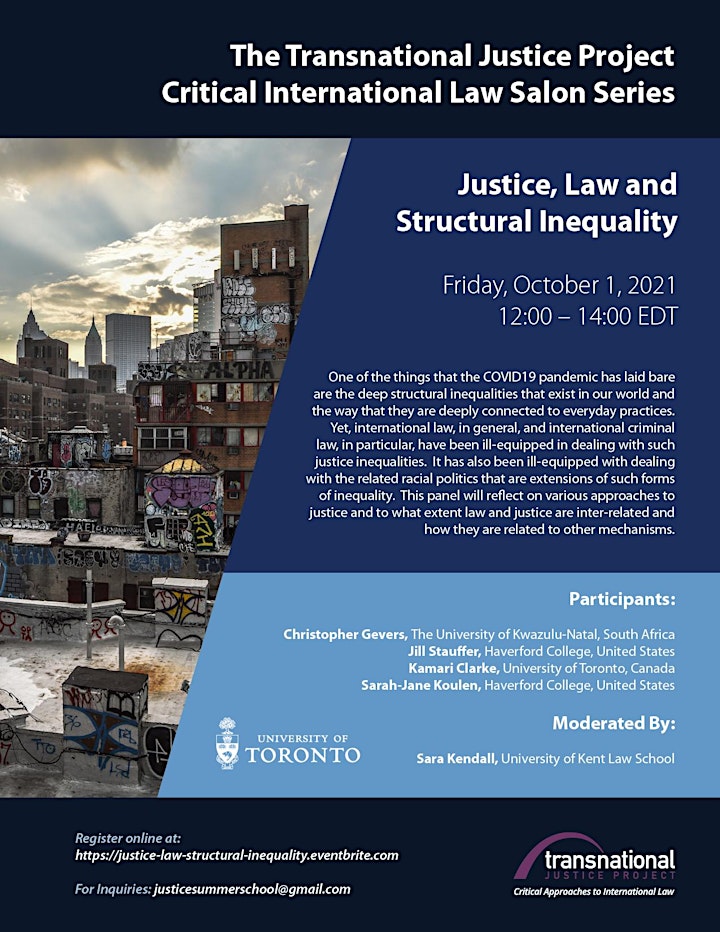 Justice, Law and Structural Inequality
One of the things that the COVID19 pandemic has laid bare are the deep structural inequalities that exist in our world and the way that they are deeply connected to everyday practices. Yet, international law, in general, and international criminal law, in particular, have been ill-equipped in dealing with such justice inequalities. It has also been ill-equipped with dealing with the related racial politics that are extensions of such forms of inequality. This panel will reflect on various approaches to justice and to what extent law and justice are inter-related and how they are related to other mechanisms.
Panelists:
Christopher Gevers, The University of Kwazulu-Natal, South Africa
Jill Stauffer, Haverford College, United States
Kamari Clarke, University of Toronto, Canada
Moderated By:
Sara Kendall, University of Kent
For more information on events co-sponsored by the Transnational Justice Project including the upcoming Critical International Law School in Rwanda visit www.transnationaljusticeproject.com
Organizer of Justice, Law and Structural Inequality
The Transnational Justice Project (TJP) is a research cluster engaged in the study of law in society. By conducting research projects aimed to understand justice and its connection to law, culture, power and the state, TJP aims to explore the complexities of cultural change in our world.