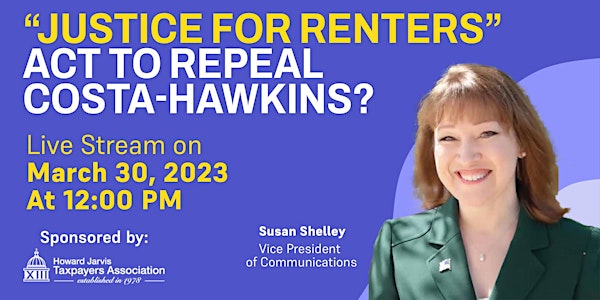 "Justice for Renters" Act to Repeal Costa-Hawkins?
Susan Shelley | Vice President of Communications
By Apartment Owners Association
Date and time
Starts on Thursday, March 30 · 12pm PDT
About this event
"Justice for Renters" Act to Repeal Costa-Hawkins?
In this AOA Live Stream, you will discover:
How the "Justice for Renters Act" would impact California
How and why "Tenant Protections" are detrimental to renters
Update on HJTA's lawsuit to overturn Measure ULA
Information on legislation to Repeal the Death Tax' which was introduced to fix Prop.19
Susan Shelley is Vice President of Communications for the Howard Jarvis Taxpayers Association, the most influential taxpayers advocacy group in California. She's also a columnist and editorial writer for the Southern California News Group, eleven daily papers, including the Orange County Register and the LA Daily News. Susan's a frequent guest on Southern California radio and TV news and interviews shows, and she's the host of the Howard Jarvis Podcast for KABC.
The Howard Jarvis Taxpayers Association is dedicated to the protection of Proposition 13 and the advancement of taxpayers' rights, including the right to limited taxation, the right to vote on tax increases, and the right of economical, equitable, and efficient use of taxpayers' dollars.
Contact Info:
The Howard Jarvis Taxpayers Association
916-444-9950
info@hjta.org
About the organizer
Founded in 1982 by Daniel C. Faller, AOA has become one of the largest apartment associations in the United States, thanks to you, our loyal members.
Don't forget to click on FOLLOW to get alerts of newly scheduled seminars!