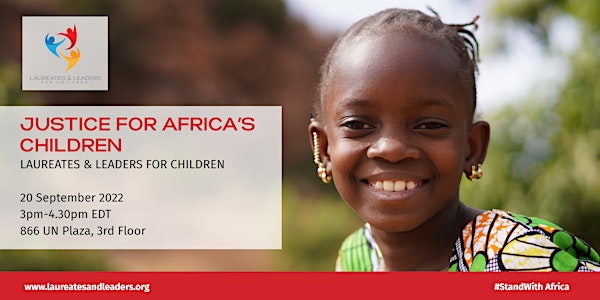 Justice for Africa's Children
Join Laureates & Leaders to accelerate an end to child labour & realise the rights to education & social protection for Africa's children.
When and where
Location
866 United Nations Plaza 866 United Nations Plaza New York, NY 10017
About this event
SPEAKERS INCLUDE:
HE Stefan Löfven, Prime Minister, Sweden 2014-2021
Leymah Gbowee, Nobel Peace Laureate
Kailash Satyarthi, Nobel Peace Laureate
Shaquanna Sebastian, Indigenous Youth Leader, United States
HE María Fernanda Espinosa, President, 73rd Session, UN General Assembly
Daphine Anyakot, Survivor-Advocate, Uganda
Martin Chungong, Secretary General, Inter-Parliamentary Union
Kajal Kumari, Survivor-Advocate, India
Dr. Salim AlMalik, Director-General, ICESCO
Peter Kwasi Kodjie, Secretary General, All-Africa Students Union
Kerry Kennedy, President, RFK Human Rights
Lorena Castillo Garcia, Global Spokesperson for Zero Discrimination (UNAIDS), and Ambassador for Peace of UN Women for Peace
Winnie Nyandiga, 100 Million Africa Coordinator and Vice-Chair, Commonwealth Students' Association
Africa's children are in crisis. Over 88 million children in sub-Saharan Africa are in child labour - a rise of 16 million from 2016. Africa now has more child labourers than the rest of the world combined. 98 million children are out of school in sub-Saharan Africa. This is the latest data from before the global pandemic locked over a billion children out of education, and the world's unfair response to COVID forced millions more families into extreme poverty.
How did we get here? Enormous increases in global wealth have been made at the expense of Africa - where average wealth decreased in the same period. Deep-rooted and systemic exploitation and discrimination - internationally and nationally - are perpetuating extreme poverty across sub-Saharan Africa, and children are being hit the hardest.
We are at a crossroads in achieving the UN Sustainable Development Goals - and the deadline to end child labour is 2025. We can no longer ignore this ongoing discrimination, nor can we afford to neglect the future of millions of Africa's children.
Join Laureates and Leaders for Children at this critical event to accelerate action to end discrimination against Africa's children. 'Justice for Africa's Children' will explore the compelling need for justice, including justice in realising the rights to education and social protection, and make a new call for justice for Africa and her children.