Description
HIP-HOP & HOUSE DANCERS, POPPERS & LOCKERS: Following Juste Debout, the Hip-Hop dance event of the year, enjoy master classes with the judges!
On Sunday, December 2nd, Words Beats & Life will host Juste Debout, bringing a day of high intensity, two-on-two preslection dance battles to Union Market. At this competition, four extraordinary teams will earn an all-expenses paid trip to Paris, France to compete at the Juste Debout world finals on March 3, 2019. The winning eight dancers will proudly rep their crews at the legendary main event at the AccorHotels Arena, going head to head with the best urban dancers worldwide.
For two days following the international tour kickoff in Washington, we invite you to come take master classes on Monday, December 3rd and Tuesday, December 4th led by some of the best House, Hip-Hop, Popping & Locking dance instructors in the world - your Juste Debout judges - TweetBoogie, Suga Pop, Tony, and Nelson!


CLASS SCHEDULE & INFORMATION *UPDATED*

MONDAY, DECEMBER 3
Hip-Hop: 5:30 PM -6:30 PM (Studio B) with TweetBoogie *UPDATED*
Locking: 5:30 PM -6:30 PM (Studio C) with Suga Pop *UPDATED*
House: 7:00 PM - 8:00 PM (Studio C) with Tony
Popping: 7:00 PM - 8:00 PM (Studio B) with Nelson
TUESDAY, DECEMBER 4
House: 5:30 PM - 6:30 PM (Studio C) with Tony
Popping: 5:30 PM - 6:30 PM (Studio B) with Nelson
The Juste Debout Master Class Series gives you an opportunity to take classes led by some of the most accomplished artists in the world of urban dance. These participatory, intermediate to advanced level classes for youth and adults (sorry, observers not allowed) are led by judges of the US Juste Debout world qualifiers. Please note the targeted skill level for these classes and come ready to move! All classes take place at the Dance Institute of Washington.
INSTRUCTOR BIOS
TWEETBOOGIE (@tweetboogie) // HIP-HOP ***JUST ADDED!***
Introducing TweetBoogie, always representing The South Bronx and devoted to the street styles of Hip-Hop. As she continues traveling and teaching worldwide - Japan, Poland, Switzerland, China, Taiwan, Korea, Russia, The Philippines, Saudi Arabia and South Africa to name a few - her passions lead her to working with top artists like Jay-Z, LL Cool J, Mary J Blige, Shakira, Kanye West, Nicki Minaj, and more. Most recently, she worked with the iconic Miss Janet Jackson in the amazing "Made For Now" music video. TweetBoogie was also the host of MTV's "Dances from Tha Hood" On Demand. Some of her biggest clients were Gayle King and Oprah Winfrey, whom she taught the latest Hip-Hop dance moves on The OPRAH Show. As an associate producer of the Ladies of Hip-Hop Festival, Tweetie believes in helping women of all ages and sizes across the world come together to celebrate street dance cultures. She currently teaches at The Ailey Extension, Broadway Dance Center, EXPG NY and PMT dance studios.
SUGA POP (@sugapop1) // LOCKING ***JUST ADDED!***
Introducing Suga Pop, a "street dance" practitioner and choreographer based in the United States. He is known for his work in "popping" and "locking", styles of dance collectively grouped under the umbrella term "funk styles". These styles are associated with the U.S. West Coast, particularly California. He has been affiliated with the performance groups Electric Boogaloos and Rock Steady Crew.
Suga Pop worked with artists such as Michael Jackson, James Brown, Lionel Richie, Janet Jackson, and Sheila E in the 1980s and 1990s, touring as a dancer, featuring in televised performances such as Herbie Hancock's performance of "Rockit" at the 1984 Grammy Awards, and appearing in such seminal pop musical videos as Michael Jackson's "Beat It" and "Thriller," and Janet Jackson's "That's The Way Love Goes." After touring as a dancer with Lionel Richie, and then with Sheila E in support of Prince's Purple Rain Tour of 1984-1985, Suga Pop ventured into music collaboration and production. He has subsequently played live with such acts as A Tribe Called Quest, De La Soul, Amp Fiddler, Cypress Hill, Brand Nubian, LL Cool J, Third Bass, and the Boo-Yaa T.R.I.B.E., in addition to recording and releasing his own material under the band name Pop's Cool Love, and mostly recently, under the name Pop. A video for the single "My Suga" was loaded to YouTube in 2011, and the single is available on iTunes.
Suga Pop is recognized as a key contributor to the international street dancing scene, regularly teaching and delivering workshops on the dance forms of locking and popping around the world. He is recognized by other dance practitioners as playing a key role in teaching these West Coast forms to dancers in New York in the early 1980s, and in subsequently teaching the New York street dance form b-boying or breaking in Los Angeles after returning from the East Coast.
NELSON (@nelson_lks) // POPPING
Known in France as one of the best Hip-Hop dancers and choreographers of his generation, Nelson Ewande is a French artist who combines Afro styles, Footwork, and other influences with his flawless Popping technique. After studying with Addm in 2005, Nelson's professional career skyrocketed, and today includes almost 100 wins at worldwide dance competitions. Le Teboi and Enfants Prodiges are his creative structures, along with serving as event producer and artistic director of Blesh Party Paris, KOD France, and the Urban Step Festival. From commercial to global markets, Nelson's passion extends beyond borders.
TONY (@tonymcgregor.18) // HOUSE
A native of Newark, New Jersey, Tony McGregor started dancing at a young age, influenced by a love of Hip-Hop, House, and martial arts. He has danced with legendary artists such as EPMD, LL Cool J, The Fugees, CeCePeniston, and many more. Tony's unique style incorporates his martial arts studies with grand masters in the Philippines and in the U.S., and his knowledge sharing includes organizing and performing throughout the U.S., Canada, Japan, Asia, and Europe. His film and video credits include: "Night In the City", "New Jack City", "The 25th Hour", "Stayin' Alive", and several other cult classics.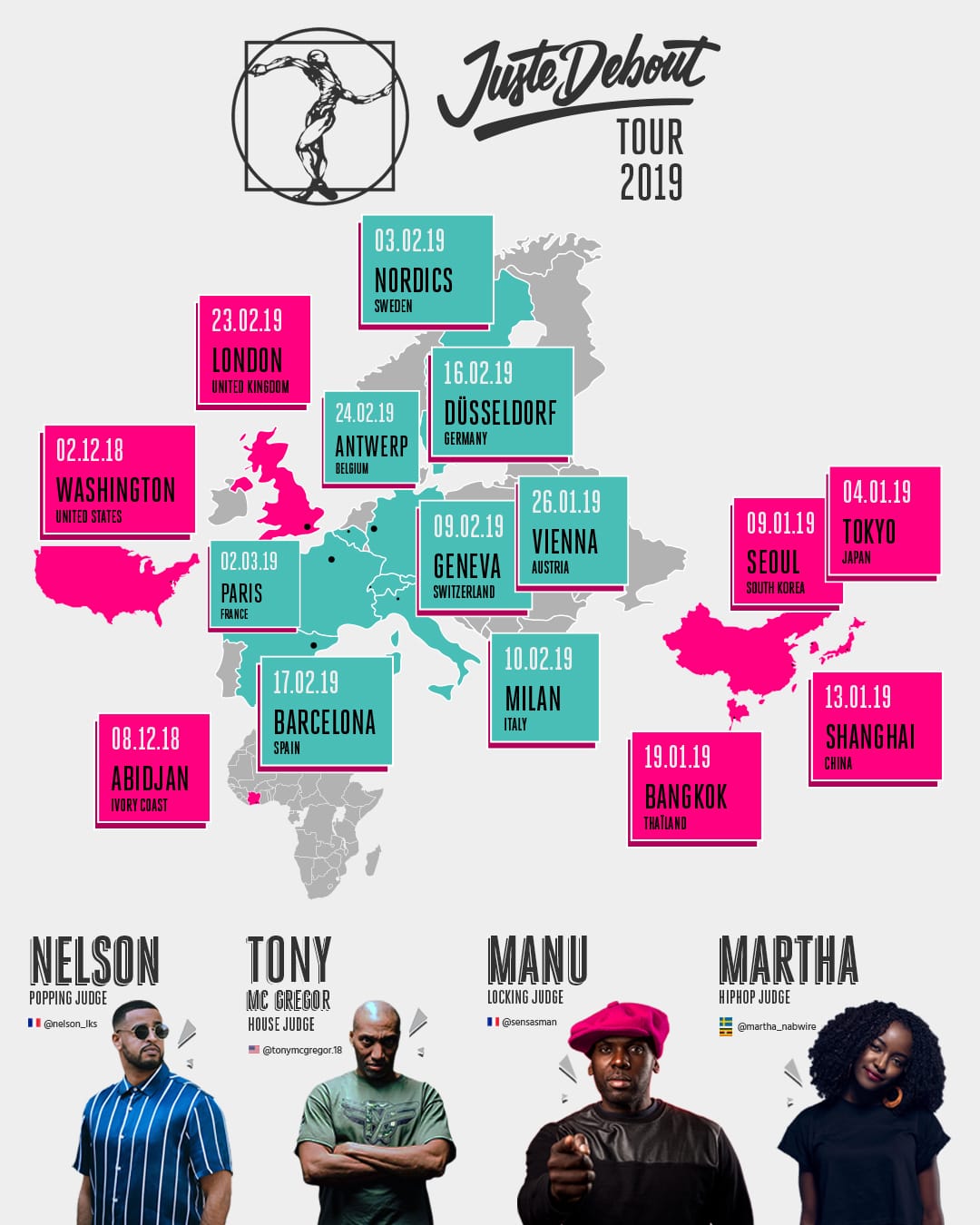 Now in its 17th year, "Juste Debout" translates roughly to "standing only", a nod to its roots uplifting and celebrating the diversity of urban dance artforms. The massive Juste Debout world tour culminates in a riveting competition that unites more than 4,000 dancers and 16,000 spectators from around the world in Paris each spring. Finalists are selected following three months of interntaional preselections.
Please note:
*Due to the structure of these classes, no late entry will be permitted once the class has started.

*Because this event involves physical activity, all participants will be required to sign a waiver form prior to participating in the master classes. Please review and sign this form prior to entering the dance studio. Waiver forms will be available at the door.
*Due to circumstances beyond our control, the following workshops have been canceled, originally scheduled for Tuesday, December 4, 2018:
Locking: 7:00 PM - 8:00 PM (Studio C) with Manu *CANCELED*
Hip-Hop: 7:00 PM - 8:00 PM (Studio B) with Martha *CANCELED*
For any questions, please e-mail simone@wblinc.org.