| | |
| --- | --- |
| Just Trippin' to Essence Music Fest July 3-7,2014! | |
Event Details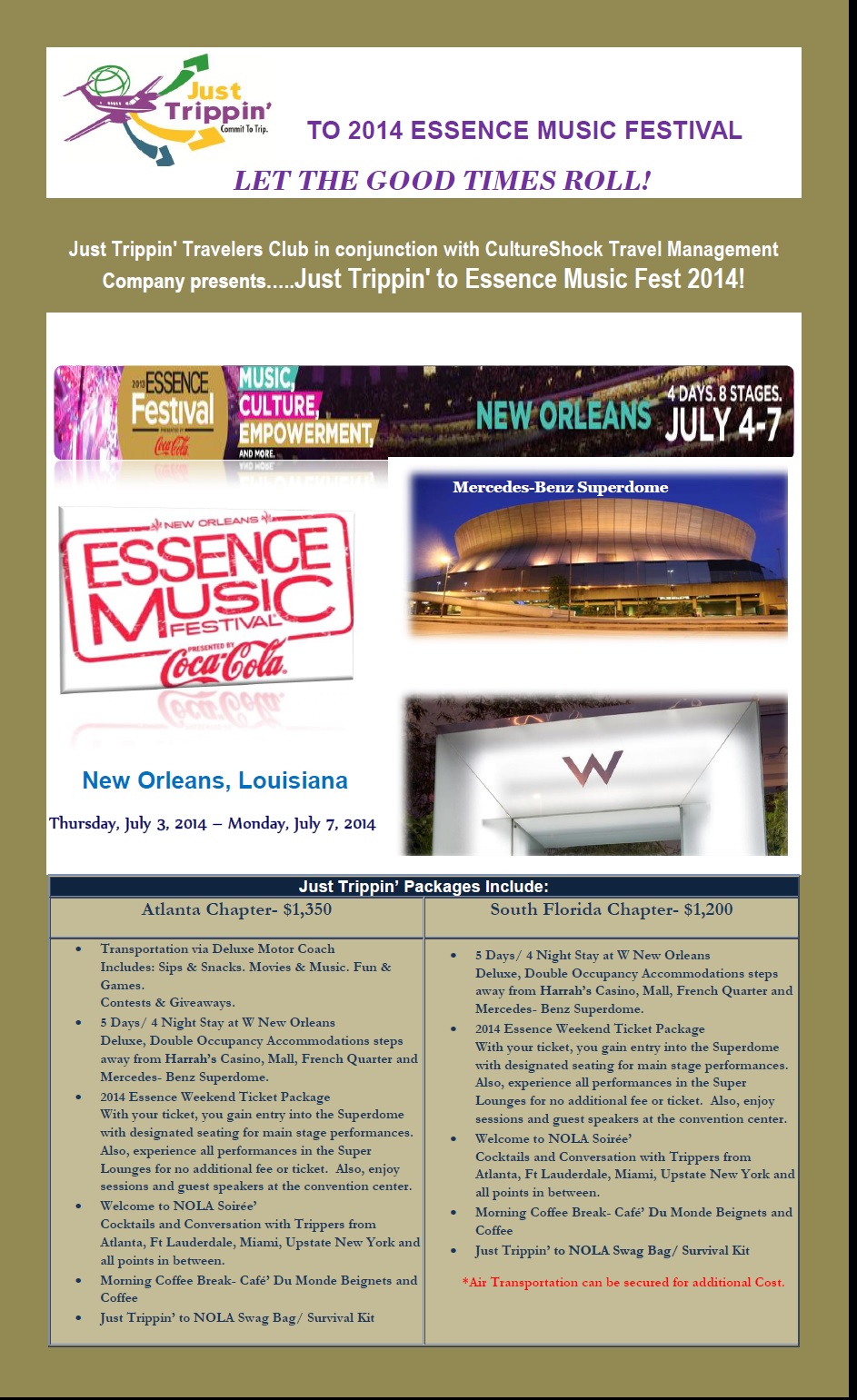 Atlanta Tripper Payment Schedule*

 Trippers Outside of Atlanta Payment Schedule*

2 Deposit Payments of $250 due 11/15/2013 & 12/15/2013

Monthly Payments of $142 starting January 15, 2014

Balance to be paid in full by June 15, 2014

2 Deposit Payments of $250 due 11/15/2013 & 12/15/2013

Monthly Payments of $117 starting January 15, 2014

Balance to be paid in full by June 15, 2014

 

 
 
 

November 15, 2013

December 15, 2013

Monthly Payment Thereafter

 
 

 

 
 
 
 
     Book Essence Fest NOW!
    Call Rue @ 678-485-6198
CultureShock Travel Management Company
437 NW 21st Terrace
Ft Lauderdale, FL 33311
PHONE: (678) 485-6198
E-mail Rue: cultureshocktravel@gmail.com
Important to Note:
* Prices are PER PERSON and based on double occupancy and include taxes and payment processing fees.
*Just Trippin' Travelers Club will provide you with a TripMate if you don't have a roommate.
* A solo supplement is available for those wanting private rooms.
* Prices are subject to change until deposits are paid in full.
*Pricing is based on double occupancy.  Because of this, and to prevent the possible negative impact of cancellations on other Trippers deposits and monthly payments are not refundable unless Just Trippin' Travelers Club cancels this event.
*Itinerary and/or schedule of events are subject to change.  Just Trippin' Travelers Club and CultureShock Travel Management Company will notify you of any changes.
*Payments are not transferrable.  One name change is permitted if JTTC is notified at least 45 days prior to event.
*Hotel will require presentation of a credit card for incidentals.
* List of performers has not yet been released.  Once this information is made public JTTC will advise you of the stellar list of performers.
*All Trippers must be 21 years of age or older.
Where

Mercedes-Benz Superdome

New Orleans, LA


Organizer
Rue Clark is the Chief Exploration Officer and founder of Just Trippin' Travelers Club.  A travel club initially started on Meetup.com.
Just Trippin' Travelers Club was birthed out of my desire to see the world---with others!  I love to travel and there's nothing better than building experiences with friends and family, but for some reason getting my circle to commit to trip is like pulling teeth.  Thus the birth of Just Trippin'!  Make new friends that will "commit to trip" with you.
Just Trippin' commits to trip throughout the U.S. and abroad and successfully organized the best travel events for our members.
In 2013 we Tripped to:
The Presidential Inauguration in Washington, D.C.

Jazz in the Gardens Music Festival in Miami, FL

San Francisco & Napa Valley, CA

Key West, FL

New Orleans, LA

Paris, France

Rome, Italy

London, England

Helen, GA

Niagara Falls, ON

Toronto, ON
In 2014 we Tripped to:
Tour South Africa & Victoria Falls

Tour Spain

La Fortuna, Costa Rica

San Francisco, CA (Sonoma and Napa Valley)

Las Vegas, NV w/ Hoover Dam and The Grand Canyon

Miami, FL
In 2015 we Tripped to:
Cabo San Lucas

New Orleans, LA

South America- Rio de Janeiro, Iguassu Falls and Buenos Aires

Tour Australia

London, Paris & Amsterdam

Martha's Vineyard & The Inkwell Beach

Punta Cana, D.R.
In 2016 we Tripped to:
Dubai, United Arab Emirates

Abu Dhabi, United Arab Emirates

Havana, Cuba

Islands of Hawaii

London, England

Paris, France

Martha's Vineyard & The Inkwell Beach

China-Beijing, Xian, Shanghai
2017 we've tripped to: 
Holetown, Barbados

Accra, Ghana

Oakland, California

Nappa Valley, California
and this year into the next will bring more exciting destinations along with unique local events that allow Trippers to meet and greet your organizers and TripMates.  
There are currently local chapters of Just Trippin' Travelers Club in Atlanta, GA, Fort Lauderdale, FL, Charlotte, NC, New York, NY,  Washington D.C., and Raleigh-Durhan, NC.
You can view our schedule join us today by going to our chapter pages on www.meetup.com or visiting our website at www.justtrippintravelersclub.com
So, if you love to travel but can never get your family and friends to commit to trip then Just Trippin' Travelers Club is the travel club for you.
For more information:
www.justtrippintravelersclub.com
info@justtrippintravelersclub.com
Find us on
Facebook: https://www.facebook.com/#!/justtrippintravelersclub
Please note:
All travel arrangements for Just Trippin' Travelers Club are booked by Rue Clark dba Just Trippin' Travelers Club with CultureShock Travel Management Company.  CultureShock Travel Management Company is a boutique travel agency dedicated to providing the discriminating traveler with exquisite service.  Domestic and international, leisure and/ or corporate travel booked for individuals, families, groups and corporations.