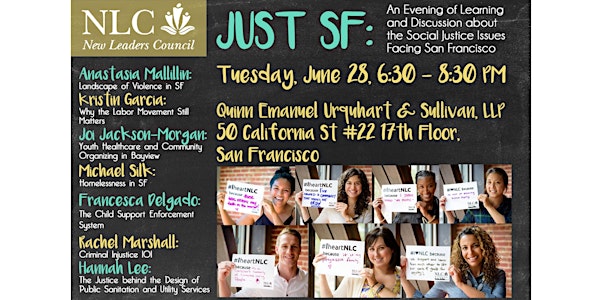 JUST SF - An Evening of San Francisco Social Justice Chalk Talks, with the...
Location
50 California St #22
17th Floor
San Francisco, CA 94111
Description
An Evening of Learning and Discussion about the Social Justice Issues Facing San Francisco
RSVP and Tickets
Suggested donation to New Leaders Council San Francisco is $25 here!: https://sanfrancisco.nationbuilder.com/donate
About
A series of chalk talks on local youth detention and probation, the labor movement, criminal justice, public utilities and other critical issues facing our community.
Come learn about your community and how you can take action! Wine and Beer will be served.
Agenda
6:30 - 6:45 Mingling + Happy Hour + Snacks
6:45 - 6:50 Introduction to Program & New Leaders Council - San Francisco
6:50 - 8:05 Chalk Talks!
8:05 - 8:30 Q&A / Organizer Discussions
Chalk Talk Speakers:
Anastasia Mallillin: "Landscape of Violence in SF"
Kristin Garcia: "Why the Labor Movement Still Matters"
Joi Jackson-Morgan: "Youth Healthcare and Community Organizing in Bayview"
Michael Silk: "Homelessness in SF"
Francesca Delgado: "The Child Support Enforcement System"
Rachel Marshall: "Criminal Injustice 101"
Hannah Lee: "The Justice behind the Design of Public Sanitation and Utility Services"