Just Price and a Coronavirus Vaccine: Perspectives from Modern Economics, Public Health, and the Thomistic Tradition
About this event
JOIN US TONIGHT:
Zoom link: https://us02web.zoom.us/j/85081256972
Youtube Livestream: https://www.youtube.com/watch?v=th_TNngy_nE&feature=youtu.be
What happens when we finally find the vaccine that the world has been waiting for since the year began: who gets it? Just as importantly, who determines who gets it and on what basis? If our pluralist society lacks a common ethical framework, how much more challenging will it be to settle on one that adequately addresses a global pandemic. Which traditions of moral philosophy can we draw from to derive judgments about the distribution of the coronavirus vaccine that are fair and just and that also account for the conditions of production?
The Collegium Institute for Catholic Thought & Culture (CI) and the Program for Research on Religion and Urban Civil Society (PRRUCS) will be co-hosting an event later this month entitled: Just Price and a Coronavirus Vaccine: Perspectives from Modern Economics, Public Health, and the Thomistic Tradition. This digital panel will feature:
Dr. Jesús Fernández Villaverde, Professor of Economics at the University of Pennsylvania, Collegium Faculty Fellow, and Co-Founder and Vice-President of CREDO (Catholic Research Economists' Discussion Organization)
Dr. Thana De Campos, a Research Associate at the Las Casas Institute of Blackfriars Hall of the University of Oxford and Assistant Professor of the School of Government at the Pontifical Catholic University of Chile, as well as author of the recent monograph Global Health Crisis: Ethical Responsibilities (Cambridge University Press).
Dr. John Buchmann, Executive Director of the Beatrice Institute, and a moral theologian currently revising a manuscript that engages Adam Smith and Thomas Aquinas on the nature of justice in economic exchange.
The event will be moderated by Dr. Claudio Lucarelli, Associate Professor of Healthcare Management at the Wharton School of the University of Pennsylvania. It will take place virtually on Monday, October 26th, at 7pm. Participants who register on Eventbrite will receive the link to view the webinar on October 26 before the event.
This event is co-sponsored by the Penn Initiative for the Study of Markets and the Las Casas Institute for Social Justice at Blackfriars, Oxford, UNESCO Chair in Bioethics and Human Rights, and Fung Global Fellows Program, PIIRS, Princeton University.
If you have any questions, please reach out to Emmie Brown at ebrown@collegiuminstitute.org.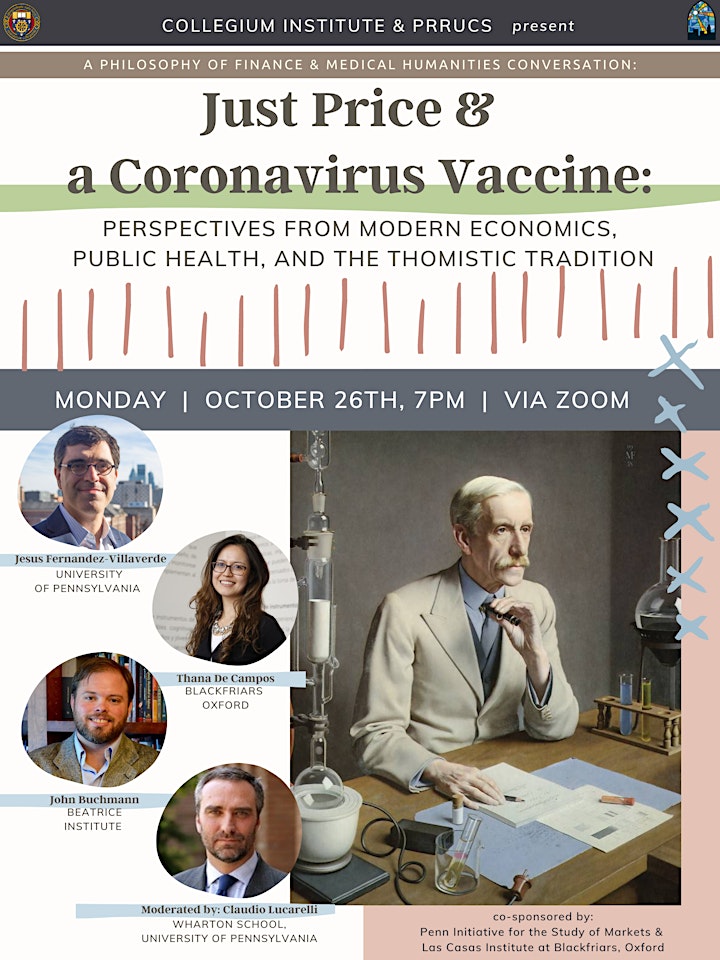 Organizer of Just Price and a Coronavirus Vaccine
Founded by faculty, alumni, students, and friends of the University of Pennsylvania, the Collegium Institute is an independent scholarly foundation that draws academic learning into conversation with the Catholic intellectual tradition. In so doing, it cultivates reflection on "catholic" or universal questions and on the unity of truth across the disciplines.