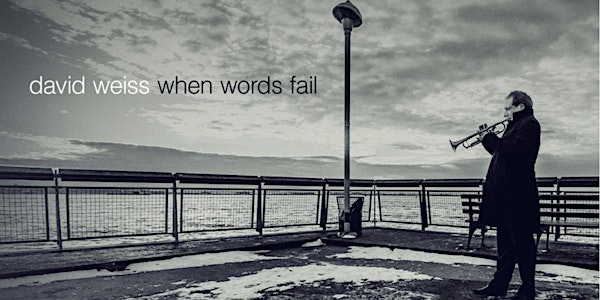 Just Jazz Presents The David Weiss Sextet @ The Paramount LA
Just Jazz Presents The David Weiss Sextet @ The Paramount LA
When and where
Location
The Paramount 2708 East Cesar E Chavez Avenue Los Angeles, CA 90033
Refund Policy
Contact the organizer to request a refund.
Eventbrite's fee is nonrefundable.
About this event
Just Jazz Presents The David Weiss Sextet @ The Paramount LA featuring an absolutely killer band that includes David Weiss on Trumpet, John Beasley - Piano, Craig Handy - Tenor, Teodross Avery - Tenor, Edwin Livingston - Bass, Christian Euman - Drums.
Doors open at 7p. Music starts at 8p.
THE PARAMOUNT LA
Please be prepared to show vaccination card and photo ID. Masks required for entry.
THE PARAMOUNT HAS BEEN HUMMING ALONG AS THE LAST SURVIVING BALLROOM VENUE FOR CLOSE TO 100 YEARS.
Located in the historic Boyle Heights community of Los Angeles, The Paramount has been humming along as the last surviving ballroom venue featuring mid-sized concerts for close to 100 years. The room's 400 person capacity allows it to host a wide variety of acts, from internationally touring bands, to fast-rising indie rock bands to popular local artists.
Offstage, the Paramount offers a top-flight experience, from its restored architecture and spacious main floor to the full bar and a chef-driven food menu and cocktails. The Paramount has a wide range of events during the regular week and weekend and features a diverse calendar of musical and arts performances. The Paramount was designed and restored for the music and arts lover and pays respect to the hundreds of performers that have played on our stage.
David Weiss (bio)
In a jazz climate that rewards neo-conservative tributes and farflung exercises in deconstruction, David Weiss has distinguished himself another way: through finding flexibility and innovation in music that has its roots in the mainstream. The trumpeter, composer, and arranger has had the opportunity to learn from some of the music's quintessential figures by touring and/or recording with the likes of Freddie Hubbard, Charles Tolliver, Billy Harper, Bobby Hutcherson, Slide Hampton, James Moody, Tom Harrell, Louis Hayes, Muhal Richard Abrams, Randy Weston, Christian McBride and Billy Hart, among many others.
Weiss has been a major catalyst and creator of some of the most critically acclaimed and respected jazz to have been released over the years. In his various roles of trumpeter, composer, arranger, producer, talent-scout, historian and bandleader - he currently leads The Cookers, The New Jazz Composers Octet, Endangered Species, Point of Departure, and the David Weiss Sextet - it is certainly not an exaggeration to call Weiss a jazz renaissance man. Weiss, featured on over eighty recordings, was also the creative force behind the revitalized careers of Freddie Hubbard, Charles Tolliver, and others.
When Words Fail is the latest project from the prolific bandleader who has really hit his stride lately, releasing more than nine critically acclaimed albums by five singular ensembles in the past six years: The New Jazz Composers Octet -The Turning; five tour-de-force albums by the jazz supergroup, The Cookers –Warriors, Cast The First Stone, Believe, Time and Time Again and The Call of the Wild and Peaceful Heart; David Weiss & Point of Departure's two live albums Snuck In (2010) and Snuck Out (2011), and studio albums, Venture Inward and Wake Up Call; and Weiss' stunning tribute to Wayne Shorter ("One of the best records, jazz or otherwise, of 2013"-eMusic), Endangered Species: The Music of Wayne Shorter.
For the recording of When Words Fail the award-winning, artist reassembled his "original band", The David Weiss Sextet, featuring his original band-mates (once fledgling artists, and now proven jazz stalwarts), Marcus Strickland, Myron Walden, Xavier Davis, Dwayne Burno, and E.J. Strickland. When Words Fail is the David Weiss Sextet's first album in almost ten years, and the long-awaited follow up to The Mirror (which John Kelman of AllAboutJazz called, "A masterpiece by any definition . . . an album that is heady in both senses of the word - intelligent and exhilarating - Weiss emerges as one of the finest artists to mine the post bop arena . . . ").
Press quotes...
"This is a gorgeously arranged set of composerly hardbop, executed with exemplary passion and drive."
- Hank Shteamer, Time Out New York
"The sextet skirts the outer reaches of straight-ahead jazz, innovating while drawing from tradition. The recording benefits from the familiarity and chemistry shared by the bandmates, creating a powerful, propulsive force. Weiss' complex compositions, some featuring dark themes and dense harmonies, are balanced with compelling melodies."
-Sharonne Cohen, Jazz Times
"Harmonies shift in unsettled patterns; the pieces, beautiful as they are, work through their troubles in long, ruminative phrases; and the soloists likewise pitch their virtuosity in search of an elusive place they can call home".
"The tunes are lovely."
-Jon Garelick, DownBeat
"Every track has something special, with Weiss' title track and "Wayward" arguably standing out, with mesmerizing solos throughout the album by every member of this genuinely all-star group." "David Weiss' creative contributions to contemporary jazz continue. A brilliant record."
-Tony Hall, Jazz Wise Magazine
"It's kind of crazy thinking about the recent projects that trumpeter Weiss has been running lately. He's the guy behind the excellent The Cookers reboot, his Endangered Species embrace of the music of Wayne Shorter was pretty amazing, and then there's his Point of Departure which is a past eMusic Pick of the Week. He's back now with another solid effort . . . Just stellar. Pick of the Week."
- Dave Sumner, eMusic, Wondering Sound
"(A) beautifully crafted album"
-Mike Hobart, Financial Times "Hans Christian Andersen wrote 'Where Words Fail, Music Speaks'. As Weiss approaches his 50th birthday, his words certainly do not fail him. He talks of pain and desolation, but explains also that the music is 'about rebirth, hope and finding your way back'. The beautiful sounds on this album eloquently convey that healing power."
- London Jazz News "Weiss, an expressive but underappreciated soloist, contributes some lovely trumpet solos throughout. But it's his masterful ensemble writing and rich horn voicings on pieces like "Loss," "Lullaby for a Lonely Child," and "Passage Into Eternity," that remain with the listener."
- Bill Milkowski, The Absolute Sound "An album suffused with a sense of loss . . .
The music itself, by complete contrast, is distinctly life affirming however tinged by melancholic mood, in the best traditions of the music . . . A tender album When Words Fail works on a variety of levels as hard bop continues to be reinterpreted, the style putty in Weiss' accomplished hands."
-Stephen Graham, Marlbank