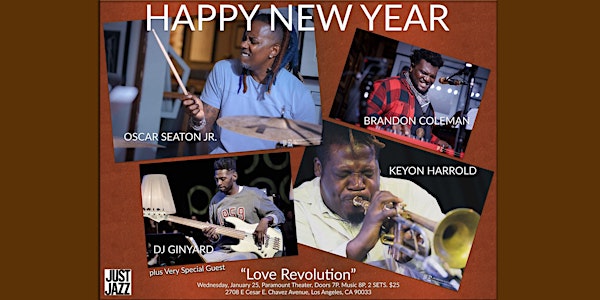 Just Jazz Presents Oscar Seaton Jr.'s Love Revolution @ The Paramount LA
Just Jazz Presents Oscar Seaton Jr.'s Love Revolution @ The Paramount LA
When and where
Location
The Paramount 2708 East Cesar E Chavez Avenue Los Angeles, CA 90033
Refund Policy
Contact the organizer to request a refund.
Eventbrite's fee is nonrefundable.
About this event
Just Jazz Presents Oscar Seaton Jr.'s Love Revolution @ The Paramount LA featuring an absolutely killer band that includes Oscar Seaton on drums, Brandon Coleman on keys, Keyon Harrold on trumpet, David "DJ" Ginyard on bass and a VERY SPECIAL GUEST.
Doors open at 7p. Music starts at 8p.
THE PARAMOUNT LA
Proof of vacination and masks are no longer required for entry. Wearing a mask is optional.
THE PARAMOUNT HAS BEEN HUMMING ALONG AS THE LAST SURVIVING BALLROOM VENUE FOR CLOSE TO 100 YEARS.
Located in the historic Boyle Heights community of Los Angeles, The Paramount has been humming along as the last surviving ballroom venue featuring mid-sized concerts for close to 100 years. The room's 400 person capacity allows it to host a wide variety of acts, from internationally touring bands, to fast-rising indie rock bands to popular local artists.
Offstage, the Paramount offers a top-flight experience, from its restored architecture and spacious main floor to the full bar and a chef-driven food menu and cocktails. The Paramount has a wide range of events during the regular week and weekend and features a diverse calendar of musical and arts performances. The Paramount was designed and restored for the music and arts lover and pays respect to the hundreds of performers that have played on our stage.
Just Jazz
Support live jazz music and jazz education with a tax deductible donation to the Just Jazz Foundation --> www.justjazzfoundation.org
Show your love for jazz with a visit to the Just Jazz Brand Online Store --> https://www.zazzle.com/store/just_jazz_tees
Oscar Seaton Jr. (drums)
Grammy-nominated drummer, Oscar Seaton Jr., displayed his talent for drums at the age of 4 when he began playing on his Mom's pots and pans growing up in Chicago. His craft was further developed in the church prompting the realization that "being a drummer was not a choice for me, it was my God given talent; it's a part of me. When I'm playing, I'm complete; becoming one with the music".
Oscar eventually earned the nickname "SEATPOCKET" due to his impeccable timing. While Oscar's illustrious career includes working with music legends such as Ramsey Lewis, Lionel Richie, Grover Washington Jr., David Sanborn, Joe Sample, Yolanda Adams, Kirk Whalum, Brian Culberson, Boz Scaggs, George Benson, Lee Ritenour, and Terence Blanchard in addition to countless others. He has also amassed notoriety for his contribution to television performances and movie soundtracks. A highlight of Oscar's prolific work is the 2015 studio recording of the socially conscious, Breathless, with Terence Blanchard and The E-Collective, where musical expressions were used to address the gun violence and tensions in America, thus earning a Grammy nomination for this powerful quintet.
Artist website -- https://www.oscarseatonjr.com
Keyon Harrold (trumpet)
Keyon Harrold was born and raised in Ferguson, MO, the St. Louis suburb that tore into America's national consciousness in 2014 with the police shooting of Michael Brown and the bitter protests and riots that followed. While Ferguson looms large in Harrold's album The Mugician, it examines our troubled times through a far wider lens than any one tragedy. Sweeping and cinematic, the music draws on elements of jazz, classicval, rock, blues, and hip hop to create something uniquely modern, unmistakably American. Guests including Pharoahe Monch, Gary Clark, Jr., Big K.R.I.T., Guy Torry, Georgia Anne Muldrow and Robert Glasper add to the record's eclectic nature, but it ultimately triumphs as a unified, cohesive whole both because of Harrold's virtuosic skill as a trumpeter and songwriter and because of his relentlessly optimistic belief in brighter days to come.
Harrold grew up one of 16 children in a family that prioritized music and community across generations. His grandfather was a police officer who retired from the force to found a drum and bugle corps for local youth, both of his parents were pastors, and nearly all of his siblings sing and perform music today. Culture shock hit Harrold hard at 18, when he left Ferguson for New York City to enroll in The New School. In New York, he landed his first major gig with Common, an experience which he says broadened his musical horizons beyond jazz to include funk, Afrobeat, R&B, and hip hop. Soon he was performing with stars like Snoop Dogg, Jay Z, Beyonce, Rihanna, Eminem, Maxwell, and Anthony Hamilton.
In 2009, he released his solo debut, Introducing Keyon Harrold and then won wide acclaim for his trumpet performances in Don Cheadle's Miles Davis biopic Miles Ahead. The Mugician is a portmanteau of "musician" and "magician, a nod to a nickname Cheadle bestowed upon the young virtuoso, and it's an apt descriptor for a record that pushes beyond the traditional boundaries of jazz trumpet. In fact, the album doesn't even begin with trumpet, but rather with a track called 'Voicemail,' which features an inspirational message from Harrold's mother set to a stirring, orchestral soundscape. Entirely unedited, her words lay the groundwork for an album that celebrates the importance of family (ten of Keyon's siblings appear on the record) and the absolute necessity of optimism in the face of darkness and doubt. These days, Harrold is a parent himself, and he pays tribute to his son with a pair of tracks on the album, "Lullaby" and "Bubba Rides Again." Issues of identity and equality percolate throughout the record, sometimes subtly beneath the surface, sometimes more pointedly, as in "Circus Show." However, the album's most powerful moments come with the one-two punch of "MB Lament" and "When Will It Stop," songs written in the wake of Michael Brown's death and the senseless killings of so many others like him.
It's a monumental task, one that calls for tremendous empathy and sensitivity. To give voice to the silenced requires more than just talent and ambition, it requires faith, imagination, strength, and determination. Above all, it requires perspective. Fortunately, that is what Keyon Harrold brings most of all.
Brandon Coleman (keys)
Bending the future of sound, taking ivory and ebony to destinations unknown, is keyboard maestro, vocalist, composer, producer, arranger and astral traveler Brandon Coleman. A regular fixture with Babyface, Donald Glover, Flying Lotus, and Kamasi Washington's band, Coleman represents a new chapter in the evolution of jazz and funk fusion.
Following the release of Resistance in 2018 via Brainfeeder, Coleman embarked on a thirty(30)-city tour supporting Flying Lotus in 2019, laying his interplanetary dance grooves down for eager audiences. This project represents a new chapter in the Funk dynasty that spans a multitude of generations and genres, and honors their ethos of freedom and experimentation in his search for Funk's future. Coleman's bold voice reminds us that great music can also contain fun & whimsy, no other member of the current generation has made such a strong commitment to expanding on the psychedelic grooves of decades past, and with so much finesse.
"For those accustomed to Coleman's role laying the foundation for expansive spiritual-jazz explorations in Kamasi Washington's band, it's revelatory to hear him so spry on his feet and down to get down. If his work with Washington contains all the weight and gravitas of Sunday church, Coleman's Resistance has all the fun, breeziness- and yes, sunlight- of an afternoon church picnic," said Andy Beta of Pitchfork. At a typical Brandon Coleman show, it's common to get the entire Sunday extravaganza.
David "DJ" Ginyard (bass)
The Grammy nominted and in demand, Brooklyn, New York bassist has played with Terence Blanchard, Aaron Parks, Blood Orange, David Fiuczynski and Solange, to name just a few.