Just Jazz Presents MFUO with Jacques Lesure @ Mr Musichead Gallery
Just Jazz Presents MFUO with Jacques Lesure
About this event
Just Jazz Presents MFUO with Jacques Lesure @ Mr Muishcead Gallery featuring Jacques Lesure (guitar), Marvin Smitty Smith (drums), Pete Kuzma (organ) and Christian Moraga (percussion). 
***** Please Note **** Present picture ID and COVID VACCINATION CARD at the door. Masks required when inside the gallery. ****** No Exceptions *******
Doors open at 7pm. Concert starts at 7:30pm. There will be a short artist interview prior to the live performance. Bar area will be open on the outdoor patio. Two drinks included with ticket purchase.
MFUO with Jacques Lesure
JACQUES IS A DETROIT, MICHIGAN NATIVE, HOWEVER,HE IS CURRENTLY A RESIDENT OF INGLEWOOD, CALIFORNIA. HIS CLASSIC STYLE, ALONG WITH HIS INNOVATIVE, YET SINCERE APPROACH TO THE MUSIC, ARE INTEGRAL PARTS OF HIS SIGNATURE SOUND.
IT"S A SOUND STEEPED IN THE RICH TRADITION OF MENTORS LIKE GEORGE BENSON, KENNY BURRELL AND A HOST OF OTHERS, BUT EXPRESSED THROUGH HIS OWN VOICE. IT'S NO SECRET THAT HIS MUSIC IS ROOTED IN THE FOUNDATIONS OF GOSPEL, BLUES AND IMPROVISED BLACK AMERICAN MUSIC. IT'S HIS BELIEF THAT THE SOUNDS OF "TODAY" ARE EQUALLY AS RELEVANT AS THOSE OF GLORIOUS DAYS GONE BY. IT IS THAT SYNERGY THAT MAKES HIS MUSIC SWING WITH A STYLE LIKE NO OTHER.
JACQUES IS PROUDLY ASSOCIATED WITH THE PRESTIGIOUS WJ3 RECORDS IMPRINT AND NOW HAS THREE RECORDINGS AS AN ARTIST ON THAT LABEL. ALL HAVE RECEIVED GREAT REVIEWS INCLUDING A FOUR STAR RATING BY DOWNBEAT MAGAZINE AND ONE OF THE "TOP 100" ON THE JAZZ WEEK CHART.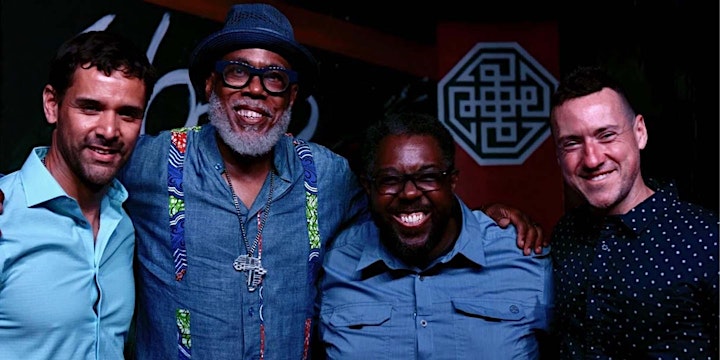 Organizer of Just Jazz Presents MFUO with Jacques Lesure @ Mr Musichead Gallery