Just Jazz Presents Mauricio Morales @ Mr Musichead Gallery
Just Jazz Presents Mauricio Morales Presents LUNA @ Mr Musichead Gallery
About this event
Just Jazz Presents Mauricio Morales Presents LUNA
***** Please Note **** Present picture ID and COVID VACCINATION CARD at the door. Masks required when inside the gallery. ****** No Exceptions *******
Doors open at 7pm. Concert starts at 7:30pm. There will be a short artist interview prior to the live performance. Bar area will be open on the outdoor patio. Two drinks included with ticket purchase.
Mauricio Morales
I'm very excited to share with you that I'll be performing my debut record "Luna" for the very first time with the full 9 piece band on October 6th at @mr_musichead for the @justjazztv series.
Although the poster doesn't have the pictures of @aidanlombard, @zrcello @bababamusic and @yvette.cornelia, they are obviously and essential part of the show and equally as important as the incredibly talented @genecoyedrums, @adamhershmusic, @edmarcolon and @meganshung.
I feel lucky to share the bandstand with such massive talent in what is to be my first show as a leader in LA.
I hope to see your beautiful face and share some music with you!
With the purchase of your ticket (link in bio) you will also get two drinks!
@outside.in.music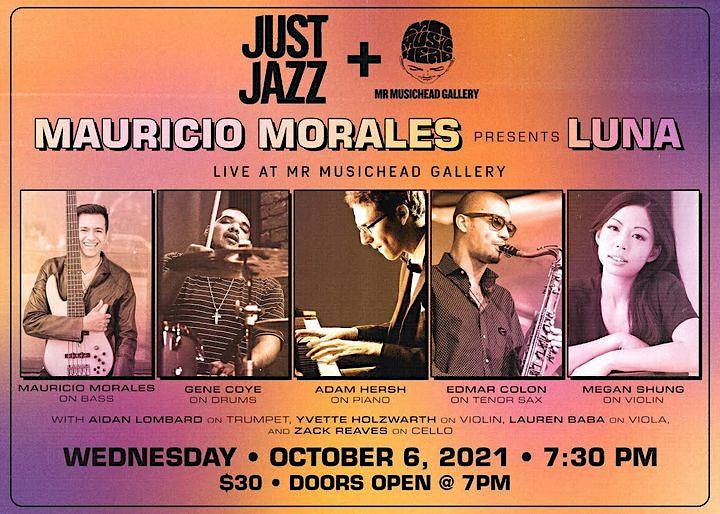 Organizer of Just Jazz Presents Mauricio Morales @ Mr Musichead Gallery