Just Jazz Presents Casey Benjamin @ Mr Musichead
Just Jazz Presents Casey Benjamin (Special Monday Night Event) @ Mr Musichead
About this event
Just Jazz Presents Casey Benjamin (Monday Night Special) @ Mr Musichead featuring Casey Benjamins (sax, vocoder, vocals, wind synth), Randy Runyon (guitar), Carlos Henderson (bass), Basil Wajdowicz (keys), Eric Brown (drums) and Kofi Hunter (percussion).
***** Please Note **** Present picture ID and COVID VACCINATION CARD or recent Negative Covid Test Results at the door. Masks required when inside the gallery. ****** No Exceptions *******
Doors open at 7pm. Concert starts at 8:00pm. There will be a short artist interview prior to the live performance. Bar area will be open on the outdoor patio. Two drinks included with ticket purchase.
Casey Benjamin
Two time GRAMMY® award-winning Casey Benjamin is the first original member of the Robert Glasper Experiment. Through his melodic ingenuity on the vocoder, textual mastery on the keytar and spiky virtuosity on the alto, soprano and tenor saxophone, Benjamin gives the Experiment its most defining sounds that has enabled it to gain international acclaim in the jazz, R&B and hip-hop scenes on such trailblazing albums as Black Radio and Black Radio 2.
In addition to the Experiment, Benjamin toured with singer Patrick Stump (Fall Out Boy) and has worked with a string of other stellar musicians that from jazz to hip hop including singer Betty Carter, bassist Derrick Hodge, vibraphonist Stefon Harris, trumpeter Roy Hargrove, drummer Terri Lyne Carrington, Nas, Kendrick Lamar, Mos Def, Q-Tip, A Tribe Called Quest, Kanye West, Diddy, Wyclef Jean, Anderson Paak, Solange, Mary J. Blige, John Legend, Lady Gaga and Beyoncé. With singer and songwriter Nicky Guiland, Benjamin co-leads the funk-forward combo, HEAVY, which has released three discs –HEAVY (Kindred Spirits, 2000), Jazz Money$$ (BBE, 2007) and First Sessions (Kindred Spirits, 2008).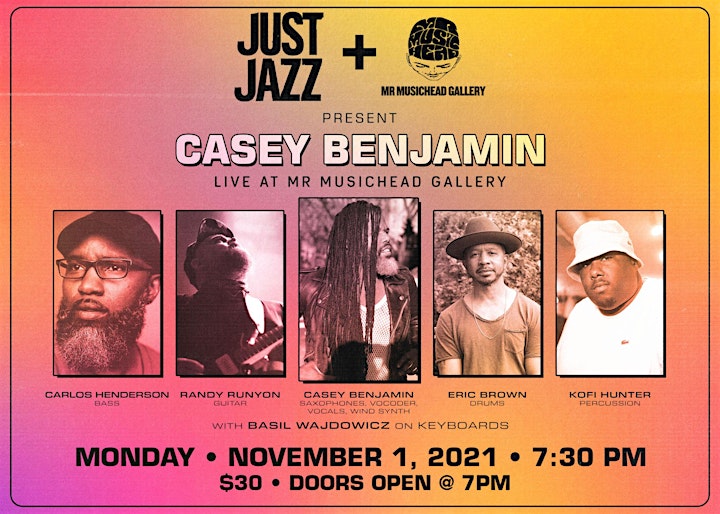 Organizer of Just Jazz Presents Casey Benjamin @ Mr Musichead