Just Jazz Presents Brian Swartz @ Mr Musichead Gallery
Just Jazz Presents Brian Swartz @ Mr Musichead Gallery
About this event
Just Jazz Presents Brian Swartz @ Mr Musichead Gallery with Brian Swartz (trumpet), Keith Fiddmont (tenor sax), Scott Healy (piano), Edwin Livingston (bass) and Yayo Morales (drums).
***** Please Note **** Present picture ID and COVID VACCINATION CARD at the door. Masks required when inside the gallery. ****** No Exceptions *******
Doors open at 7pm. Concert starts at 7:30pm. There will be a short artist interview prior to the live performance. Bar area will be open on the outdoor patio. Two drinks included with ticket purchase.
Brian Swartz
Trumpeter Brian Swartz is a diverse musician with a wide range of influences. He has appeared on multiple Grammy® nominated and winning recordings with artists including The Dixie Chicks' Double Platinum "Taking the Long Way" which won 5 Grammy® Awards, including Album of the Year, Record of the Year, and Song of the Year in February 2007, John Beasley's Monk'estra which has garnered 6 Grammy® Nominations for it's 3 albums and 1 Grammy® Win for Beasley's arrangement of "Donna Lee," The Clayton/Hamilton Jazz Orchestra, Scott Healy's Tentet and Kim Richmond's Concert Jazz Orchestra. He has also performed or recorded with The Goo Goo Dolls, Michael Bublé, Kelly Clarkson, John Legend, Jennifer Nettles, Robin Thicke, Saint Motel, Patti Labelle, Natalie Cole, Dianne Reeves, Ivan Lins, Tom Harrell, Brad Mehldau, Rickie Lee Jones, Big Bad Voodoo Daddy, The O'Jays, The Temptations, The Four Tops, Azar Lawrence, Buddy Montgomery, Joe Henry, Keb' Mo', Jackie Greene, Josie Cotton, The Fabulous Thunderbirds, Gerry Gibbs, Connie Han, Taylor Eigsti, Raya Yarbrough, Bob Florence, The Luckman Jazz Orchestra, Francisco Aguabella, Jose Rizo's Jazz on the Latin Side All Stars and many more. Since 2005, Swartz has proudly held the trumpet chair in Oingo Boingo Former Members. He is also a founding member of the Los Angeles Jazz Collective, a non-profit organization whose mission is the promotion of original jazz in Los Angeles and abroad.
Brian Swartz has released five jazz albums as a leader: "There's Only Me" (Noir Records 2000), "Live at the Jazz Bakery" (Summit Records 2005), "Three" (Summit Records 2006) and "Portraiture" (Summit Records 2014), "To Be With You" (DistroKid 2020). As an arranger, Brian has written for his own big band, Ruthie Foster's 2021 Grammy® Nominated "Live at the Paramount," the Ron Jones Influence Orchestra and has served as staff arranger for The Luckman Jazz Orchestra, John Beasley's Monk'estra, Oingo Boingo Former Members and the ABC TV show, "Duets." Brian's film credits include the 2012 Oscar® Winning Animated Feature "Rango," Jennifer Anniston's "The Break-Up," "The Cooler" starring William H. Macy and "Let Them All Talk" with Meryl Streep.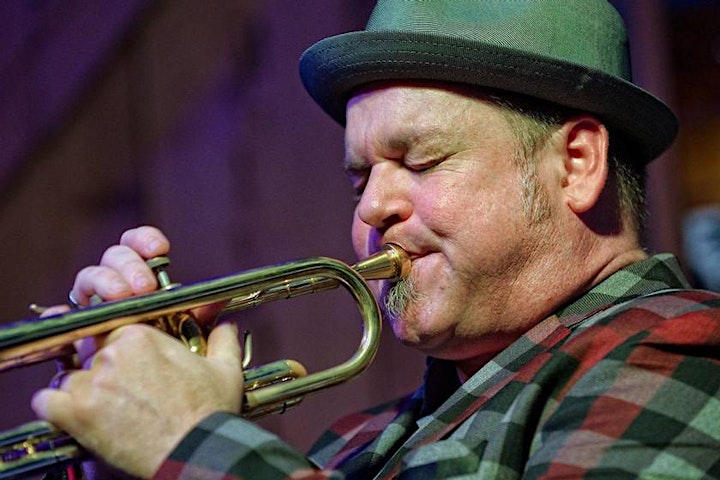 Organizer of Just Jazz Presents Brian Swartz @ Mr Musichead Gallery