Description
We specialize in FUN events for ladies! And with over 65

under our belt, our events speak for themselves!



Sugar & Spice is JUST IN TIME FOR VALENTINE'S DAY!
Saturday, Feb 8th
4:00 pm - 8:00 pm
Sheraton Lisle Naperville
Savoy Ballroom (the grandest of all ballrooms!)

Class offerings:
Intro to Burlesque - $12
Intro to Chair Dancing - $12
Intro Dominatrix - $15
Sexual Wellness - Free

Class tickets are available via Eventbrite or on our website at www.induoevents.com/sugarandspice (with no fees!) All classes are in a separate, private room.
Here's why you should be here!
❤️ Our first Sugar & Spice was sooooo much fun! There were freebies everywhere, fun classes and amazing vendors to shop from!
❤️ GIFT FOR FOR 50 ladies TO ARRIVE with their ticket!
❤️ FREE Browfection Bar from European Wax Center!
❤️ FREE henna tattoos
❤️ FREE Wine Bottle Painting for VIP!
❤️ FREE Sweets!
❤️ FREE Cajun-tinis (rotini pasta served in a martini glass) from N'awlins Edibles Catering & Personal Chef Services!
❤️ Shop from over 50 amazing vendors and small businesses!
❤️ Take one or all of the fun, interactive classes
❤️ Enjoy delicious signature cocktails!
❤️ Play fun games to win prizes or try your luck at the awesome raffles!
❤️ And if you're a VIP, we have an amazing VIP ticket available!
Shop from a variety of amazing sellers including those with "spicy" items, enjoy signature cocktails, freebies, an amazing VIP ticket, interactive classes and MORE!!!
Make sure you snag the $10 special "Spicy Drink Package" for one of our signature event drinks! This won't be available for purchase at the event. Choose from a Giggle Punch or Spicy Sangria and get 5 raffle tickets!
AND there's an amazing VIP ticket option that includes one Swag bag full of goodies,10 raffle tickets and access to our VIP only section. And newly added is wine bottle painting! VIP tickets are very limited.

Class options include Chair dancing, Burlesque, Dominatrix and Sexual Wellness!
Check back soon or visit the Facebook event page as we add more details!
Raffles will be called at 5:45p and 7:45p. Winners must be present.
Ages 18+ for entry.
Visit Induo Event's Facebook page for more event listings or www.induoevents.com.

Disclaimer: By attending this event, you are agreeing to allow yourself to be photographed and/or filmed for the use in our marketing materials. However, you may request not to be used.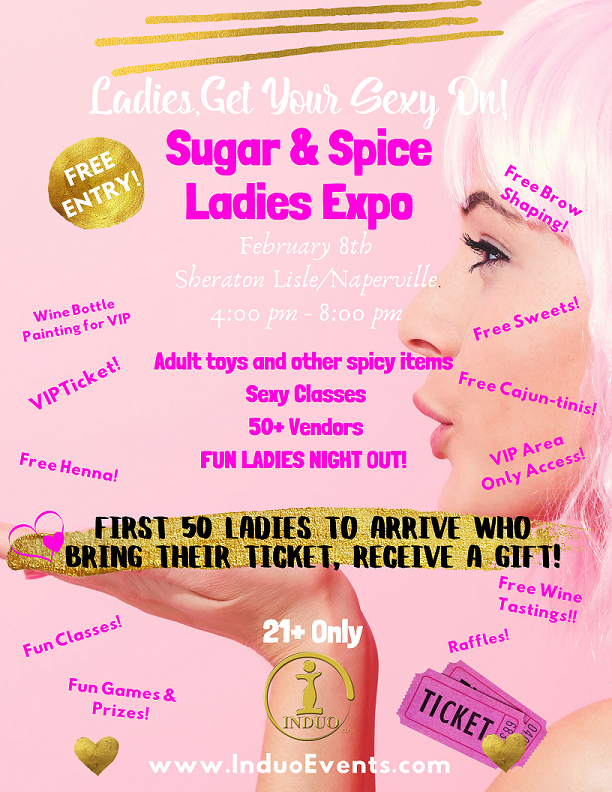 Organizer of Just in Time for Valentine's Day - Sugar & Spice Expo for Women III (Adults Only)
Fun Events For Ladies...It's What We Do!



So you found our fabulous events! Yay! 


Each event is unique, just like you. If you're looking for an experience that fits the mold of your life, then you've come to the right place!


 Induo Events has been creating experiences that are valuable and memorable to women in the greater Chicago area since 2016. We have been very successful in producing eight annual, signature events that meet the needs of our target audience, women between the ages of 30-50. Our women-centered events are focused around the topics of health, wellness, beauty and family.


​We have always wanted to bring women of all ages and walks of life to come together and have fun. Our events are focused around the needs of women and they are created by women. We want to provide women a unique platform to access diverse vendors and their products. If expo attendees were able to relax, let their hair down, and have fun at one of our events, we know we did our job right.
Are you a past guest? Tell us what you thought here.