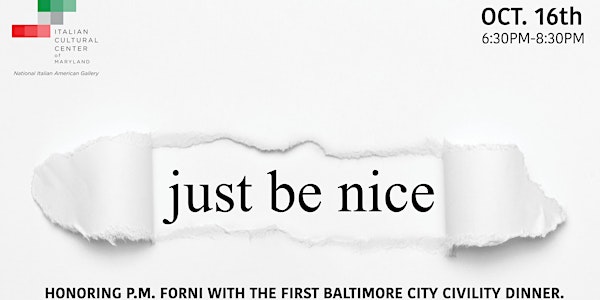 Just be Nice! Baltimore City Civility Dinner.
When and where
Location
University Baptist Church 3501 N Charles St Baltimore, Maryland 21218
Description
Because of the Covid-19 the Civility Dinner has been rescheduled for October 16th, 2020.
Just Be Nice!
HONORING P.M. FORNI WITH THE FIRST BALTIMORE CITY CIVILITY DINNER.

A Tsunami of Benign Intent is Imminent. From Baltimore, with love.
October 16, 2020 - 6:30 PM
The intent of this Civility Dinner is to gather strangers around a meal and have a conversation around few chosen topics related to "why choosing to be civil to each other" .
About Pier Massimo Forni:
Pier Massimo Forni has been a Board Member of ICCM for many years while teaching Italian Literature at Hopkins. In 1997, Dr. Forni established the Johns Hopkins Civility Project — now the Civility Initiative has the news media's first choice for comment when public displays of crude behavior beg for the thoughtful perspective of a lecturer in manners.
In his honor ICCM will lead every year, starting this October, a Civility Dinner in a Baltimore City Lot where people from every walk of life will gather, share a meal and choose civility in his name.
About Choose Civility:
About the Civility Initiative:
https://krieger2.jhu.edu/civility/
ICCM Members please call the office to reserve your discounted ticket.