Just Act's 12th Annual Forum Theatre Workshop

Tuesday, July 25, 2017 at 9:00 AM

-

Saturday, July 29, 2017 at 3:00 PM (EDT)
Event Details
Looking to REJUVENATE this summer? Deepen your journey of self-understanding while gaining new movement and theatre-based tools for community building across difference? Then Just Act's 12th Annual Forum Theatre workshop is for you!
Our Forum Theatre training will strengthen the personal and professional skills of 

change-focused visionaries of all kinds: 

educators, artists, social workers, organizers, healers, activists, facilitators, community as well as faith-based and non-profit leaders and thinkers, city officials, urban researchers, investigators of human relations & 

creative place makers. 
DATE: July 25-29, 2017
LOCATION: Summit Church, Philadelphia PA 19119 (Mt Airy section of Philadelphia)
REGISTER $100 deposit to hold your place: here, via EventBrite
Just Act's 12th ANNUAL FORUM THEATRE training is for anyone looking for refreshing, creative and powerful new ways into their social change work. We will offer you a dynamic introduction to, or chance to reinvigorate & deepen your practice with Theatre of the Oppressed techniques and devising Forum Theater. 
REGISTER today via eventbrite!
Registration fee to hold your spot via Eventbrite: $100
TOTAL fee for 5 day workshop: $400 (pay balance later by check to Just Act)
For more information, email us at info@justact.org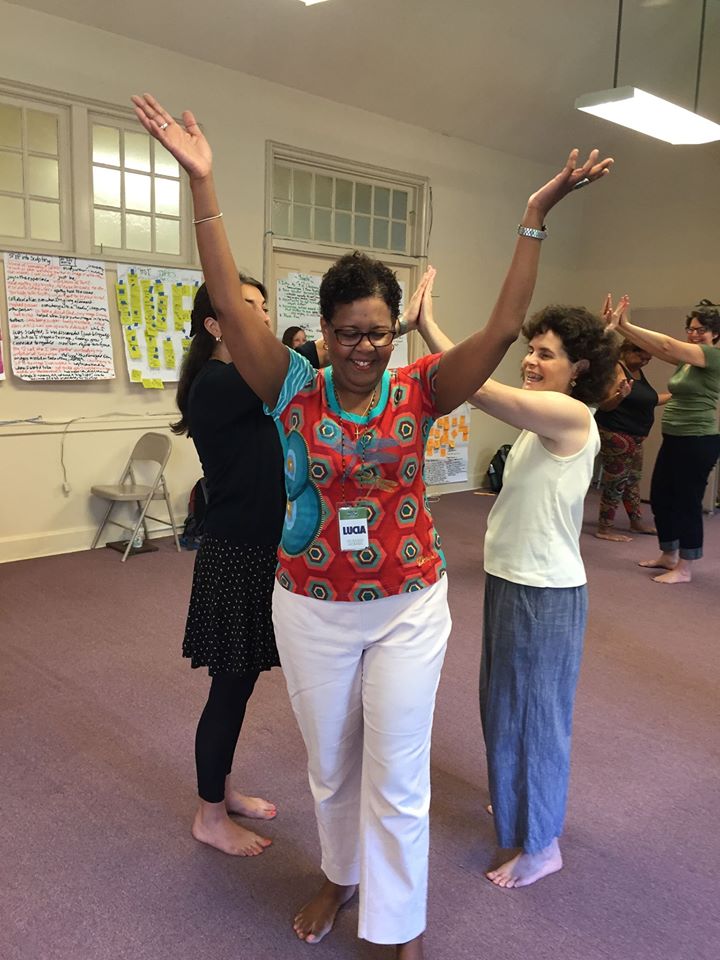 Participant testimonial: "The way Just Act held the power of the room was with great focus, strong knowledge and precision."
Our seasoned approach to Forum Theatre creates supportive space for:
Deep personal work that supports the collective

Embodied exploration of--and healing from-- systematic oppression and how it shows up in our bodies and daily lives

Creative conflict resolution

Impactful, Anti-oppression facilitation to grow trust and group cohesion across difference

Acquiring a foundational understanding of Theatre of the Oppressed, and practical techniques for creating your own Forum Theatre pieces

Network with other change makers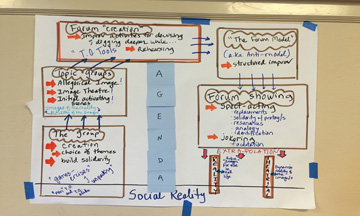 Participant testimonial: "I gained skills in facilitation, a basic understanding of TO and how to go through the process of developing a Forum Theater piece, as well as a higher level of comfort in my own self-expression - both verbal and non-verbal. "

In this workshop, we will share facilitation practices that help:
RECONNECT your body with your change making work.
GAIN courage to name, explore and tackle thorny issues--both personal, local and organizational--that perpetuate injustice.
EXCHANGE ideas about conflict, trauma and healing.
ENGAGE diversity issues more effectively & compassionately.
CREATE and rehearse actions for personal and community change. 
Participant Testimonial: "I developed a greater desire to lean into discomfort and to meet both my own resistance and the challenging responses of others with greater curiosity. This desire is something that I want to actively bear in mind to a greater degree when I interact with others in my workplace and when I facilitate trainings. The workshop also made me think more deeply about ways to challenge people's perspectives without being dismissive or harsh."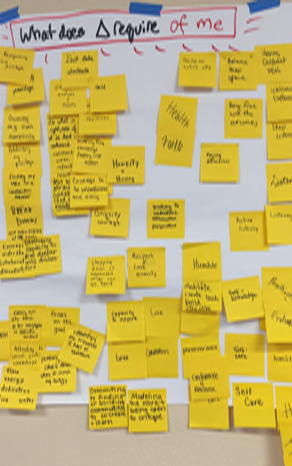 At the end of the workshop, we will give you a complete "Map of Days" Toolkit that outlines all of the activities from the workshop: Step-by-step process for each activity AND Group-generated data from processing the activities.
Participant testimonial about Just Act's approach to processing TO activities: "I have never seen this specific facilitation style- the observation-based work really supported an ability to engage in challenging conversations."
We are invested in tough but healing conversations through an intersectional lens necessary for racial justice and equitable revitalization. By activating awareness and nurturing meaningful dialogue, critical and creative reflection, participants gain real skills and practice promoting healing and just action around complex, often divisive issues where they work and live, to initiate real change.
In these times of anxiety and disconnection, Just Act's annual Forum Theatre workshop offers a refreshing, participatory "refuel zone" to creatively pause and attend to tension and fractured relations around race, culture, and socio-economic disparities to reweave connections and grow empathy, understanding and action plans.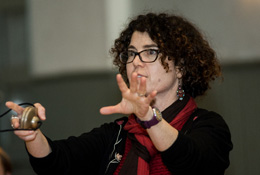 It is with gratitude that Just Act's Executive Director, Lisa Jo Epstein, has carried on the legacy of Augusto Boal through her practice over 26 years.
Participant Testimonial: "Lisa Jo was fabulous, direct, honest, and challenging. It takes a unique facilitator to create this experience for others in a way that they feel safe but still not be afraid to challenge them (which is something I am still working on as a facilitator.) I walked away from the workshop having learned and explored much for myself but also having learned much from Lisa Jo's facilitation style."
AND from a participant who has taken four TO workshops facilitated by Lisa Jo: "I love the breadth of experience in social justice work that she brings to the room, as well as the vast tool-box of games, rehearsal techniques, etc., all of which produced meaning and flow."
 We graciously tip our hats to Boal for lighting the way to understand that theatre happens everywhere, with anyone willing to witness the magic within everyone.
12th ANNUAL FORUM THEATRE WORKSHOP FEE: $400
Registration Deposit via EventBrite: $100
We believe your ability to pay for our workshop should not be an obstacle to your participation, and want to make it possible for you to join us. A combination of partial financial aid and work study are available upon request for those who express a true economic need. We can also arrange a payment schedule. For those who can, we welcome additional donations, or tax-deductible ones, above the workshop fee to help provide scholarships to maintain the diversity that is vital to this work.
"It is not the place of the theatre to show the correct path, but only to offer the means by which all possible paths maybe examined." - Augusto Boal
FOR MORE INFORMATION about Just Act, please contact us at: info@justact.org
https://www.facebook.com/justact.today/?pnref=lhc
Have questions about Just Act's 12th Annual Forum Theatre Workshop?
Contact Just Act
When & Where

Philadelphia
6757 Greene Street
Philadelphia, PA 19119


Tuesday, July 25, 2017 at 9:00 AM

-

Saturday, July 29, 2017 at 3:00 PM (EDT)
Add to my calendar
Organizer
Just Act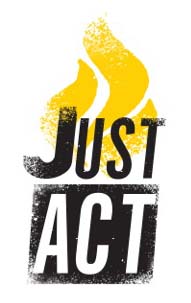 Just Act is an arts-based catalyst activating social change and healing in individuals, organizations and communities to build a just world.
ACTIVATE
COLLABORATE
TRANSFORM
We activate a local community's assets and hopes by collaborating with diverse groups and creatively facilitating communication amongst them to collectively generate solutions. The result is the creation of public spaces that promote people's health, well-being, and supporting leadership capacity that aligns with their core values.
Just Act provides educational programs, public dialogues, Theatre of the Oppressed training, and arts-based community engagement. At any Just Act event, people creatively share their experiences with oppression through arts-based strategies that allow them to collectively imagine and rehearse "just actions" for creating personal and community change.
---
---
Just Act directs our multi-dimensional expertise into being a resource for artists and cross-sector partners invested in diversity dialogue, developing action steps for social and systemic change, and in building authentic civic engagement capacity that grows community influence.
---
---
Just Act is an evolving ensemble of diverse, multi-disciplinary artist-facilitators who expertly lead collaborative community engagement initiatives, diversity and human development workshops, Theatre of the Oppressed trainings, and experiential public community events.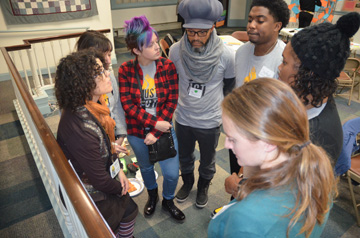 Practices from the world-famous Theatre of the Oppressed are our jumping off point for working at the intersection of theatre, social justice, anti-oppression facilitation and civic engagement to create community-driven responsive work that strengthens individual and collective power.
 Using arts-based tools for exploring human interaction, power and oppression, Just Act customizes its programs to the needs and assets of communities, groups and organizations with whom we work. This individualized focus supports programming so that participants may witness, debate, relate, reflect upon and re-see the realities within and around them, and create action steps to transform their community into a more equitable and thriving place for all. 
Email us today if you'd like to collaborate with us! info@justact.org
What we provide
We offer refreshing, participatory opportunities for people to pause, creatively recharge, and courageously attend to fractured relations particularly around race, culture, and socio-economic disparities, tap hidden assets, and actualize aspirations for social justice. 
With new awareness and agency, you can directly apply the practical tools gained in our workshops to use in your own communities to creatively frame, explore and transform in
Just Act's 12th Annual Forum Theatre Workshop