Description
Jupyter Pop-up: March 21 in Boston
Join us at Jupyter Pop-up, a day-long exploration of Jupyter's best practices, time-saving tips and shortcuts, and practical use cases in business and industry.





"Jupyter is the new front end for data science and AI—if your organization needs to scale its analytics, you need Jupyter."
– Andrew Odewahn, CTO, O'Reilly Media

At Jupyter Pop-up, find out how teams of data scientists, business analysts, and researchers use the Notebook and other Jupyter tools to solve "last mile" issues of communicating data to management, create self-documenting and future-friendly apps and widgets, and streamline your workflow.
Make plans to join us March 21, 2018 at District Hall in Boston for the first-ever O'Reilly Jupyter Pop-up.
Featured Speakers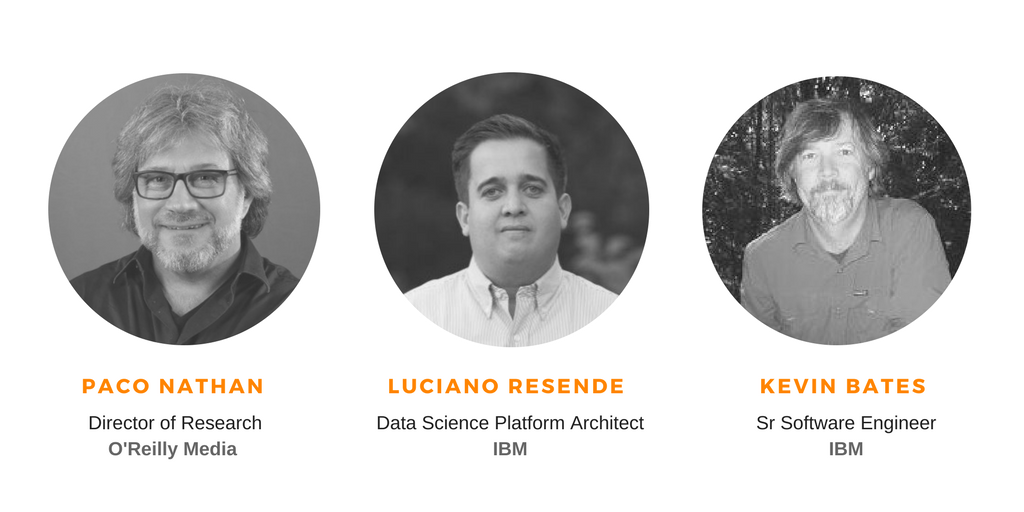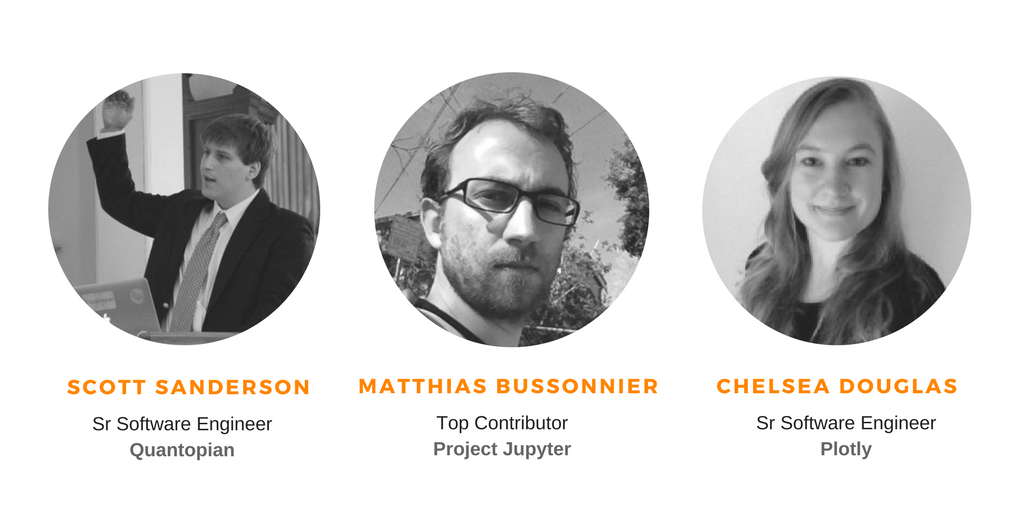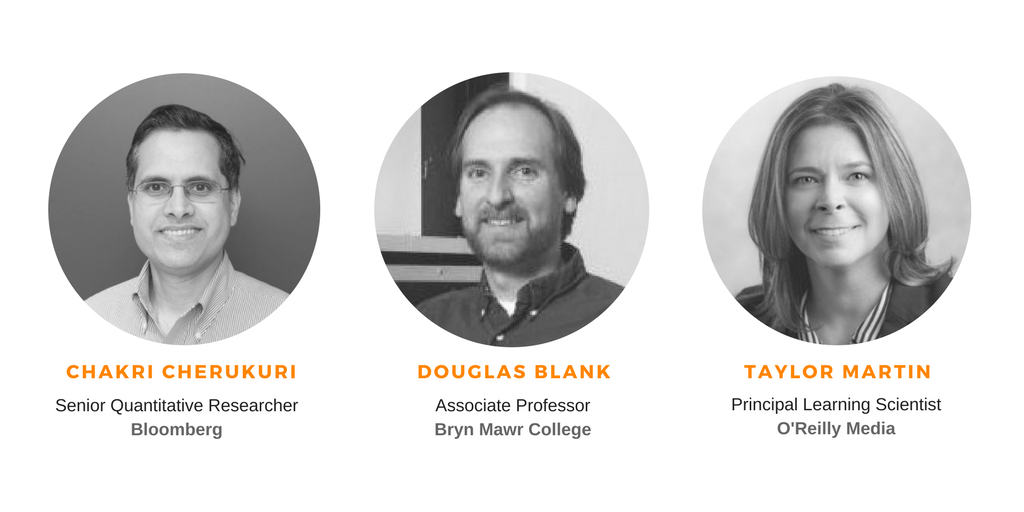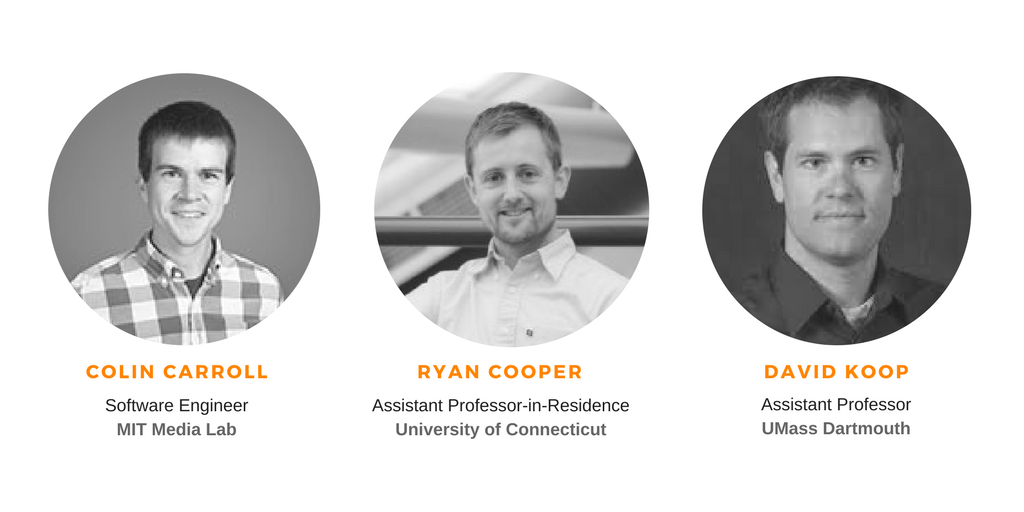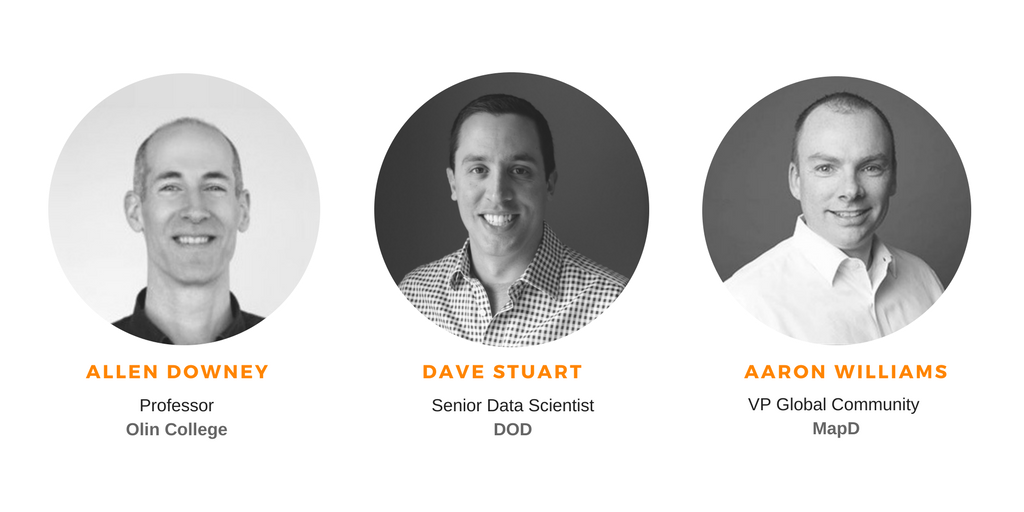 Schedule
08:00 - 09:00 | Registration
09:00 - 09:10 | Welcome Introduction | Paco Nathan, O'Reilly Media
09:10 - 09:40 | Building analytical microservices powered by Jupyter Kernels | Luciano Resende, Data Science Platform Architect at IBM and Kevin Bates, Sr. Software Engineer at IBM
09:40 - 10:10 | Hosting Notebooks for 100,000 Users | Scott Sanderson, Senior Software Engineer at Quantopian
10:10 - 11:00 | Keynote, State of Jupyter | Matthias Bussonnier, Founding Member at Project Jupyter
11:00 – 11:30 | Coffee Break
11:30 - 12:00 | Intro to Plotly Dash | Chelsea Douglas, Head of Documentation and Support at Plotly
12:00 - 12:30 | Visualizing machine learning algorithms in the Jupyter notebook | Chakri Cherukuri, Senior Quantitative Researcher at Bloomberg
12:30 - 13:00 | Deep Learning and Deep Integration via Jupyter | Douglas Blank, Associate Professor at Bryn Mawr College
13:00 - 14:00 | Panel, Jupyter in Education | Allen Downey, Professor at Olin College, Taylor Martin from O'Reilly Media, Douglas Blank, Associate Professor at Bryn Mawr College
14:45 - 15:15 | Improved Workflow with Isolated Jupyter Environments | Colin Carroll, Software Engineer at MIT Media Lab
15:15 - 15:45 | Flipping the classroom with Jupyter and Github | Ryan Cooper, Assistant Professor-in-Residence at U Connecticut
15:45 - 16:15 | Supporting Reproducibility in Jupyter through Dataflows | David Koop, Assistant Professor at UMass Dartmouth
16:15 - 16:45 | Coffee Break
16:45 - 17:15 | Citizen Data Science campaign | Dave Stuart, Senior Data Scientist at DoD
17:15 - 17:45 | From Data Exploration to Modeling to Deployment | Roope Astala, Senior Program Manager at Microsoft
17:45 - 18:15 | Accelerate the Machine Learning Pipeline on Very Large Datasets with the GPU Data Frame | Aaron Williams, VP of Global Community at MapD Technologies
18:15 - 19:00 | Networking Reception + AMA | Matthias Bussonnier, Jessica Forde + other experts


Presented by




Diversity and inclusion at Jupyter Pop-up
We believe that true innovation depends on hearing from, and listening to, people with a variety of perspectives. Please read our Diversity Statement.
We're committed to creating a safe and productive environment for everyone at all of our events. Please read our Code of Conduct.