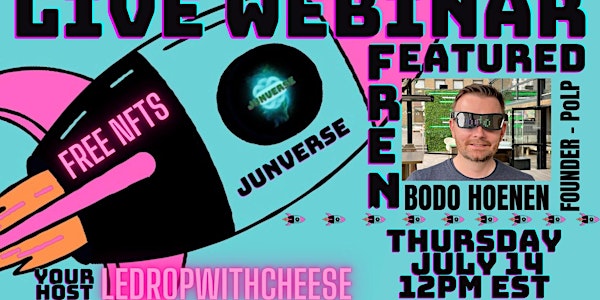 JUNVERSE Live Webinar featuring Special Guests!
JUNVERSE LIVE WEBINAR hosted by LeDrop WIthCheese broadcasts every other Thursday at 12pm EST with featured guests from the Metaverse!
About this event
Join us for insight on all things Web3, with specially curated guests to enlighten and intrigue your mind! Hang with us on July 7th at 12pm est with our very special Featured Fren, Bodo Hoenen, Founder of PoLP - Proof of Learning Protocol!! We were absolutely blown away by Bodo's project and use case of Blockchain and NFTs in the education space!! We are proud to share his vision with you give you some new insight on how NFTs have multi-faceted beneficial uses cases!
Connect with Bodo Hoenen on LinkedIn and support his mission!