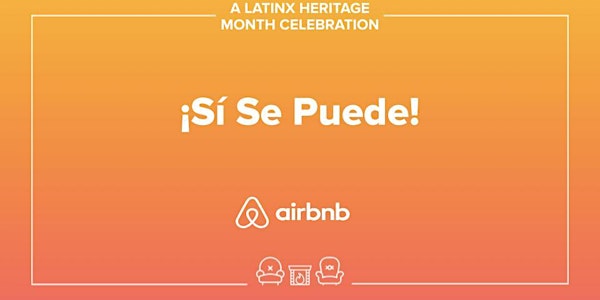 Juntos@Airbnb presents "¡Sí Se Puede!", a Latinx Heritage Month celebration
Date and time
Thursday, October 17, 2019 · 6 - 9pm PDT
Location
Airbnb office 34 NW 1st Ave Portland, OR 97209
Description
Join us at Airbnb for an evening celebrating Latinx Heritage month!
We will have a panel discussion with local Latinx leaders, who will share their experiences navigating the workplace, the roads they traveled to get there, and how they broke through biases with a "¡Sí Se Puede!" mindset.
There will be food, drinks and the opportunity to ask questions, meet new friends, connect with other talented Latinx, and learn more about how we can strengthen our Latinx community.
Hope you can join us!
We will have LUS (Latinos Unidos Siempre) Youth Organization onsite sharing a bit of what they do in the community. LUS is an Oregon Latinx organization working towards the educational, political and cultural development of underrepresented youth and enabling them to take leadership roles in the community.
About his Event:
Panelists:
- Sandra Hernández-Lomelí - Program Director of Latinos Unidos Siempre (L.U.S.) Youth Organization
- Heber Miguel - Founder of Eber Health
- Edgar Navas - Founder of Cliqa
- Sylvia Salazar - Founder of Tono Latino

- Fabio Cruz - Founder of Latinx Tech PDX


Moderator:
- Omar Guerrero - Business Process Improvement @ Airbnb
Food and Drinks:
- We will have food and drinks (including some beer by Xicha Brewing, PNW's only Latinx brewery.
1 free ticket for food and 1 free ticket for drinks will be provided at the entrance . Extra food and drinks will be available by donation (cash or venmo). 100% of donated proceeds will go to LUS (Latinos Unidos Por Siempre) Youth Organization.
Schedule:
5:45 - Doors open
6:00 - Introductions
6:15 - Panel Discussion
7:00 - Audience Questions and Answers
7:15 - LUS presentation

7:30 - Socializing, drinks and food
8:45 - Doors close