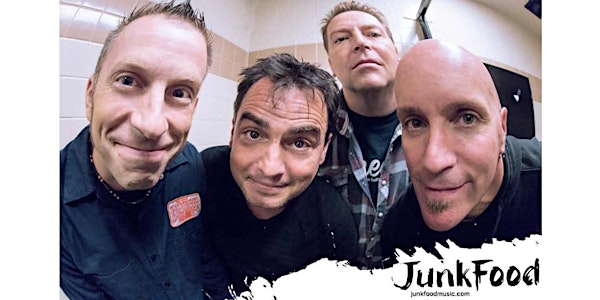 Location
Bright Box Theater
15 N. Loudoun St.
Winchester, VA 22601
One of the area's best party bands playing good-time, high-energy, well-played rock-and-roll!
About this event
FRIDAY, OCTOBER 21
DOORS, BAR, & KITCHEN OPEN at 7PM
SHOW at 8PM
TICKETS
GENERAL ADMISSION: $10 + admission tax & processing fee
DOOR: $12 + admission tax
Advance ticket sales end at 6PM the day of the show. If tickets are not sold out by this time they will be available for purchase when the doors open.
ALL TICKET SALES ARE FINAL. NO REFUNDS. NO EXCHANGES unless the show is postponed or cancelled.
IMPORTANT INFO
GENERAL ADMISSION
Arrive early for limited seating. This is primarily a standing show, so come ready to drink, party and dance!
ALL AGES
FOOD & DRINK AVAILABLE FOR PURCHASE
________________________________________________________
Do you remember when rock and roll was fun? JunkFood certainly does, serving up big, unapologetic rock tunes with loud guitars and sing-along hooks so huge you could hang a side of beef on them.
JunkFood is a NOVA based rock band. Their 3rd full length album "Mighty" was released in 2008. "Mighty" was produced by Bart Harris and was mixed by Grammy award winning producer Jeff Juliano (John Mayer, Lifehouse, Dave Matthews Band).
JunkFood regularly performs for a broad range of fans in a wide range of venues up and down the East coast. From family friendly festival crowds, to summer beach vacationers, to rowdy college bars - JunkFood has entertained them all. Although primarily known for original music, JunkFood is not afraid to play your favorite covers from the 80's to today. As their many fans will attest, JunkFood subscribes to the old school tradition that no matter how much you enjoy the CD, you've really got to experience the band live to fully appreciate their talent.
JunkFood's live show is a high-energy party, making them one of the most sought after bands in the DC/Metro Area. The buzz they have generated has them headlining the major venues in the region.
Since being voted "BEST COVER BAND IN THE DC AREA" by On Tap Magazine and "BEST LOCAL BAND" by the Washington Post Reader's Poll, JunkFood has performed in front of thousands of fans at high profile events such as the annual Celebrate Fairfax Festival and HiBall Events Mid-Atlantic Shamrock Festival and Blocktoberfest.
Some quotes from the industry:
"JunkFood is a band with no illusions about itself. The music the Fairfax foursome makes has little nutritional value, but it sure is delicious. That makes JunkFood just about the perfect bar band. There is no artistic pretension or forced emo moping, just good-time, high-energy, well-played rock-and-roll." - C. Woodrow Irvin, The Washington Post
"JunkFood may be the Washington DC areas biggest party band. The former cover band makes regular appearances at the biggest events around town. And it isnt surprising; vocalist Bart Harris nails his melodies, with a bit of a growl similar to some of the late 90s radio gods... It isnt challenging or complex, and it isnt meant to be. JunkFood knows the role that they want to play: this is music intended as a soundtrack to your night out, for throwing back beers at a bar with friends or soaking in the sun on a beach..." - Chris Connolly, OnTap Magazine
"I really am impressed by your guys professionalism...plus you're a great band and have a great live set..." - Joe Bevilacqua, Clear Channel Radio, Denver, CO
"With its mixture of hard hitting rockers and more melodic rock ballads, JunkFood's release (No Space) seems destined to find a very large following." - GildTheLily, South Of Mainstream.com
"If you're in the DC Metro area, seize the opportunity to see this band live before they get too big." - Manish Patel, The Music Writer
________________________________________________________
FAQs:
Is there lodging nearby?
There are lots of great and affordable lodging options — from hotels and motels to camp grounds and bed & breakfast spots — just minutes away from Bright Box. Right around the block is the elegant George Washington Hotel, and Courtyard Marriott is quick drive and within a stones throw to the beautiful (and highly recommended) Shenandoah Valley Museum. Check out these websites to explore your options and discover all the wonderful opportunities in Winchester:
• http://www.visitwinchesterva.com/lodging/hotels-and-motels
• http://oldtownwinchesterva.com
Where do I park?
Bright Box is located at 15 N. Loudoun St. on the beautiful pedestrian mall in Old Town Winchester. The nearest parking is the Braddock Auto Park at 30 N Braddock St. This is about a block away from the venue. The parking garage does have several handicap parking spaces available.
Once you've parked in the garage you'll exit toward the pedestrian mall. Once you hit N. Loudoun you'll make a right and Bright Box will be on your right a few storefronts up, directly across from the Old Court House Civil War Museum
More information about the garage can be found here: https://www.winchesterva.gov/parking/garage-information
Is Bright Box handicap accessible?
Absolutely. The venue is handicap accessible and ADA compliant. The infrastructure in Old Town Winchester is friendly toward those with physical challenges or in wheelchairs. Park in one of the close-by parking garages and come to the main door at 15 N. Loudoun St. (the walking mall). We ask that you arrive when doors open, and we will be happy to escort you to a place best suited to your needs in the theater or to take you to the elevator to access the upstairs Out of the Box room.