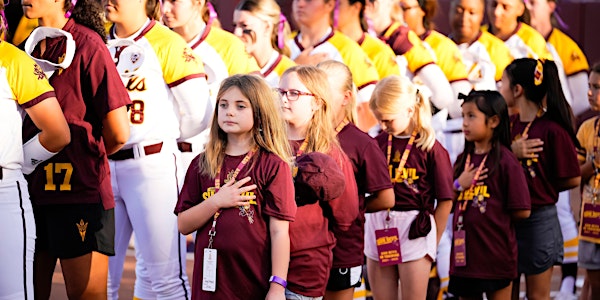 Junior Sun Devil Club Membership 2022-2023
Learn and Play the Sun Devil Way.
About this event
Join the Junior Sun Devil Club for hands on experience with the Sun Devil student-athletes of Arizona State University. Members of the JSDC receive an exclusive t-shirt, a membership card and lanyard and complimentary tickets to:
One (1) Football Game
• UCLA- November 5, 2022 *** New members must be signed up by 10/15/2022 to participate in this experience to process the packets in time.
Six (6) Men's Basketball Games
Six (6) Baseball games
Six (6) Softball games
One (1) Hockey game
One (1) Ticket to all regular season Women's Basketball, Gymnastics, Soccer, Volleyball, & Wrestling competitions.
In addition, Junior Sun Devil Club members are invited to JSDC Exclusive events, both virtual and in person. Activities can include access to taking in the action from the field, shooting hoops on the court, meet and greets with student-athletes and coaches and learning all the Sun Devil traditions first hand.
Junior Sun Devil Club membership is available to Sun Devils 8th grade and younger.
Membership runs from July 1 – June 30.
*Please note: All single game tickets are subject to availability. All complimentary admission is limited to regular season games. Tickets for postseason games are not included in Junior Sun Devil Club membership. To receive complimentary tickets to competitions, members MUST follow the procedure in follow up communication. Tickets are non-transferrable to non- JSDC members. Violation of these policies may result in cancellation of membership.
All funds will be deposited with the Sun Angel Foundation, doing business as the Sun Devil Club, a private 501(c)3 organization that exists to support Sun Devil Athletics. Due to the fair market value of benefits received, only payments in excess of the fair market value may be considered a charitable contribution. To see the fair market value of gifts received, visit http://sundevilclub.com/fairmarketvalue. Please consult your tax advisor regarding the deductibility of charitable contributions. Tax Identification Number: 86-0138459. Donations are non-refundable and non-transferable to other allocations.