Jung and Tarot: Treasures from the Cloud of Cognition

Sunday, October 27, 2013 from 2:00 PM to 5:00 PM (PDT)
Event Details
The Friends of the C. G. Jung Institute Presents: 
Jung and Tarot: Treasures from the Cloud of Cognition
Featuring scholar and professional practitioner, Mary K. Greer
Sunday, October 27, 2013
2 - 5 PM at the San Francisco Jung Institute
2040 Gough Street
San Francisco
A reception will follow the presentation.
Free to members of Friends of the Institute. Please RSVP by October 23. 
Carl Jung saw Tarot as depicting archetypes of transformation like those he found in myths, dreams and alchemy, and as having divinatory characteristics similar to the I-Ching and astrology. Like them, Tarot reflects primordial images that surround an archetype within the collective unconscious—patterns that ultimately exist from all eternity, transcending both psyche and matter.
It is the inherent property of the psyche to assimilate images and reflections contained in the living light. Jung believed these reflections exist in a diffuse "cloud of cognition" in the unconscious psyche that constitutes our spiritual nature or illuminating intellect. This semi-formed awareness of luminosity or absolute knowledge within the Self shines a light on and gives meaning to synchronicities via our imagination. Jung spoke hesitatingly of such things because his ideas of the Light stemmed from the great magician and psychologist of the mid-19th century, Eliphas Lévi, who organized his alchemical and magical system around the symbolism of the Tarot.
Jung believed a person could use intuitive methods to listen to the soft voice emanating from this cloud of cognition and come to understand the meaning in a present, prevailing condi­tion. He believed this knowledge could be made even more accessible by integrating information from multiple divination systems. In his later years, he set up a group that would attempt such an integration of knowledge. Today, we can illuminate the images in the psyche and unleash their intelligible treasure by using Tarot in ways which Jung had not yet dreamed of, so as to access the cloud of cognition and bring its perceptual frequencies into consciousness.
In this presentation we will view Tarot cards as treasures of the psyche and reflections of the Living Light, and we will use them in a process that will help each person discover the meaning of a present, prevailing condition.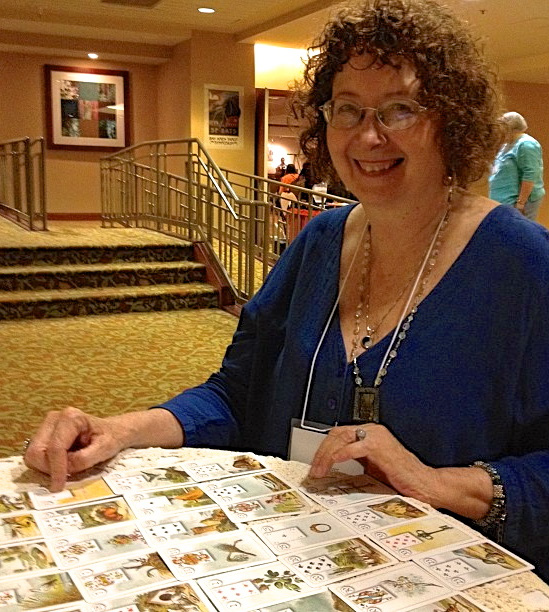 Mary K. Greer is an independent scholar, writer, teacher, and professional tarot consultant with an M.A. in English Literature. She first taught Tarot in 1974 at the University of Central Florida, and continued teaching it for eleven years as a professor and administrator at New College of California. She left a doctoral program at the California Institute of Integral Studies in order to focus full-time on her tarot practice. The author of eleven books on tarot and on magic, her books have pioneered new techniques for learning and working with the cards, including the first in-depth techniques for reading for oneself. In 2007, Mary received the International Tarot Lifetime Achievement Award from the Association for Tarot Studies and is a research partner in Le Tarot Associazione Culturale (Italy).
No Continuing Education Credits are Available for this Event. 
When & Where

The C.G. Jung Institute of San Francisco
2040 Gough St
San Francisco, CA 94109


Sunday, October 27, 2013 from 2:00 PM to 5:00 PM (PDT)
Add to my calendar
Organizer
A non-profit educational and community service organization that devotes itself to the furtherance of Jungian thought in clinical work and in cultural discourse.

In addition to its Analytic Training Program, the Institute provides educational events for the general public, seminars for professionals, and produces Jung Journal: Culture and Psyche, now published by Taylor & Francis. The Institute houses an extensive library and offers a sliding scale psychotherapy clinic.  Friends of the Institute, an auxiliary organization, welcomes new members.