Sales Have Ended
Ticket sales have ended
Sorry, ticket sales have ended. Try again next year!
Sales Have Ended
Ticket sales have ended
Sorry, ticket sales have ended. Try again next year!
Celebrating the Black Achievement Fund's 3rd Birthday!
About this event
Name a better place to Celebrate Juneteenth than Freedom, GA! Come Camp Out with us as we celebrate the Black Achievement Fund's 3rd Birthday in Freedom! Celebrity performances, DJs, Vendors and fun for the whole family!!!
More details to come! Scroll down for schedule, what to expect, what to bring, and additional information below!!!
Stay Tuned for Celebrity Performance Announcements & Special Invited Guests!!!
Vendors this is your time to shine! We want Black-Owned Businesses with Afrocentric & Melenated themes, great products, homemade, craft, vegan & organic highly preferrred! We are looking for the best for our people and want to highlight and feature YOU during this Juneteenth Celebration!
Thank you in advance for becoming one of the sponsors of the BAF's Juneteenth Birthday Celebration in Freedom, GA! Our World Is In Our Hands! Together We Rise! The Black Achievement Fund is a nonprofit 501 (c)3 corporation. All contributions and donations are 100% tax deductible. Sign up to be a sponsor here: BAF Juneteenth Corporate Sponsorship Form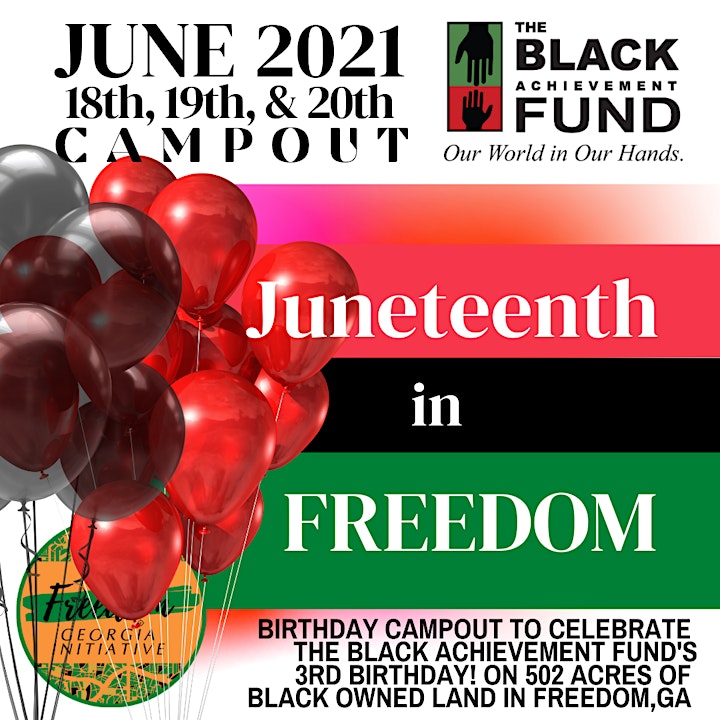 WHAT TO EXPECT:
Children and teenagers are free under 18 but you are required to mind your children at all times! The village will watch but you are responsible for your minors!
Bring everything you need to make your experience comfortable; food, tents, drinking water, BYOB, etc. There is a Wal-Mart 20 minutes away by car, there are no UBERs! You will need to rent a car or make a friend. There will be limited shuttles available for Wal-Mart runs.
You may bring your RV there is an additional cost to do so. You must bring your own generator and water supply. Limited water supply and electricity is avaivable on site.
There will be portable potties and restroom trailers on site. If you are not comfortable with outdoor restrooms or camping get a hotel for the weekend 30 minutes away in Dublin, GA. Don't stay at the Jackson Inn in Iwington, GA you've been warned.
TENATIVE SCHEDULE (TBD):
Thursday is for Volunteer Orientation, Set-Up, & Sponsor Reception
Friday, June 18, 2021
1:00 PM Check-in & Campsite Registration
1:00 -4:00 PM Camp-Site Set-Up & Music
6:00 PM Welcome Cookout & Celebrity Concert
(Complimentary Hotdogs & Burgers!)
4:00 PM until 12AM Vendor Village & Children's Corner
4:00 PM until 6:00 PM HIKING/ATV/JEEP Tours of FREEDOM
(Bring Your OWN ATV or JEEP! Only LIMITED rentals will be available.)
12:00 AM -4:00 AM Late Night Dance Party!
(NOISE COMPLAINERS STAY HOME OR STAY AT A HOTEL PLEASE! WE DON'T SLEEP!)
Saturday, June 19, 2021
Parking & Check-in for Day Pass Guests, Vendor Village, Children's Corner
7:00 AM MORNING WORKSHOPS: YOGA, COPAWETA, MEDITATION, & More....
9:00 AM PANELS, SESSIONS, SEMINARS, & EXHIBITIONS: TBA
11:00 AM HIKING/ATV/JEEP Tours of FREEDOM
1:00 PM SPORTS, GAMES, & REC: SPADES TOURNEY, FLAG FOOTBALL, etc.
4:00 PM BIRTHDAY CAKE & BAF CELEBRATION
6:00 PM LIVE BAND, SOUL CONCERT, & DJ's
12:00 AM-2:00 AM LATE NIGHT GLOW PARTY! Bring your neons!
Sunday, June 20, 2021
Parking & Check-in for Day Pass Guests, Vendor Village, Children's Corner
9:00 AM PRAISE & WORSHIP CELEBRATION
11:00 PM CLOSING PANELS & BREAKOUT SESSIONS
1:00 PM MUSIC, VENDORS, CHILDREN'S CORNER, HIKING/ATV/JEEP Tours of FREEDOM
4:00 PM CAMPGROUND BREAKDOWN & DEPARTURE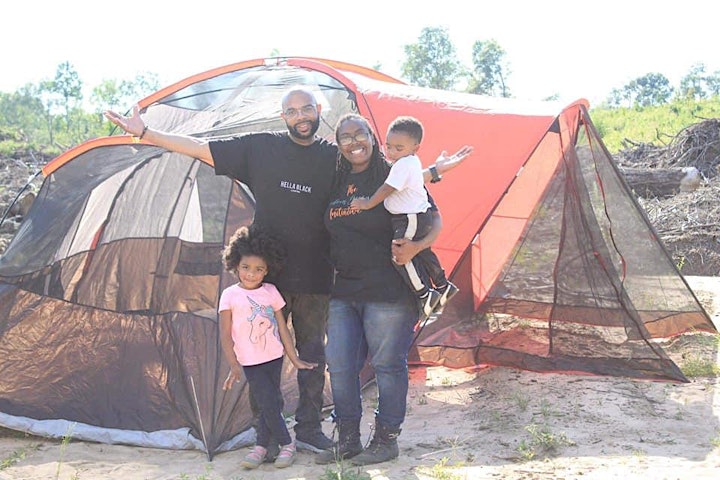 WHAT TO BRING for PRIMATIVE CAMPING!
Camping Tent - Smaller the Better to keep warm at night but Bigger is better to keep Cool in summer! Also, you will need a tarp underneath it; get a big one not the cheap dollar store ones.
Backpack or Carrying Tote - For carrying your items around the land and on tours
Sleeping Bag or Inflatable Mattress - Get a battery operated or one that can be plugged into your car or a hand pump for your air mattress.
Sleeping Pad or Lightweight Cot —if you're the type who requires a little more cushioning for a good night's rest.
Multi Tool —a good multi tool will help you out of all kinds of situations. Throw in some gaff tape and you'll be able to fix most anything too.
Small First Aid Kit —bandaids in a variety of sizes, something to clean scrapes and bruises, a small supply of pain killers, something to wrap an ankle or wrist if sprained, and anything else you might value while you're out in the wilderness.
Light source —headlamps are ideal for working in the dark without a fire.
Food —freeze dried camping meals are a great option and are easily packable. Or cup-o-noodles works great. Vendors will be on site but still. Bring a small grill if you'd like, there will be a few larger ones avaiable.
Water —both something to carry it in and a way to filter it; or bottles of drinking water will do fine.
Fire starter —two options are best; a lighter or wind proof matches.
Cooking Supplies —a pot to boil water and utensils.
Trowel/shovel —a tool useful for preparing your primitive site.
Mylar blanket —blankets made from mylar are very useful for keeping warm, and light when packing.
Moist wipes & toilet paper - you'll want that clean feeling at some point since there aren't any showers.