FullerCRAFT @Home Series Event
About this event
Get ready for a summer celebration of freedom and resilience -- it's Juneteenth Unlimited with social justice project Wee The People!
In this interactive workshop, we'll explore the story of Juneteenth, the oldest commemoration of the ending of slavery in the United States. Through stories, craft-making, and a Jubilee teach-in, we'll honor the joy, struggle, and radical resistance of Black Americans then and now.
Two ways to join the fun:
WITH KIT: Local families reserve your kit today and drop by Fuller Craft Museum to pick up a Craft Kit with all supplies included.
OR
NO KIT: Supply your own craft materials and join the fun. You will need:
6 Craft Sticks
Black, Red and Green markers or paints
Glue
Small piece of thin cardboard or heavy paper
Scissors
String or ribbon(optional)
This printable (optional)
These are virtual events to be held live on Zoom at 11:00am. You will receive the Zoom link and supply list with your ticket confirmation via email–Please note, confirmation emails with detailed information may sometimes end up in your junk mail or spam folder.
Please consider supporting Fuller Craft Museum by becoming a member or by supporting this event and others like it with your donation.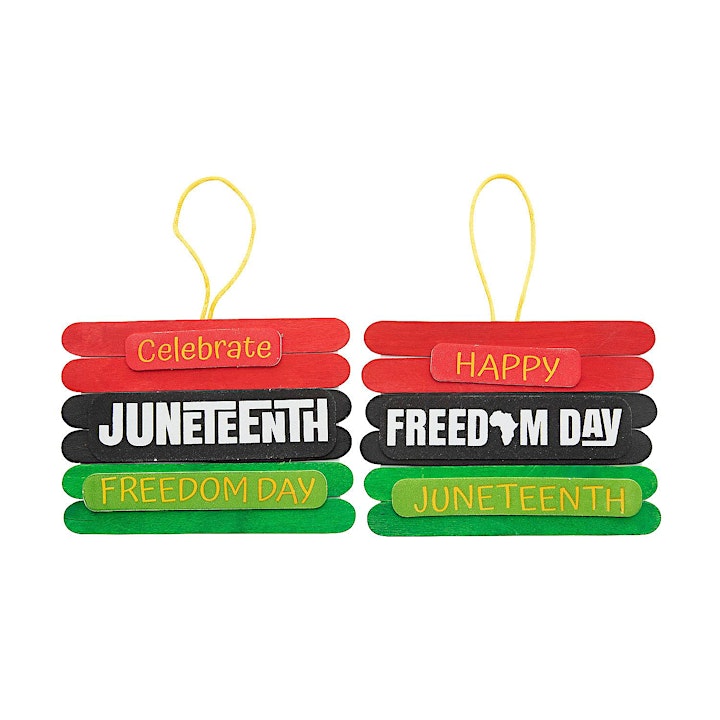 Organizer of Juneteenth Unlimited @ Fuller Craft
Registration & Refund Info
Fuller Craft Museum may cancel workshops or classes due to low enrollment. The decision to cancel a course which does not meet its required minimum enrollment is made 5 - 7 days prior to the class start date. If a course is cancelled due to insufficient enrollment, you will be notified via email or phone and full tuition will be refunded.
Registration is not complete and spaces cannot be held until tuition is paid in full. A 75% tuition refund will be given on withdrawals made two or more weeks before start date of workshop. No reimbursement will be given for withdrawals after a course/workshop has begun.
A student missing a regularly scheduled course will not receive a refund. Courses not held due to inclement weather or instructor's absence will be rescheduled by extending the course.
Fuller Craft Museum reserves the right to cancel any workshop with 48 hours notice to enrolled participants.