Juneteenth Sunday Brunch • Day Party • Pop Up Shop
About this event
In the spirit of Juneteenth, we are promoting Black economic development through a festival, pop up shop & outdoor social gathering.
Support black businesses by attending. There will be
Food• Drinks• Music• Vendors• Games
Why we celebrate:
Across the United States, people of all walks of life share the understanding that July 4th is the long time celebration of the Declaration of Independence. America was finally free from the dependence of the British and was considered to be an independent collection of nations. However, Africans in America did not share that experience, for they were still being owned and considered 3/5ths of a man.
During the American Civil War, President Abraham Lincoln issued the Emancipation Proclamation on September 22, 1862.[14] It became effective on January 1, 1863, declaring that all enslaved persons in the Confederate States of America in rebellion and not in Union hands were freed.
On June 19, 1865, news came from the soldiers who landed in Galveston, Texas that the Civil War had ended and that slaves were now free. This news came 2 years after the Emancipation Proclamation was issued, hence our celebration of Juneteenth is the Black Independence Day.
In honor of this long time coming, Africans in America have celebrated with food, dancing, singing, and celebration of the right to live and pursue happiness outside of being owned by another human being. Today, through organized efforts and collaborations of different organizations, solidarity in how we celebrate is showcased through literary expression and images of the numerous shades of Black in music, technology, art, science, and business takes center stages throughout communities that reflect a new generation of talent. These communities are the site where the torches of inspiration are passed and are encouraged to continue the tradition of celebrating annually.
What better way to celebrate freedom and progression than by turning up, vibing, and supporting black-owned businesses!
Come out and enjoy music, food, vendors, giveaways & more!
*Children are welcome but MUST be accompanied by a guardian at ALL times.*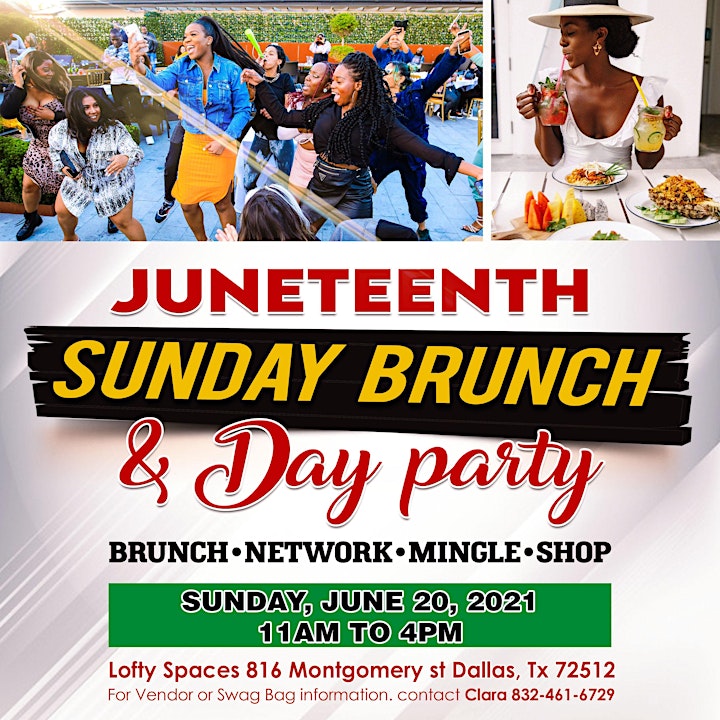 Organizer of Juneteenth Sunday Brunch & Pop Up Shop