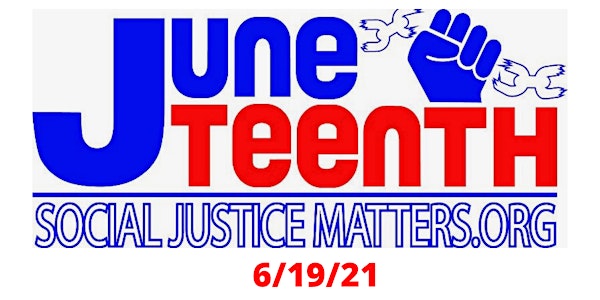 Juneteenth @ Shady Rest and Jerseyland Park
You are invited to SJM's 2021 Juneteenth celebration, "Roots and Wings: The Art and Tradition of Storytelling and the Black Experience"
When and where
Location
Shady Rest Country Clubhouse 820 Jerusalem Road Scotch Plains, NJ 07076
About this event
Social Justice Matters, Inc (SJM), in partnership with the townships of Scotch Plains and Fanwood, and with sponsorship from PSEG and other community enterprises, is proud to offer our 2021 Juneteenth celebration, "Roots and Wings: The Art and Tradition of Storytelling and the Black Experience," for the enjoyment of our diverse Union County community.
Significance of 2021 Theme: The tradition of storytelling in the African American and African communities can be traced through many generations. Not only was it a form of communication, but it was also a way to share one's history, culture, and experiences. The art of storytelling comes from the way the "griot" or storyteller was able to breathe life into the stories through their use of poetry and song; their ability to paint pictures of struggle and triumph with their words into the minds of eager listeners. The Juneteenth 2021 Theme celebrates the importance of telling one's own story. With "Roots" we are grounded because from the stories we know where we have come from; and with "Wings" we can fly because we have hope and direction to lead us into the future.
Location: Shady Rest at Scotch Hills Country Club in Scotch Plains, 820 Jerusalem Road, Scotch Plains, and Jerseyland Park. 2373 Richmond Street, Scotch Plains, and one virtual program.
The significance of the place: Shady Rest was the nation's first Black-owned country club, home to John Shippen, the first American-born golf pro. In the 1920's and '30's it hosted the luminaries of the entertainment and sports worlds. It is now owned by the Township of Scotch Plains. 2021 is the centenary of the club's establishment as a Black-owned entity.
The significance of the date: Juneteenth is the oldest nationally celebrated commemoration of the ending of slavery in the United States. It commemorates the day in 1865 that Union soldiers landed Galveston, Texas with news that the war had ended and that the enslaved were free, two and a half years after the Emancipation Proclamation. This will be the first year that Juneteenth will be celebrated as a State holiday in NJ. (as the third Friday in June).
Register for the Virtual Oral History Workshop, "Creating Oral Histories: Learn How to Create Recordings that Preserve Memories, Stories and Voices," 1-2:30 pm, at: https://www.eventbrite.com/e/juneteenth-virtual-workshop-creating-oral-histories-tickets-156960602387
See below for an overview of the live Shady Rest and Jerseyland Park events and performances.
Registration for each event is required unless otherwise stated. Online registration ends at 12:00 am on June 19, but walk-in registration on-site will continue throughout the day.
At Jerseyland Park:
2:30 PM - Story Stroll opens at Jerseyland Park, 2373 Richmond Street, Scotch Plains, The book on display will be All Different Now: Juneteenth, the First Day of Freedom, by Angela Johnson and E.B. Lewis. Courtesy of the Scotch Plains Public Library.
2:45 PM - Author Robert Constant (Hey Tuskegee!, Hello Grandma!) will read from one of his books. Children are invited to bring their own copies for the author to sign.
At Shady Rest:
3:00 - 5:00 PM - Mini golf. Admittance to registered groups of up to 5 players at 10-minute intervals.
3:00 - 5:00 PM - Putting instruction and contest for children ages 5-18, given by the members of Omega Psi Phi Fraternity and SJM. A great optional experience to have before playing mini golf, although children do not have to sign up for mini golf in order to take part in this contest. Small prizes for winners.
3:00 - 4:00 PM - Shady Rest Tour 1
4:00 - 5:00 PM - Shady Rest Tour 2
4:00 - 4:30 PM Karate demonstrations by students of the Goshu-Kwan Studio. No registration.
4:30 - 5:00 PM - Dedication Ceremony
5:00 - 10:30 PM - Entertainment
-Register for any segment between 5-10:30 PM with a single Evening Entertainment Registration-
5:00 - 5:30 PM - Dream House Theater presents a one-act play
5:40 - 5:55 PM - Emerson Theater Group Performance I
6:00 - 6:30 PM - Poetry Slam
6:40 - 6:55 PM - Emerson Theater Group Performance II
7:00 - 8:00 PM - Music by Amani
8:30 PM - 10:35 PM - Movie: Harriet (PG-13)
Keep current at spfjuneteenth.com and on the SJM website
Please bring your own chair or blanket
Please be aware that this is a public event and permission is not needed for the photographs we will take throughout the day. We will not publish any names or the ages of minor children in your charge without your written or recorded permission, which you can give or deny.
Please let us know if you need handicapped parking. Email secretary@socialjusticematters.org
If you are interested in ordering a meal to be delivered to Shady Rest, Savory Selections is offering a Juneteenth special. Enjoy Savory Selections Soul Food while watching the festivities! Pre-order through June 17 by calling (908) 358-2459 or (908) 447-4860. https://selectionssavory.com
There will be no other food service, so feel free to bring your own food if you wish.
Event host Social Justice Matters, Inc. wishes to thank the Juneteenth sponsors whose generosity has made the Juneteenth 2021events available to our community:
Township of Scotch Plains
Borough of Fanwood
Amani
Fabio's Bistro
First Unitarian New Jersey
Omega Psi Phi Fraternity
Scotch Plains Public Library
All the contributors to the Juneteenth 2021 Ad Book