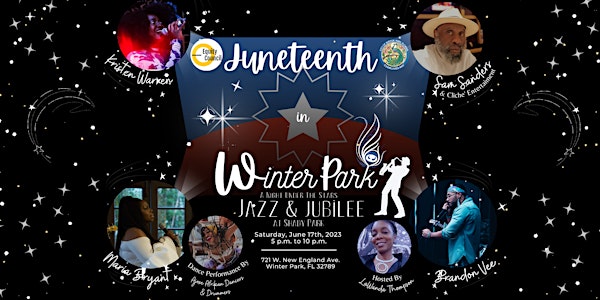 Juneteenth in Winter Park: Jazz & Jubilee A Night Under the Stars
Juneteenth in Winter Park: Jazz & Jubilee A Night Under the Stars
By The Equity Council Corp.
Date and time
Saturday, June 17 · 5 - 10pm EDT
Location
Shady Park 721 West New England Avenue Winter Park, FL 32789
About this event
We are excited to announce "A Night Under the Stars: Jazz & Jubilee at Shady Park" in Winter Park, FL, celebrating Juneteenth on Saturday, June 17th, 2023, from 5 to 10 pm! Join us for a memorable evening featuring live jazz music, delicious food, spirits, and a night of jubilee under the stars, sponsored by The City of Winter Park and The Equity Council Corp., a Black-owned and operated nonprofit serving the citizens of Hannibal Square since 2018.
Our event will be held at Shady Park, a beautiful outdoor venue perfect for a summer celebration. Guests will enjoy a night of live music from some of the best jazz musicians in the area and performances from artists and dancers. We'll also have a selection of food vendors serving delicious bites and spirits and retail vendors showcasing some of the best cultural wear, custom jewelry, art, and much more so guests can support Black-owned Businesses on such a momentous occasion.
In addition to the entertainment, earlier in the day, from 2:30 to 4:30 pm, we'll also have interactive activities that celebrate the history and significance of Juneteenth by healing families through an intimate conversation regarding ACEs (Adverse Childhood Experiences)—presented by the founder and president of ACEs Matter, Corp., Cendie Stanford and her team of Rollins College Graduate Studies Students. Learn more about being a 1st generation CHAINBREAKER and regaining control of your stress response system and your family's mental wellness by getting the tools to free your family from the internal and external systematic chains still affecting many families after slavery.
If you want to attend "Positive Mental Health for 1st Generation CHAIN BREAKERS," please copy and paste the following link in your URL to register for this fantastic event. Unfortunately, spacing and Seating are limited, so please go to https://tinyurl.com/4ezeaw37 to purchase a ticket and reserve your spot at this great learning opportunity.
Come ready to celebrate freedom, community, and the power of music in the historic African American Community of Hannibal Square in Winter Park, FL. Interested business, retail, and food vendors, go to https://tinyurl.com/Juneteenth-Vendor-WP to register or text 407-490-2902 for more information.
About the organizer
Our mission is to promote equity and justice for all within educational enviorments.